Workup
Laboratory Studies
Generally, routine laboratory studies are not helpful in suspected cases of norovirus gastroenteritis. In severe cases of gastroenteritis with volume depletion, electrolytes and blood urea nitrogen and creatinine should be monitored.
The peripheral white blood cell count usually is normal. There may be slight polymorphonuclear leucocytosis and lymphopenia.
The absence of fecal leucocytes and occult blood in stool is helpful in ruling out other enteroinvasive infectious diarrhea processes. Stool culture should be performed to exclude infection with bacterial organisms such as Yersinia, Shigella, Salmonella, and Campylobacter species. [24]
Detection methods include the following:
Immune electron microscopy: Immune serum is used to aggregate virus in stool samples to aid detection.

Antigen detection immune assay: This has high sensitivity but low specificity because of reactivity with antigenic variants and homologous viruses.

Nucleic acid amplification: This technique is highly sensitive and specific. The sensitivity of real-time polymerase chain reaction (RT-PCR) is more than 1000 times greater than that of standard enzyme-linked immunosorbent assays and approximately 10-fold greater than reverse-transcription PCR in detection of norovirus capsid proteins in stool and food samples. [1]

Norovirus is included on the multiplex testing panels for gastrointestinal pathogens. As of February 2023, FDA approved panels for norovirus are R-Biopharm AB and CEPHEID.

Serum antibody titers can be detected within 2 weeks of illness. During norovirus infection, immunoglobulin M (IgM) to norovirus has been found to be more specific than IgG. [2]
Imaging Studies
Imaging for isolated uncomplicated gastroenteritis is not required.
In patients with severe symptoms in whom acute abdomen is suspected and in those with pre-existing diseases such as inflammatory bowel disease or other comorbidities, abdominal radiography or CT scanning should be performed.
Other Tests
If the patient is an international traveler, stool testing for ova and parasites and stool culture should be considered.
If the patient is severely immunocompromised (eg, with AIDS), stool tests for Cyclospora, cytomegalovirus (CMV), Isospora, and Cryptosporidium may be considered.
Histologic Findings
The surface area of the villus is reduced (villus blunting), along with the appearance of a dense intraepithelial infiltrate of CD8+ T lymphocytes. An increase in polymononuclear cells in the lamina propria of the small intestine also is observed.
In one study, electrophysiological analyses of duodenal biopsies from patients with norovirus infection showed increased epithelial apoptosis and a reduction in tight junctional protein expression, leading to epithelial barrier dysfunction. This likely contributes to diarrhea during norovirus infection by a leak flux mechanism (ie, ions and water leak from subepithelial capillaries into the intestinal lumen by paracellular diffusion due to increased permeability of tight junctions). Increased anion secretion was another finding in the study. [13] See the image below.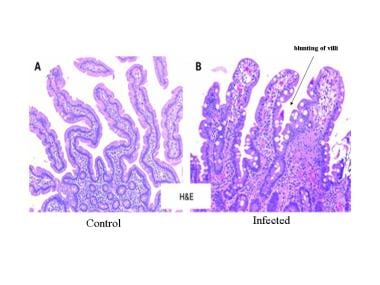 Hematoxylin and eosin stain of duodenal epithelium.
What would you like to print?