Presentation
History
Juvenile paracoccidioidomycosis
Findings in juvenile (acute/subacute) paracoccidioidomycosis can include the following:
Lymphadenopathy and hepatosplenomegaly (caused by reticuloendothelial system involvement)

Weight loss, fever, and malaise

Symptoms related to lymph node enlargement, suppuration, and sinus tract formation [24]

Mucous membrane and respiratory symptoms (unusual)
Patients with HIV infection may have a form of the disease that closely resembles the juvenile type.
Adult paracoccidioidomycosis
The adult (chronic) form of paracoccidioidomycosis accounts for 80-90% cases and represents endogenous reactivation years after initial contact with the fungus. Signs and symptoms include the following:
Primary lung infection - Cough (productive or nonproductive), dyspnea, malaise, fever, and weight loss are common symptoms; patients with pulmonary fibrosis secondary to paracoccidioidomycosis may present with minimal to no respiratory symptoms

Chronic pulmonary sequelae - Develop in one third of patients; can include pulmonary fibrosis, bullae, and emphysematous changes that can contribute to pulmonary hypertension and cor pulmonale in 5% of cases.

Mucous membrane involvement - Occurs in 50% of patients with acute pulmonary infection; includes laryngeal and pharyngeal lesions; results in dysphagia, dysphonia, stridor, and perioral granulomatous plaques; gingival involvement may lead to tooth loss

Oral lesions - May be associated with nasal and pharyngeal ulcers (Aguiar-Pupo stomatitis) and with mandibular or cervical lymph node enlargement

Cutaneous lesions - Caused by hematologic dissemination from the lungs; occur in 25% of patients; in rare cases, these lesions result from direct inoculation; crusted papules, ulcers, nodules, plaques, and verrucous lesions are typical

Lymphadenopathy - Most common in the cervical region, but all lymph node chains can be involved
Other sites of involvement include the following:
Adrenal glands - Affected in 48% of cases, with adrenal insufficiency occurring in 15% of patients and Addisonian crisis developing in 5-9% of patients; fatigue or skin darkening from Addison disease can occur

Long bones - Including the ribs, humeri, and clavicles

Mesenteric lymph nodes - Involvement can lead to bowel obstruction

Central nervous system - Symptoms include headache; in 10-25% of patients, involvement results in meningoencephalitis (as part of a disseminated syndrome); isolated meningitis or a spinal cord lesion can also occur, but only rarely

Gastrointestinal system - Involvement can cause abdominal pain
Physical Examination
Because the diagnosis of paracoccidioidomycosis is usually delayed, patients are typically malnourished and anemic at presentation.
Juvenile paracoccidioidomycosis
Findings for the juvenile form of paracoccidioidomycosis are as follows:
Lymph nodes - Lymphadenopathy is prominent; nodes may enlarge to such a point that infection with Paracoccidioides may be confused with leukemia or lymphoma; lymph nodes are often suppurate and form sinus tracts to the skin; mesenteric adenopathy may lead to bowel obstruction

Skin - Sinus tracts from underlying lymph node involvement may be seen

Mucous membranes - Mucosal involvement is rare

Respiratory - Pulmonary involvement is occasionally present

Other - Cachexia, hepatosplenomegaly, adrenal insufficiency, osteomyelitis, and gastrointestinal involvement
Adult paracoccidioidomycosis
Mucous membranes
Up to 70% of patients have oral, pharyngeal, and/or laryngeal involvement. Lesions typically ulcerate to a granular surface with small, hemorrhagic crusts; often this classic appearance is referred to as mulberrylike stomatitis. The lips, gingiva, palate, buccal mucosa, and tongue are commonly affected (see the image below). Laryngeal involvement may cause dysphonia. Mucosal lesions involving the ocular and genital regions occasionally occur.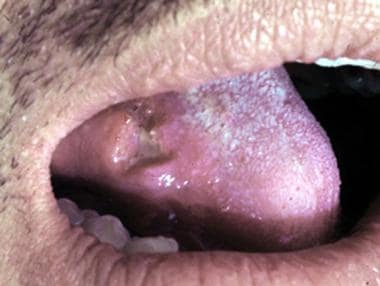 Ulcerated nodule on the tongue in a man with paracoccidioidomycosis. Courtesy of Heidi Logemann, Professor of Mycology, Universidad de San Carlos, Guatemala.
Skin
Lesions occur most commonly on the face and are polymorphic (see the image below). They may be papular, nodular, ulcerated, papillomatous, or even tuberous and most often arise from direct extension of mucous membrane lesions or underlying lymph node or bone involvement. Occasionally, hematogenous spread results in widely scattered, monomorphic lesions.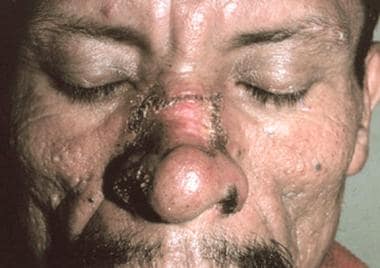 Crusted plaques over the central part of the face in a man with paracoccidioidomycosis. Courtesy of Rolando Vasquez, MD, Professor of Dermatology, Guatemala.
Lymph nodes
Numerous visceral and subcutaneous nodes may be involved through hematogenous and lymphatic spread; cervical nodes are commonly affected. Nodes are hypertrophic, firm, and painful and can be suppurate, forming fistulas or ulcers in the skin.
Respiratory
Lung involvement occurs in 70-80% of patients. In 25% of patients with the adult type of disease, lungs are the only organ system involved. Chronic dyspnea, cough, and sputum production may develop.
Other
Signs and symptoms of the adult form of paracoccidioidomycosis can also include the following:
Hepatosplenomegaly - Caused by hepatic and splenic lesions; occurs in approximately 5% of cases

Central nervous system involvement - Meningitis and parenchymal granulomatous disease; observed in 5-25% of patients; can cause mental status changes and seizures [25]

Bone and joint involvement
What would you like to print?