Workup
Laboratory Studies
If a pneumococcal infection is suspected or considered, Gram stain and culture of appropriate specimens should be obtained, when possible. Potential specimens may include 1 or more of the following:
Blood

Cerebrospinal fluid (CSF)

Sputum

Pleural fluid or lung aspirate

Joint fluid

Bone

Other abscess or tissue specimens
Specimens should be obtained prior to the initiation of antibiotic therapy and inoculated directly into blood-culture bottles, when possible.
Antibiotic susceptibilities should be obtained routinely on all cultures with growth of S pneumoniae. Note that MIC breakpoints are different depending on the specimen type.
Other laboratory values that may be helpful in diagnosis and treatment include a complete blood cell (CBC) count and differential, erythrocyte sedimentation rate (ESR), and C-reactive protein (CRP).
In children who do not produce sputum and in adults with a nonproductive cough, the diagnosis may be made based on urine antigen testing for S pneumoniae. As with urinary antigen testing for Legionella, antigenuria may not be present in early infection or in patients without bacteremia, but, if present, may persist after clinical resolution of infection. Evaluation of sputum via a combination of culture, Gram stain, and pneumococcal antigen was found to be the most useful way of achieving an etiologic diagnosis of CAP. Pneumococcal antigen detection in sputum has been shown to have high sensitivity (90%), even compared with urinary antigen detection essays, in early and mild CAP in pretreatment patients whose sputum specimens can be obtained. [57] The pneumococcal urinary antigen assay may augment the standard diagnostic methods of blood culture and sputum culture, as it provides rapid results. [3] It is unable to provide antimicrobial susceptibility data, so it does not supplant traditional culture methods.
The role of fiberoptic bronchoscopy is best established in the absence of adequate sputum for culture or when the patient is not responding to current therapy. [58]
Noninvasive Infections
Conjunctivitis, otitis media, sinusitis
Laboratory work is not usually obtained in patients with conjunctivitis, otitis media, or sinusitis unless they have unusually high fevers or have an extremely ill appearance. If specimens are obtained, they should be sent for Gram stain and culture and susceptibility. In these cases, isolation of S pneumoniae should be considered a strong indication for pathogenicity and treatment. [59]
Pneumonia
Many patients with pneumonia are treated empirically. Antibiotics used in these cases should include those that cover S pneumoniae. In severe, unusual, or complicated cases or those that require hospitalization, an attempt to obtain sputum cultures should be made. [60] An acceptable sputum sample is indicated by the presence of few epithelial cells and many polymorphonuclear neutrophils (a ratio of 1:10-20). The presence of many gram-positive cocci in pairs and chains on Gram stain of sputum provides good evidence for pneumococcus. When large effusions/empyema are present, pleural fluid should be obtained for Gram stain and culture.
The yield of blood cultures in pneumonia is relatively low. The most common bacteria isolated is S pneumoniae. Blood cultures are not indicated in all hospitalized patients with CAP, but they should be obtained in patients with severe pneumonia, immunocompromise (alcohol abuse, leukopenic, liver disease, asplenia, HIV infection), and in outpatient therapy failure. [3]
Most patients with pneumococcal pneumonia have significant leukocytosis (>12,000 cells/μL), and up to one fourth have a hemoglobin level of 10 mg/dL or less.
A small study by Casado Flores et al evaluated a rapid immunochromatographic test for detection of the pneumococcal antigen, C polysaccharide antigen, in children with pleural effusion. [61] The positive predictive value was 96%, and the sensitivity and specificity were high. In this study, the immunochromatographic test made identification of the pneumococcal origin of effusion easy.
A urinary antigen test based on an immunochromatographic membrane technique is widely available to detect the C-polysaccharide antigen of S pneumoniae but does not distinguish between pneumococcal serotypes. In the diagnosis of S pneumoniae CAP, this test has a sensitivity of 77-88% and a specificity of 67-100%. [62, 63] However, the clinical usefulness of this pneumococcal urinary antigen test is not well defined. The 2019 IDSA CAP guidelines do not recommend routine urinary testing for pneumococcal antigen in adults with CAP, except in adults with severe pneumonia. [64]
Serotype-specific urinary antigen detection has been shown to substantially increase the detection of pneumococcal pneumonia among adults hospitalized with CAP63; however, these assays are not yet in routine use. The emergence of rapid low-cost genomic sequence detection assays have the potential of improving pathogen-directed therapy, thereby improving antimicrobial stewardship. [64]
A multiplex PCR panel is a novel tool that identifies common bacterial and viral pathogens seen in community- and hospital-acquired pneumonias. Although overidentification of colonizers is a potential limitation, this diagnostic study is a powerful tool for antibiotic stewardship that will permit rapid intervention and optimal targeted therapy. [65] PCR-based detection of S pneumoniae depends on the amplification of pneumococcus-specific genes. Some studies suggest that sputum PCR is a more sensitive method than sputum culture for detecting S pneumoniae in patients hospitalized with CAP, especially in those previously treated with antibiotics. [66]
Invasive Infections
In most patients with invasive pneumococcal infections, the WBC count is elevated (>12,000 cells/μL) and there is a predominance of neutrophils. However, the WBC count may be normal, especially early in the disease process. Conversely, leukopenia may indicate severe disease and is a poor prognostic sign. The ESR and CRP level typically are elevated.
The development of polymerase chain reaction (PCR) assays for S pneumoniae with sufficient sensitivity and specificity is being widely investigated. Successful commercial assays may prove to be clinically useful but are not yet commercially available.
Recent studies have used matrix-assisted laser desorption/ionization time-of-flight mass spectrometry (MALDI-TOF MS) technology to identify the most frequent pneumococcal serotypes that cause invasive disease. [67]
Meningitis
CSF findings are typical of those found in bacterial meningitis and usually include the following:
Elevated opening pressure (>20 cm H 2O)

Elevated WBC count (1000-5000 cells/μL) with neutrophilic predominance (>80%)

Elevated protein level (>100 mg/dL)

Decreased glucose level (< 40 mg/dL; < 60% of simultaneous blood glucose)

Highly elevated lactic acid levels (>6 mmol/L)
Most patients with pneumococcal meningitis who do not receive antibiotics in the 4-6 hours prior to lumbar puncture will have positive results on Gram stain and/or culture.
Rapid antigen tests (eg, latex agglutination or enzyme immunosorbent assays) can be performed on CSF (as well as sputum and urine) but rarely provide information beyond what is obtained with Gram stain and culture unless antibiotics were administered to the patient prior to performing the lumbar puncture.
A multiplex PCR assay specific for meningitis/encephalitis that can detect 14 pathogens in the CSF, including S pneumoniae, has been shown to be highly specific, approaching the specificity of the reference standard method used for diagnosing meningitis/encephalitis. However, in a recent study the highest proportion of false-positive results was observed for S pneumoniae. [68]
Blood culture results are positive in up to 90% of patients.
Bacteremia
Blood cultures have a low sensitivity for detecting S pneumoniae infections. Bacteremia is found in about 20% of CAP cases in which conventional blood cultures are used. PCR may be able to increase this sensitivity. In a review assessing the value of PCR in the diagnosis of pneumococcal bacteremia, a sensitivity of 57.1% was reported. [66]
Other invasive infections
The WBC count, neutrophil level, CRP level, and ESR are often elevated in patients with bone, joint, soft tissue, cardiac, and other invasive infections. Specimens of appropriate material may yield positive Gram stain findings and/or culture growth. Blood cultures frequently are positive and should be obtained when possible. In females with peritonitis, vaginal swab cultures should be obtained in addition to blood and peritoneal cultures.
Culture and Susceptibility
Antimicrobial susceptibility testing should be performed on all isolates of S pneumoniae, regardless of the isolation site, because of the increasing prevalence of intermediately susceptible and resistant isolates. All isolates should be tested for susceptibility to penicillin and either cefotaxime or ceftriaxone. In addition, CSF isolates should be tested for susceptibility to vancomycin and meropenem. CSF isolates that are found to be nonsusceptible to penicillin should also be tested for susceptibility to rifampin.
Microbiology laboratories should follow established guidelines regarding inoculum size and media (Mueller-Hinton agar with sheep, horse, or lysed horse red blood cells). Isolates from patients with invasive disease should undergo testing with quantitative minimal inhibitory concentration (MIC) techniques (eg, broth microdilution, antibiotic gradient strips).
The Clinical and Laboratory Institute (CLSI) (2010) has defined S pneumoniae susceptibility as follows [1, 2] :
Pneumonia: For penicillin-sensitive S pneumoniae (MIC < 2 μg/mL), penicillin G or amoxicillin is considered first-line therapy. For penicillin-resistant S pneumoniae (MIC ≥2 μg/mL), the choice of antimicrobial agent should be directed by susceptibility testing.

Cefotaxime or ceftriaxone considerations are as follows:

Susceptible (non-CNS/CNS): MIC is ≤1/0.5 µg/mL, respectively.
Intermediate (non-CNS/CNS): MIC is 2/1 µg/mL, respectively.
Resistant (non-CNS/CNS): MIC is ≥4/2 µg/mL, respectively.
Strains with intermediate or resistant susceptibility patterns should be considered nonsusceptible and alternate therapy used.
Imaging Studies
Chest radiography
Chest radiography should be performed in most patients with evidence of invasive pneumococcal infection and in those with pneumococcal pneumonia. The typical chest radiography finding in adolescents and adults with pneumococcal pneumonia is lobar consolidation. Infants and young children with pneumococcal pneumonia more often have a pattern of scattered parenchymal consolidation and bronchopneumonia. Other chest radiography findings may include air bronchograms, pleural effusions/empyema, pneumatoceles, and, rarely, abscesses. Cavitation is not a feature of S pneumoniae pneumonia and, if present, should prompt investigation for other pathogens.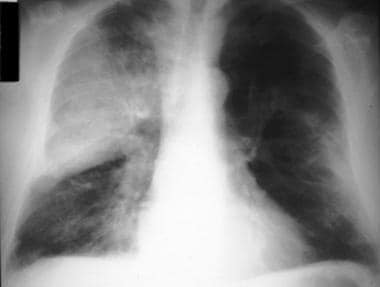 Lobar consolidation with pneumococcal pneumonia. Posteroanterior film. Courtesy of R. Duperval, MD.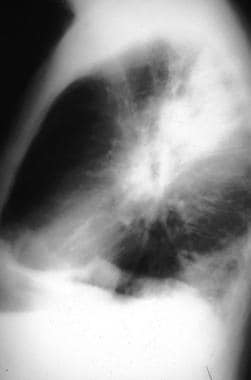 Lobar consolidation with pneumococcal pneumonia. Lateral film. Courtesy of R. Duperval, MD.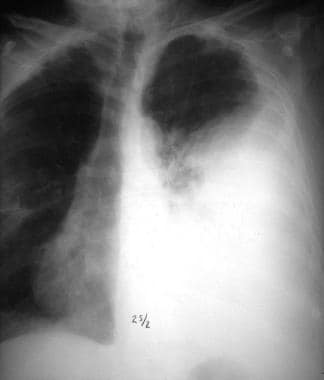 Empyema caused by Streptococcus pneumoniae. Anteroposterior film. Courtesy of R. Duperval, MD.
Ultrasonography/CT scanning
Chest ultrasonography or chest CT scanning may be obtained to provide information on the presence and/or extent of pleural effusion/empyema and parenchymal disease. Studies investigating the diagnostic utility of lung ultrasonography to diagnose pneumonia have been promising. [69]
Sinus CT scanning may provide information about the presence and extent of sinus disease. Positive findings include opacification or air-fluid levels.
Facial CT scanning should be obtained in patients with periorbital or orbital cellulitis to look for evidence of soft tissue swelling, bony involvement, cranial nerve impingement, or proptosis.
MRI/CT scanning
MRI or CT scanning of affected bones or joints should be obtained to evaluate for evidence of joint destruction, periosteal elevation, or a mass.
An MRI of the brain may be obtained in patients with meningitis to determine the location and extent of involvement but is not required by Infectious Disease Society of America (IDSA) guidelines.
Other Tests
Echocardiography should be performed in patients in whom endocarditis is suspected.
Procedures
Procedures include the following:
Middle ear fluid aspiration

Chest tube thoracostomy or catheter placement

Video-assisted thoracoscopy (VATS) or pleural decortication

Joint fluid aspiration and/or wash-out of joint space

Soft tissue/muscle biopsy
Histologic Findings
What would you like to print?