Workup
Laboratory Studies
Proteus organisms are easily recovered through routine laboratory cultures. Most strains are lactose-negative and demonstrate characteristic swarming motility on agar plates. Any positive culture result from an otherwise sterile area should be considered an acute infection if clinical signs and symptoms are present.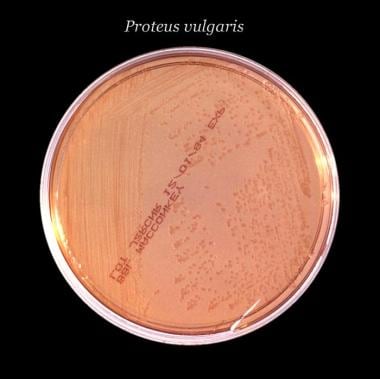 After 24 hours, this inoculated MacConkey agar culture plate cultivated colonial growth of gram-negative, rod-shaped, and facultatively anaerobic Proteus vulgaris bacteria. Courtesy of the CDC.
UTIs in symptomatic patients traditionally have been defined by recovering bacteria in large numbers (ie, >100,000 colony-forming units [CFUs]/mL) on examination. Bacterial counts of less than 100,000 CFUs/mL may indicate infection in urine samples, especially if obtained directly from the ureters or renal pelvis, whereas specimens from suprapubic catheters usually have bacterial counts greater than 100,000 CFUs/mL. However, even small numbers of organisms may be of true clinical significance in symptomatic patients (eg, women with the urethral syndrome).
Microscopic bacteriuria is best evaluated through uncentrifuged Gram staining of the urine. Microscopic bacteriuria is found in 90% of cases when bacterial counts exceed 100,000 CFUs/mL. Detection by microscopy confirms infection, but absence does not exclude infection. Pyuria is demonstrated in nearly all acute bacterial infections, but its absence calls the diagnosis into question. The leukocyte esterase dipstick test is a useful alternative to microscopic examination, but this method is less sensitive than microscopy.
Persistently alkaline urine with a positive Proteus culture finding should prompt an examination for renal calculi.
Although cultures are the most definitive way of confirming an acute Proteus infection, they often are prohibitively expensive and take time for complete identification. Cultures are most effective when patients do not respond to empiric therapy or when they have recurrent symptoms.
Imaging Studies
Ultrasonography of the kidneys or a CT scan should be considered as part of a workup for Proteus infection of the urinary tract that does not resolve quickly with antimicrobial therapy. Calices and/or perinephric abscesses should be excluded. Given the increased severity of Proteus UTIs and the propensity of the organism to cause bacteremia in community-acquired infections and in patients with hydronephrosis or urolithiasis, radiographic studies such as renal ultrasonography or CT scanning should be considered in patients with severe UTIs, especially when complicated by bacteremia.
What would you like to print?