Workup
Approach Considerations
Clinical consideration for the diagnosis of relapsing fever should be made in patients who present with the characteristic recurrent fever and crisis phenomenon (described in Presentation), and an exposure to soft-bodied ticks or body lice in geographic areas endemic to louse-borne relapsing fever or tick-borne relapsing fever.
Laboratory Studies
Peripheral blood smears
Peripheral blood smear is typically the first step in diagnosis. Tick-borne relapsing fever (TBRF) is definitively confirmed in the laboratory with direct observation of spirochetes in manually inspected peripheral blood smears during episodes of fever. A thin smear or thick drop of blood is deposited on a microscope slide, which is then stained with either Wright or Giemsa, and examined under oil immersion. On average, five organisms are visible per oil immersion field.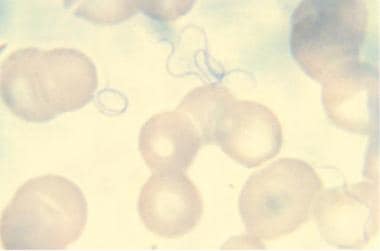 Peripheral blood smear in relapsing fever. (Image originally printed in Blevins SM, Greenfield RA, Bronze MS. Blood smear analysis in babesiosis, ehrlichiosis, relapsing fever, malaria, and Chagas disease. Cleve Clin J Med. Jul 2008;75(7):521-30. Reprinted with permission from the Cleveland Clinic.)
Thick smears are more sensitive than thin smears and can detect one log fewer organisms (ie, 104/mL of blood).
Peripheral blood smears yield a sensitivity of 70%, [44] and the technique is more sensitive in TBRF than in louse-borne relapsing fever (LBRF).
Smears performed between relapses do not demonstrate the organism and should be repeated when the fever reappears. Inexperience in reading smears or a low index of suspicion for the infection may also result in false-negative blood smear results. [2] The spirochetes are too slender to be visualized in light microscopy wet mounts.
Polymerase Chain Reaction Testing
In case the organism is not visualized in the peripheral smear, yet the clinical suspicion for relapsing fever remains high, a polymerase chain reaction should be done [45, 46, 47] using blood, CSF, or culture medium growing Borrelia species. PCR can also be performed to identify the organism in tissue [36, 48, 49] .
Direct or immunofluorescence staining
These techniques may also be used to visualize spirochetes using a fluorescence microscope.
Dark-field microscopy
This may show spirochetes in the blood.
Peripheral blood wet mounts
This may show red cells colliding with spirochetes. [2]
Nonspecific laboratory findings
These include normal to mildly increased leukocyte counts, anemia, thrombocytopenia, increased liver enzyme levels, and prolonged coagulation parameters.
Cerebrospinal fluid (CSF) studies
In patients with suspected neurologic involvement, a lumbar puncture should be performed. CSF studies show mononuclear pleocytosis and a mildly elevated protein level. [5]
Microscopically, recognition of Borrelia may be enhanced by Pappenheim-stained cytospin preparation from CSF, and, to increase the sensitivity, preparation with acridine orange may be performed.
Successful treatment of neuroborreliosis may be assessed by checking a chemokine level for CXCL13. This has been identified as a potentially sensitive and specific biomarker for diagnosing acute neuroborreliosis (eg, due to B burgdorferi, as well as other spirochetes, such as Treponema pallidum). [50]
Imaging Studies
No special imaging is required in relapsing fever. Imaging would be performed only to evaluate suspected intracranial hemorrhage or other complications.
Chest radiography may reveal pulmonary edema.
Other Tests
Quantitative buffy coat is 100 times more sensitive than thick films in vitro and may be useful in diagnosis of relapsing fever. However, it requires special equipment. [51]
The organism can be grown in culture using a specific liquid medium developed by Kelly. [52] In this technique, a couple of drops of blood are added to the medium, which is incubated at 30-37°C and kept for 2 to 6 weeks. Dark-field microscopy is used to periodically check for spirochetes.
In the research setting, the patient's blood can be inoculated into mice and the spirochetes amplified in murine blood. [9]
Monoclonal antibodies can be used to diagnose B hermsii infection. [53]
Polymerase chain reaction (PCR) amplification has been developed for identification of most Borrelia species. [54] A real-time PCR assay for B recurrentis was described in 2003, and it does not cross-react with other Borrelia species. [55] PCR can be performed on blood or on culture medium growing Borrelia. Species identification is possible. [56] Confirmatory PCR testing for B hermsii is available only at reference laboratories.
A multiplex real-time PCR assay targeting the 16S rRNA gene is now available for the detection of all four borreliae: GLPQ gene detecting B crocidurae, the RECN gene detecting B duttonii/B recurrentis, and RECC gene detecting B hispanica. Multiplex real-time PCR assay yielded 100% sensitivity and specificity for B duttonii/B recurrentis and B. hispanica, and 99% sensitivity and specificity for B crocidurae when applied to 398 blood specimens. These findings provide proof-of-concept that multiplex real-time PCR is a new tool for diagnosis of borreliae that cause relapsing fever, especially in Africa, where multiple Borrelia subspecies may cause relapsing fever concurrently. [57]
Immunofluorescent staining, dark-field microscopy, and serologic testing can also be performed.
Serologies: Antibodies to Borrelia species can be detected with enzyme immunoassays. With this technique, TBRF is confirmed with (1) a 4-fold rise in titers between acute and convalescent samples or (2) a single reactive sample. However, few laboratories perform these assays, and the sensitivity needs to be improved. Enzyme-linked immunosorbent assay (ELISA) is most commonly performed using B hermsii as the antigen. False-positive ELISA results have been noted in patients infected with other Borrelia species. In addition, false-positive results for syphilis and Lyme disease have been described. [58, 59]
An immunoreactive protein termed glycerophosphoryl diester phosphodiesterase (G1pQ) has been identified in spirochetes that cause relapsing fever. It recognizes antibodies produced during relapsing fever but, unlike serological testing, does not recognize the antibodies made in Lyme disease or syphilis. [2] The G1pQ assay is not commercially available.
Histologic Findings
Spirochetes may be detected in tissue using silver stains (eg, Warthin-Starry or modified Dieterle). Alternatively, they may be visualized with immunofluorescence using antibodies. [10]
On gross pathology, endothelial cell edema, microvascular leakage, perivascular mononuclear infiltrates, microabscesses, and hemorrhage may be seen. In fatal LBRF, myocarditis with histiocytic infiltrates and microhemorrhages may be observed. In the liver and spleen, focal necrotic areas may be noted. [40] Other organs in which the spirochetes have been identified include the brain, eye, and kidney. [40, 60] The degree of severity in relapsing fever directly relates to the number of blood spirochetes. [61]
What would you like to print?