Workup
Approach Considerations
Immediately evaluate patients at risk if any signs or symptoms develop. Early detection and treatment are essential. Laboratory study results are generally nonspecific for rhinocerebral mucormycosis but may show metabolic acidosis and hyperglycemia. Blood culture findings are commonly negative. Polymerase chain reaction (PCR) assay 16s ribosomal ribonucleic acid (rRNA) gene sequence analysis may be helpful. [24]
Cerebrospinal fluid (CSF) may show an increased opening pressure, modest neutrophilic pleocytosis, normal or slightly elevated protein levels, or low glucose levels. In most cases, however, CSF study findings are normal. [24]
Imaging studies help to support the diagnosis of rhinocerebral mucormycosis and to precisely determine the extent of disease.
Biopsy
Fine-needle aspiration can yield a diagnosis, but definitive therapy should not be withheld pending results. [25, 26]
Perform urgent exploration and biopsy if mucormycosis is suspected. Send frozen and permanent sections and fresh tissue. If clinical suspicion is high, but the initial specimens are negative, take additional specimens to include the arteries.
Imaging
CT scanning
Computed tomography (CT) scanning demonstrates soft tissue extent, mucosal thickening, opacification of sinuses, and bony destruction of the sinuses and orbit. (In general, bone erosion is a late finding.) A CT scan may also demonstrate cavernous sinus thrombosis, enhancement of vessels, and CNS lesions (eg, cerebritis, cerebral edema). (See the images below.)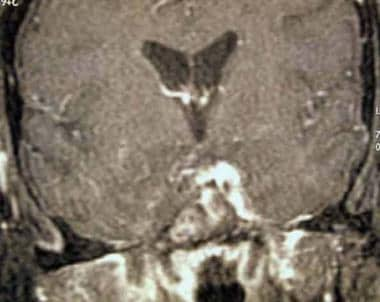 CT brain scan illustrating the appearance of cavernous sinus thrombosis.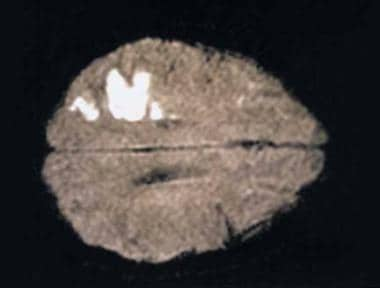 CT brain scan showing the appearance of a cerebral infarct.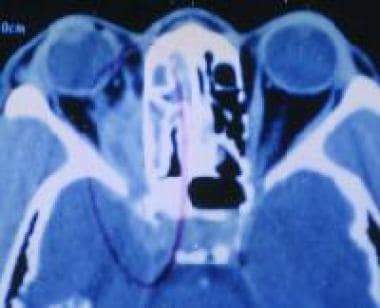 CT scan of a patient who is suspected of having mucormycosis shows extensive involvement of the right orbit and adjacent sinuses.
MRI
Contrast-enhanced magnetic resonance imaging (MRI) shows findings similar to those on a CT scan. MRI also helps to define early vascular intracranial invasion and infection along peripheral nerves before clinical signs develop.
Sinus radiography
Sinus radiography reveals mucosal thickening with or without air-fluid levels. Sinus opacification, especially ethmoid or sphenoid, may be observed.
Histologic Findings
Direct microscopic examination can be performed to identify the hyphae of infectious agents. The following tissue preparations can be used (see the images below):
Scrape smears stained with hematoxylin-eosin (H&E) and Papanicolaou stains

Air-dried smears stained with May-Grünwald-Giemsa and periodic acid-Schiff (PAS) stains

Paraffin sections of surgical material stained with H&E and PAS stains
Frozen-tissue biopsy at the time of surgery should demonstrate tissue invasion by nonseptate hyphae with right- or obtuse-angle branching. In contrast, Aspergillus hyphae are thinner and less septated and can cause granulomas. The tissue culture result is positive for the fungus. Histology demonstrates invasion along the elastic lamina of blood vessels with subsequent thrombosis and tissue necrosis.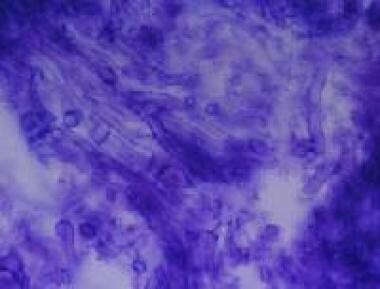 Characteristic appearance of mucormycosis under the microscope.
What would you like to print?