Presentation
History
Salmonella infections typically produce 1 of 3 distinct syndromes: nontyphoidal enterocolitis, nontyphoidal focal disease, or typhoid (enteric) fever.
Nontyphoidal enterocolitis
Infection with nontyphoidal salmonellae usually causes enterocolitis similar to that caused by other bacterial enteric pathogens.
The incubation period depends on the host and the inoculum is generally 6-72 hours. In most cases, stools are loose and bloodless.
In rare cases, Salmonella infections cause large-volume choleralike diarrhea or may be associated with tenesmus. The diarrhea is typically self-limiting and resolves within 3-7 days.
Fever, abdominal cramping, chills, headache, and myalgia are common. Fever usually resolves within 48 hours.
Nontyphoidal focal disease
Focal disease is due to transient or persistent bacteremia. Almost any organ can be affected, with sites of preexisting structural abnormalities being the most vulnerable.
Typhoid fever
The clinical course of typhoid fever varies greatly, ranging from fever with little other morbidity to marked multisystem toxemia.
About 10-15% of patients develop severe disease. [24]
In endemic regions, the diagnosis can be missed because of nonspecific features such as diarrhea, vomiting, or predominantly respiratory symptoms.
Typhoid fever typically has incubation period of 10-14 days and is usually associated with prolonged low-grade fever, dull frontal headache, malaise, myalgia, dry cough, anorexia, and nausea.
The fever may progress in a stepwise manner to become persistent and high grade by the end of second week. It can last up to 4 weeks if left untreated, followed by return to a normal temperature.
Relative bradycardia at the peak of the fever is an indicator of typhoid fever, although this finding is not universal.
Rose spots develop on the back, arms, and legs in up to 25% of cases late in the first week of fever. [24]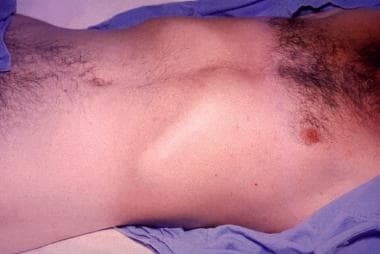 Rose spots on abdomen of a patient with typhoid fever due to the bacterium Salmonella typhi. Courtesy of CDC/Armed Forces Institute of Pathology, Charles N. Farmer.
Coated tongue, alteration of bowel habits (varying from constipation in adults to diarrhea in children), tender abdomen, and hepatosplenomegaly are common symptoms of typhoid fever.
Malaise and lethargy can continue for a couple of months.
In areas where malaria or schistosomiasis is endemic, typhoid fever may have an atypical presentation. [25, 26]
Other presentations of Salmonella infection
Urolithiasis or structural abnormalities and immunosuppressive therapy predispose to Salmonella urinary tract infections.
Relapses can occur, even with appropriate therapy. In an Israeli series, 2.2% of patients experienced a bacteriologically proven relapse. [17] The relapse rate is significantly higher in immunosuppressed patients with Salmonella bacteremia.
Physical
Nontyphoidal gastroenteritis
The physical findings of nontyphoidal gastroenteritis are generally limited to nonbloody loose stool or watery diarrhea. Bloody diarrhea suggests infection with Shigella or enterohemorrhagic E coli.
Typhoid fever
Patients with typhoid fever may develop pink, blanchable, slightly raised macules (rose spots) on the chest and abdomen. However, rose spots are not diagnostic and are occasionally caused by other enteric infections. [17]
In many patients, fever is accompanied by prostration and an apathetic-lethargic state (the so-called tuphos of the ancient Greeks). In some patients, CNS symptoms, including delirium, psychosis, and focal neurological deficit, occur, without any evidence of direct CNS involvement of the infection. [27]
Headache is common and may be severe.
Abdominal tenderness (approximately 50%), mild hepatosplenomegaly (approximately 50%), and coated tongue are common in individuals with typhoid fever.
A sudden worsening of abdominal pain suggests bowel perforation.
Relative bradycardia is associated with typhoid fever but lacks specificity (also found in patients with borreliosis, malaria, or dengue fever, among others). Electrocardiographic changes, usually QT prolongation, are not uncommon but rarely evolve into a myocarditislike syndrome. [28]
While secondary pneumonia is rare, cough is common. [17]
Causes
The following were the 7 most commonly isolated Salmonella strains causing human disease reported to the US Centers for Disease Control and Prevention in 2007: [18]
S enteritidis heidelberg (3.9%)

S enteritidis newport (10.4%)

S enterica serotype Javiana (5.5%)

S enterica serotype I 4,5,12:i: (5.7%)

S enteritidis montevideo (3.4%)
Enteric fever is caused by S typhi and S paratyphi.
What would you like to print?