Workup
Laboratory Studies
The diagnosis of toxocariasis requires a high index of suspicion and depends on serologic testing (eg, ELISA, immunoblot).
Peripheral blood eosinophilia is the most important finding; however, it may be absent in patients with ocular or covert toxocariasis.
Serum total IgE: Patients with toxocariasis often have a marked increase in total IgE levels.
ELISA with Toxocara excretory-secretory antigen (TES-Ag) may show the following:
An elevated anti–TES-Ag IgE level indicates acute infection or progressive inflammation caused by toxocariasis.

An increase in the immunoglobulin G (IgG) level confirms a past or present infection with minimal inflammation.

In ocular toxocariasis, an IgG or IgE titer is lower because the worm burden is smaller.

ELISA with aqueous fluid is therefore useful when ocular toxocariasis is suspected.
Imaging Studies
Chest radiography
In a patient with pulmonary involvement, chest radiography may show multiple pulmonary nodules with surrounding ground-glass opacities, or possibly pleural effusion.
Ultrasonography
Ultrasonography reveals multiple hypoechoic areas in the liver.
CT scan
Hepatic lesions are of low density.
Pulmonary involvement manifests as multiple pulmonary nodules and surrounding ground-glass opacities or, rarely, pleural effusion.
In the CNS, granulomas appear cortically or subcortically, showing a hyperintense appearance on proton density and T2-weighted images.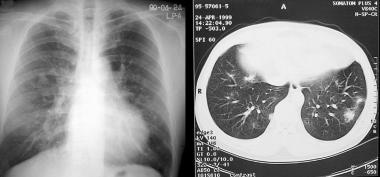 The image on the left is a posteroanterior chest radiograph in a patient with toxocariasis. The image on the right is a CT scan of the patient with toxocariasis showing multiple pulmonary nodules with surrounding ground-glass opacities at first visit.
Other Tests
An immunoblot is more specific than ELISA when bands from 24-35 kD are considered out of typical 7-band patterns (24, 28, 30, 35, 132, 147, 200 kD).
Funduscopic examination should be performed in patients suspected of having acute toxocariasis.
Procedures
Biopsy is rarely performed to confirm the presence of Toxocara larvae.
A needle biopsy of the liver is required for histologic diagnosis in cases of liver involvement; however, some results are false-negative because lesions in the liver are very small.
Histologic Findings
The encapsulated larvae can be found in the liver, lung, brain, and/or enucleated eye. The larvae occur in a matrix of epithelioid cells surrounded by a fibrous capsule with weak inflammatory reactions. In ocular toxocariasis, a mobile larva can be directly observed under the retina.
Staging
No clinical or histological staging of toxocariasis exists.
What would you like to print?