Workup
Laboratory Studies
Treponematosis should be suspected in persons with appropriate clinical findings (eg, chronic skin or bone lesions) who live in or are from endemic areas. As with other treponeme diseases, confirmation of the diagnosis depends on dark-field examination, if available, or serologic testing. The epidemiologic setting is vital because the nonvenereal treponemes cannot be distinguished from T pallidum (the cause of venereal syphilis) with laboratory studies.
Tests for endemic treponematosis are the same as for syphilis. Because treponemes cannot be easily and readily cultured, use other laboratory methods of identifying infection. The current tests for syphilis fall into the following three categories: direct microscopic identification when lesions are present, nontreponemal tests used for screening, and treponemal tests used for confirmation.
Direct microscopy
Direct microscopic identification of treponemes from lesion fluids by either dark-field microscopy or direct fluorescent antibody should be the initial step in diagnosing a treponemal infection. This is most helpful during the primary stage of infection because treponemal antibodies do not usually appear until 1 to 4 weeks after the lesion has formed.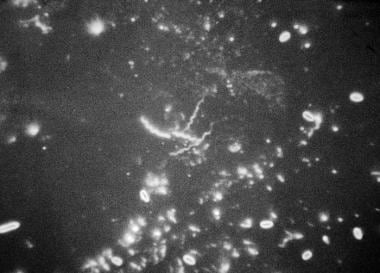 Photomicrograph (540X) of Treponema carateum obtained from an early pinta lesion. Courtesy of the CDC.
A negative dark-field finding does not exclude the diagnosis of treponematosis because the organisms may be too few if the lesion is in the healing stage or if the infection has been altered by treatment.
Nontreponemal tests
These include the nontreponemal rapid plasma reagin (RPR) test and the Venereal Disease Research Laboratory (VDRL) test. These tests usually become positive within 2 to 4 weeks of the appearance of the primary lesion. They can be used as tests of cure because they usually become negative after treatment.
RPR is inexpensive and rapid and is convenient for screening large numbers of sera specimens.
The standard nontreponemal test is the VDRL slide test, in which serum is tested for its ability to flocculate a suspension of cardiolipin-cholesterol-lecithin antigen. This test is based on the observation that antibodies elicited against treponemal surface antigens cross-react with cardiolipin.
Treponemal tests
The confirmatory treponemal tests are the fluorescent treponemal antibody absorption (FTA-ABS) test, T pallidum hemagglutination assay (TPHA), and T pallidum particle agglutination assay (TPPA). These tests use T pallidum organisms as the antigen. The patient's serum is first absorbed to remove any naturally occurring cross-reacting antibody; it is then reacted with the organism.
Because of the nonstandardized, qualitative, and subjective nature of these tests, their principal use is to confirm any positive VDRL or RPR test result.
Other tests
New rapid point-of-care tests are currently being evaluated.
None of the available tests can reliably distinguish between the organisms that cause syphilis from other endemic treponematoses.
Imaging Studies
Imaging studies are generally not used in the diagnosis or treatment of endemic treponematosis, although changes to bone periosteum and cartilage may be observed on radiography in late-stage yaws or endemic syphilis.
Histologic Findings
Dark-field microscopy of material from cutaneous lesions often yields treponemes. However, this technique may not be available in endemic areas, and pathologic diagnosis is not considered necessary. In yaws and pinta, granulomatous inflammation resembles that of syphilis. Endarteritis is a feature of late yaws lesions.
What would you like to print?