Presentation
History
V parahaemolyticus is the leading cause of seafood-associated gastroenteritis in the United States. Most individuals with noncholera Vibrio infections report recent consumption or handling of contaminated seafood such as oysters, clams, crabs, or other shellfish. Others have a history of contact with brackish or salty waters. Persons with immunodeficiency disorders, chronic liver disease, and iron storage disorders may be particularly susceptible to severe infections and have rapid clinical deterioration. With the exception of dramatic clinical progression in wound infection and septicemia, no characteristic signs and symptoms of early-stage noncholera Vibrio infections exist.
Table 3. Clinical Signs and Symptoms of Vibrio Infections (Open Table in a new window)
Clinical Presentation

Symptoms (Frequency)

Gastroenteritis

Diarrhea (100%)

Abdominal cramps (89%)

Nausea (76%)

Vomiting (55%)

Fever (47%)

Bloody stools (29%)

Headache (24%)

Myalgia (24%)

Wound infection

Swelling (100%)

Pain (100%)

Erythema (100%)

Bullae (30-50%)

Necrosis (30-50%)

Gangrene (< 10%)

Septicemia

Fever (>90%)

Hypothermia (< 10%)

Hypotension (100%)

Tachycardia (80-90%)

Shock (50-70%)

Bullae (80-100%)

Acute respiratory distress syndrome (< 5%)

Multiple organ dysfunction (30-50%)
Although atypical infections with Vibrio species involving peritonitis, pneumonia, endometritis, meningitis, septic arthritis, osteomyelitis, and keratitis have been reported, in general, Vibrio causes 3 clinical symptoms: gastroenteritis, skin and soft tissue infections, and septicemia.
Gastroenteritis
After an average incubation period of 19 hours (range, 12-52 h), patients with Vibrio gastroenteritis report abdominal pain or cramps, nausea, vomiting diarrhea, fevers and chills. [40] Patients frequently pass several watery stools (10-15/d). The occurrence of bloody diarrhea varies. It is reported in 25% of patients with V parahaemolyticus infection but may develop in up to 75% of patients with V fluvialis infection.
Low-grade fever may be observed in patients with Vibrio gastroenteritis.
Most patients remain alert upon admission. However, elderly patients may have decreased mental status due to dehydration or sepsis. Death is rare, but would most likely be caused by concomitant Vibrio septicemia.
Skin and soft tissue infections
Patients frequently report injury associated with handling contaminated shellfish (preparation of St Peter's fish (Tilapia zillii) and preparation of crabs, lobsters, or mussels), particularly fishhooks within the fish. Injuries can also be sustained when stepping on seashells, crustaceans, or stingrays. [41]
Initially, patients with such infections almost always report severe pain of the involved limb or body part. Numbness of the wound and the surrounding area may predominate if the patient has delayed seeking medical attention.
Septicemia
Symptoms usually occur within 7-14 days of contact. Patients frequently exhibit a dramatic clinical presentation of bacteremia, minus a clear focus. This may be characterized by the abrupt onset of the following:
Exquisite pain in the lower extremities (most characteristic) or, rarely, pain in the lower trunk [42]
Physical
The physical findings of Vibrio infections vary according to clinical presentations.
Acute gastroenteritis
Patients with acute Vibrio gastroenteritis are typically acutely ill with diarrhea, nausea, vomiting, abdominal pain, and fever (50%).
The vital signs, such as blood pressure and heart rate, vary depending on the level of dehydration.
Unless the patient has underlying disease, no physical findings are specific for acute Vibrio gastroenteritis. [40]
Skin and soft tissue infection
After a short incubation period (3-24 h), patients with Vibrio wound infections frequently present with rapidly progressing wound swelling and severe pain.
The majority of such wounds involve the fingers, palms, or soles of the feet.
In milder cases, erythema, edema, and pain are localized to the initial wound, without signs of compartment syndrome, necrosis, gangrene, or necrotizing fasciitis.
In patients with medical conditions such as cirrhosis or malignancies, the wound infection may progress very rapidly, with formation of hemorrhagic bullae and extensive soft-tissue necrosis. [41, 42]
Septicemia
After a short incubation period (12-48 h) following the consumption of raw seafood or exposure of broken skin to warm seawater, patients with Vibrio septicemia frequently develop fever, shaking chills, generalized myalgia, edema, and severe pain in the lower extremities. [42]
Within 3-24 hours, edema of the lower extremities worsens.
Multiple hemorrhagic bullae and extensive ecchymosis distributed predominantly over the lower extremities form rapidly.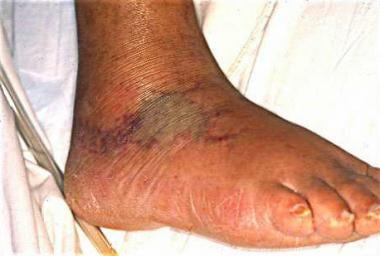 Vibrio infections. Early bullous lesions appear over the dorsum of the foot of a patient with cirrhosis.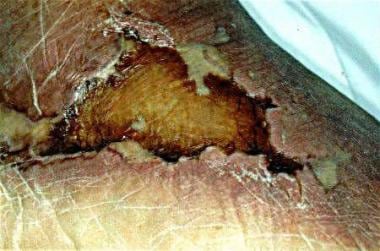 Vibrio infections. In a patient with cirrhosis, skin lesion rapidly becomes necrotic.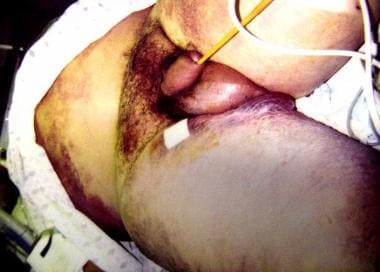 Vibrio infections. Bullous lesions in a patient with cirrhosis continue to progress, and the patient rapidly develops hypotension and shock despite aggressive medical therapy.
Patients frequently become hypotensive despite aggressive intravenous fluid therapy.
Patients become lethargic, obtunded, and, finally, unconscious as the disease progresses.
Oliguria may develop.
Noncardiogenic pulmonary edema may develop.
Ocular infection
This may manifest as conjunctivitis, keratitis, or endophthalmitis.
Peritonitis
This may manifest as abdominal pain and cloudy peritoneal fluid in patients receiving CAPD.
Causes
Noncholera Vibrio infections are foodborne diseases that are largely associated with the following:
Consumption of raw or undercooked seafood such as oysters, clams, crabs, or mussels

Exposure of wound to contaminated water
Acute gastroenteritis associated with noncholera Vibrio infection is frequently self-limited, although persons with certain underlying medical conditions may develop fulminant infections. These underlying medical conditions include the following:
Advanced liver diseases, such as cirrhosis, hepatitis B virus (HBV) infection, hepatitis C virus (HCV) infection, alcoholism, hemochromatosis, and liver transplantation

Hematologic diseases, such as acute leukemia, aplastic anemia, hemolytic anemia, and thalassemia

Immunosuppressive therapy, including cytotoxic chemotherapy, corticosteroids, and tacrolimus

Kidney disease involving kidney transplantation or hemodialysis

Miscellaneous procedures and conditions, including splenectomy and diabetes mellitus
Complications
Although reactive arthritis may occur, other complications are rare in immunocompetent patients who have noncholera Vibrio gastroenteritis.
Patients with advanced liver disease or other underlying medical conditions are prone to developing serious complications of Vibrio infections, including the following:
Multiple organ dysfunction
A delay in performing fasciotomy or debridement in a patient with a Vibrio wound infection may result in death or rapid disease progression, which may lead to amputation.
Avoid admitting patients with noncholera Vibrio wound infection or septicemia to the regular ward. Hypotension or shock can develop very quickly.
Frequent surgical evaluation is necessary to detect the rapid development of compartment syndrome.
What would you like to print?