Presentation
History
Mucormycosis can manifests as a spectrum of diseases, depending on the portal of entry and the predisposing risk factors of the patient. The 5 major clinical forms include rhinocerebral mucormycosis, pulmonary mucormycosis, abdominopelvic and gastric (gastrointestinal) mucormycosis, primary cutaneous mucormycosis, and disseminated mucormycosis. [3, 15, 12, 14]
Rhinocerebral mucormycosis
Rhinocerebral mucormycosis is the most frequently encountered form of the disease. Approximately 50% of mucormycosis cases in persons with diabetes are of the rhinocerebral type. Rhinocerebral mucormycosis is frequently observed in patients presenting with diabetic ketoacidosis. The typical presentation of rhinocerebral zygomycosis generally involves the nose, followed by the eyes, brain, and, occasionally, the meninges.
Patients with rhinocerebral mucormycosis typically present with a history of fever, unilateral facial pain or headaches, nasal congestion, epistaxis, visual disturbances, and lethargy.
Physical examination may reveal periorbital cellulitis, proptosis, and loss of extraocular muscle movement (as seen in the image below). These lesions are frequently accompanied by cranial nerve palsy of the II, III, IV, and VI nerves.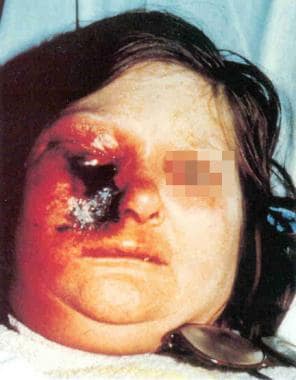 A 45-year-old woman with poorly controlled diabetes mellitus with facial and periorbital swelling due to zygomycosis. She was unable to open her right eye upon admission.
Black necrotic lesions are generally observed on the hard palate or nasal mucosa of these extremely ill patients.
Pulmonary mucormycosis
Patients with pulmonary mucormycosis typically present with a history of fever, cough, hemoptysis, chest pain, and increasing shortness of breath.
Physical examination may reveal pleuritic rub and rhonchi over the affected area.
Primary pulmonary mucormycosis is the second most common form of the infection and tends to occur in patients with hematological malignancy, those with profound neutropenia, stem cell transplant recipients, and in those who have been receiving high-dose steroid therapy.
Gastrointestinal mucormycosis
Patients with gastrointestinal infection typically present with a history of abdominal pain or distention, dyspepsia, nausea and vomiting, diarrhea, and hematochezia.
Physical examination may reveal decreased bowel sounds, guarding or rebound tenderness, and localized-to-diffuse abdominal tenderness.
Gastrointestinal mucormycosis is the least common form of the infection, accounting for less than 10% of all cases of mucormycosis. [11]
Gastrointestinal mucormycosis tends to develop in malnourished individuals, low birth weight infants, or in patients with renal failure who are on peritoneal dialysis. Infection is caused by ingestion of the organism and results in necrotic ulcerations, with ischemia and gangrene of the stomach and colon. Gastrointestinal mucormycosis carries an extremely high mortality rate because of the high incidence of bowel perforation and the difficulty in establishing the diagnosis. [16]
Cutaneous mucormycosis
Cutaneous mucormycosis accounts for approximately 20% of all zygomycosis cases.
Primary cutaneous zygomycosis is generally due to local trauma or inoculation, while secondary infection is due to hematogenous dissemination of the organisms to the skin.
Patients with cutaneous infection typically present with a history of previous local trauma, with pain around the trauma site.
Physical examination may reveal single skin lesions that begin with induration and erythema and gradually develop into a necrotic ulcer with a characteristic dark central area. The margins of the ulcer are sharply demarcated.
Cutaneous mucormycosis may be primary, resulting from direct inoculation of the organism into disrupted integument. It also has been associated with the use of Elastoplast bandages over biopsy sites and in burn patients with prior colonization. Secondary cutaneous mucormycosis is generally seen in association with widely disseminated infection due to hematogenous seeding.
Disseminated mucormycosis
Disseminated mucormycosis generally arises from the lungs and spreads hematogenously to the central nervous system.
Patients with disseminated mucormycosis typically present with a history of headaches, fever, visual disturbances, and changes in mental status.
Physical examination may reveal lethargy, obtundation, coma, sudden onset of focal neurologic deficits, and necrotic ulcerations on the respiratory-tract mucosa or the skin.
Deferoxamine therapy appears to be the most significant risk factor for disseminated mucormycosis. This underscores the importance of iron availability as a virulence factor for these infections.
Disseminated mucormycosis in individuals with hematological malignancies begins in the lungs and spreads to the CNS, producing infarction and abscess. It also can spread to the liver, spleen, kidney, heart, and skin.
Physical
Causes
Most persons who develop mucormycosis are immunocompromised, although 15-20% of patients have no evidence of any underlying condition at the time of the diagnosis. [6, 10, 11, 12, 14] Thus, sporadic cases in immunocompetent hosts are not uncommon. The most common risk factors include the following:
Stem cell transplantation

Poorly controlled diabetes mellitus, either type 1 or type 2

Hematologic malignancy (eg, leukemias, lymphomas)

Severe and prolonged neutropenia

Penetrating trauma (rare)
What would you like to print?