Workup
Approach Considerations
In June 2013, the American Academy of Pediatrics published updated guidelines on the diagnosis and management of acute bacterial sinusitis in children and adolescents. Changes include the following:
Previous diagnostic criteria for acute bacterial sinusitis in children were acute upper respiratory tract infection (URI) with either nasal discharge and/or daytime cough for longer than 10 days or severe onset of fever, purulent nasal discharge, and other respiratory symptoms for 3 or more consecutive days. A third criterion added to the updated guideline is URI with worsening symptoms such as nasal discharge, cough, and fever after initial improvement.

Physicians may now observe children with persistent infection lasting longer than 10 days for an additional 3 days before prescribing antibiotics, but antibiotics should still be given to children with severe onset or worsening symptoms.

First-line therapy is amoxicillin with or without clavulanate.

Imaging tests are not recommended for children with uncomplicated acute bacterial sinusitis, although children with suspected orbital or CNS complications should undergo CT scanning of the paranasal sinuses.
Some authors have reported on the use of laboratory tests, including sedimentation rate, white blood cell counts, and C-reactive protein levels, to help diagnose acute sinusitis. [40] These tests appear to add little to the predictive value of clinical findings in the diagnosis.
According to the AAAAI 2005 practice parameter, evaluation of acute, chronic, or recurrent sinusitis might include the following laboratory tests: nasal cytology, nasal-sinus biopsy, or tests for immunodeficiency, cystic fibrosis, or ciliary dysfunction. [4]
The 2007 guidelines by the American Academy of Otolaryngology--Head and Neck Surgery Foundation [33] were updated in 2015 [34] and recommended that clinicians (1) reassess the patient to confirm acute bacterial rhinosinusitis, to exclude other causes of illness, and to detect complications if the patient worsens or fails to improve with the initial management option by 7 days after diagnosis or worsens during the initial management; (2) distinguish chronic sinusitis and recurrent acute sinusitis from isolated episodes of acute sinusitis and other causes of sinonasal symptoms; and (3) assess the patient with chronic sinusitis or recurrent acute sinusitis for multiple chronic conditions that would modify management, such as asthma, cystic fibrosis, immunocompromised state, and ciliary dyskinesia.
The 2015 guidelines [34] recommend that clinicians should not obtain radiographic imaging in patients who meet diagnostic criteria for acute sinusitis unless a complication or alternative diagnosis is suspected.
Imaging studies are not necessary when the probability of sinusitis is either high or low but may be useful when the diagnosis is in doubt, based upon a thorough history and physical examination. Plain sinus radiographs may demonstrate mucosal thickening, air-fluid levels (see the image below), and sinus opacification.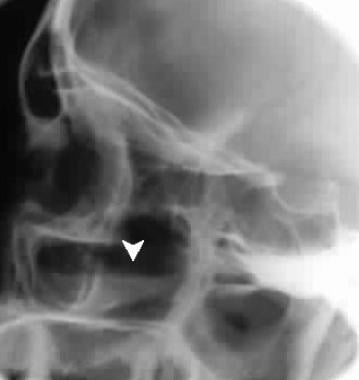 Air-fluid level (arrow) in the maxillary sinus suggests sinusitis.
Limitations of plain films include interobserver variability, inability to distinguish infection from a polyp or tumor disease, and poor depiction of the ethmoid and sphenoid sinuses.
Blood Studies
The erythrocyte sedimentation rate and C-reactive protein level may be elevated in rhinosinusitis, but these findings are nonspecific.
The findings of complete blood cell (CBC) count with differential may be within reference ranges.
Tests for Immunodeficiency
Tests for immunodeficiency are indicated if history findings indicate recurrent infection, to include the following:
Nasal Cytology
Nasal cytology examinations may be useful to elucidate the following entities:
Sweat Chloride Test
Sweat chloride test screening should be performed if cystic fibrosis is suggested.
Cultures of Nasal Secretions
Cultures of nasal secretions are of limited value because they are usually contaminated by normal flora. Consequently, cultures are not routinely obtained in the evaluation of acute sinusitis; however, they should be obtained in a patient in intensive care or with immunocompromise, in children not responding to appropriate medical management, and in patients with complications of sinusitis.
Because the nose is colonized with multiple nonpathogenic species of bacteria, care must be taken when evaluating culture results. A specific organism is considered pathogenic when more than 104 colony-forming units of the species are grown on culture or when polymorph counts are greater than 5000 cells/mL. Important to note is that this sample must be taken from the cavity of a paranasal sinus, not nasal secretions, cultures from which are considered useless. Obtaining cultures endoscopically is useful.
Aspiration of the sinus by direct antral puncture is the only accurate way to obtain a culture; however, this is reserved for those with life-threatening illness or an immunocompromised status or those who have disease that is unresponsive to therapy. However, in adults, if attainable, cultures directed at the middle meatus more accurately reflect the contents of the sinuses themselves, according to most studies. This may not be useful in children because the meatus is usually colonized. [41]
Computed Tomography
CT scanning is the preferred imaging method for rhinosinusitis. A screening sinus CT scan is adequate for diagnosis and less expensive than other methods but is necessary only in cases of treatment failure or chronic rhinosinusitis. A complete sinus CT scan with frontal and coronal planes is used if an alternative diagnosis (eg, tumors) must be excluded. CT scanning is characteristic in allergic fungal sinusitis and is one of the major criteria for diagnosis.
The 2005 AAAAI practice parameter states that the optimal technique for evaluating the ethmoid sinuses and for preoperative evaluation of the nose and paranasal sinuses, including assessment of the ostiomeatal complex areas, is CT. [4]
CT scanning has poor specificity for the diagnosis of acute sinusitis, demonstrating sinus air-fluid levels in 87% of individuals with simple upper respiratory tract infections and 40% of asymptomatic individuals. CT scanning is the modality of choice, however, in specific circumstances such as in the evaluation of a patient in intensive care, when complications are suspected, or in the preoperative evaluation of surgical candidates.
According to the 2005 AAAAI practice parameter, CT evidence of sinusitis is associated with viral upper respiratory infections 40%-90% of the time. Symptoms of viral upper respiratory tract infections do not differ between patients with CT abnormalities and patients with no CT evidence of sinusitis, and both groups appear to self-resolve without antibiotics within 21 days. It is inappropriate to prescribe antibiotic treatment for uncomplicated viral upper respiratory tract infection. Doing so is strongly discouraged. [4]
CT scanning can provide valuable information regarding the anatomical and mechanical contributions in the development of acute sinusitis. Coronal views with bone windows are the preferred sinus study for evaluating each of the sinuses as well as the ostiomeatal complex. CT scan findings may be used to differentiate orbital cellulitis from periorbital cellulitis as a complication or to evaluate extension into intracranial space.
Delay CT scanning until antibiotics control acute exacerbation; this practice allows correct diagnosis of chronic inflammation, mucoperiosteal thickening, soft tissue swelling, and ethmoid osteitis.
Because of concerns of radiation exposure, use of limited sinus CT scanning (see the image below) is gaining wide acceptance as an alternative to a single Waters view for evaluation of pediatric chronic sinusitis.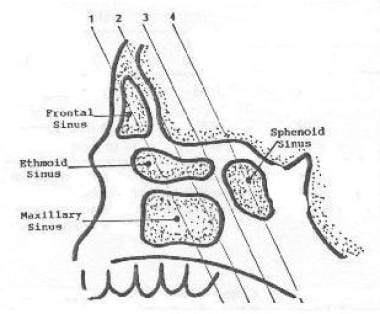 CT cuts for a limited CT study.
See the main article Imaging in Sinusitis for more information.
Radiography
Basic radiographic examination includes 3 projections as follows:
Waters view (occipitofrontal) - Primarily useful for evaluation of maxillary and frontal sinuses

Caldwell view (angled posteroanterior) - Only view that visualizes the ethmoid air cells

Lateral view - Primarily for adenoid and/or nasopharyngeal size and sphenoid disease
Radiographic findings in patients with acute sinusitis include diffuse opacification, mucosal thickening (>4 mm), or an air fluid level. These findings, in conjunction with clinical features of acute sinusitis, are helpful in confirming the diagnosis.
When plain film radiographs are compared with the criterion standard (CT scans), however, a 75-80% disagreement occurs. This means that plain film radiography reveals disease in 40% of cases in which no disease is demonstrated on CT scanning and that plain film radiographs appear normal in 35-40% of cases in which disease is found on CT scanning.
See the main article Imaging in Sinusitis for more information.
Magnetic Resonance Imaging
MRI is useful only if fungal infection or a tumor is suggested. MRI is excellent for evaluating soft tissue disease within the sinuses, but it is of little value in the diagnostic workup for acute sinusitis.
This type of imaging may be too sensitive to define soft tissue structures. MRI is not useful for detecting bone pathology. MRI is mainly used to evaluate intracranial extension and can be used as an adjunct to CT scanning in defining allergic fungal sinusitis.
To see complete information on Imaging in Sinusitis, please go to the main article by clicking here.
Ultrasonography
Ultrasonography is of limited use. A-mode ultrasonography may be useful in screening for fluid in the maxillary sinus. B-mode (gray scale) ultrasonography may be useful in detecting fluid in the cavity, mucosal thickening, or soft tissue mass in the maxillary sinus.
See the main article Imaging in Sinusitis for more information.
Paranasal Biopsy
Paranasal biopsy is used to help exclude neoplasia, fungal disease, and granulomatous disease.
Fiberoptic Sinus Endoscopy
Fiberoptic sinus endoscopy is used to visualize posterior sinonasal structures. This test is useful to help exclude structural lesions, fungal disease, and granulomatous diseases.
What would you like to print?