Workup
Approach Considerations
The diagnosis of California encephalitis is based on immunology, because the virus is not present in blood or secretions during clinical CNS disease. The diagnosis can be established as follows:
Specific immunoglobulin M (IgM) and neutralizing antibodies to the virus in serum or cerebrospinal fluid (CSF) using enzyme-linked immunosorbent assay (ELISA) technique: IgM is usually but not always present during acute illness.

A 4-fold increase in the antivirus antibody titer between the acute and the convalescent periods, although this may not be observed in every case

[7]

In fatal cases, nucleic acid amplification, histopathology with immunohistochemistry and virus culture of autopsy tissues can also be useful. Only a few state laboratories or other specialized laboratories, including those at the Centers for Disease Control and Prevention (CDC), are capable of performing this specialized testing.
Antibody studies
Significant antibody titers include levels of more than 320 by hemagglutination inhibition, more than 128 by complement fixation, more than 256 by immunofluorescence, or more than 160 by plaque reduction neutralization test.
A licensed indirect fluorescent antibody test is available for IgG and IgM antibodies to La Crosse virus and may be useful in diagnosis. [7]
CSF examination
In general, the findings are nonspecific and similar to other presentations of viral meningoencephalitis.
CSF examination may reveal the following:
Normal to mildly elevated pressure level

Normal glucose level and normal to mildly elevated protein level

Initially, a polymorphonuclear leukocytic pleocytosis followed by lymphocytic or monocytic leukocytosis is present.
Complete blood count and chemistry
The complete blood count (CBC) is usually within the reference range or might show mild leukocytosis. Peripheral leukocytosis in excess of 15,000 WBCs/µL is not uncommon. Chemistry findings are usually within the reference range, but hyponatremia (low serum sodium level) has been observed in up to 20% of patients in at least one case series. [3]
Polymerase chain reaction
Polymerase chain reaction (PCR) for the diagnosis of La Crosse encephalitis and Metagenomic next-generation sequencing (NGS) of the CSF has the potential to identify a broad range of pathogens in a single test (ref DOI: 10.1056/NEJMoa1803396). This studies still in the research stage.
Electroencephalography
De los Reyes and colleagues found that children with La Crosse encephalitis who have PLEDS on electroencephalograms have a higher rate of complications. [8]
CT Scanning and MRI
Neuroimaging using conventional computed tomography (CT) scanning and magnetic resonance imaging (MRI) is not helpful in establishing the diagnosis of California encephalitis. In very severe cases, CT scanning might show nonspecific enhancement.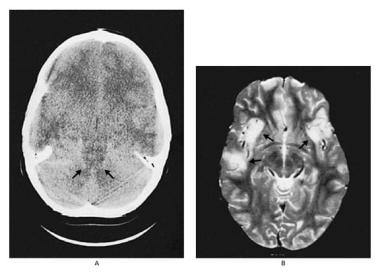 Left image of a CT scan of an 8-year-old boy with severe La Crosse encephalitis complicated by uncal herniation (obtained on the second hospital day) reveals brain edema with associated obliteration of perimesencephalic cisterns (arrows). On the right, a T2-weighted magnetic resonance image obtained from a 7-year-old boy with severe La Crosse encephalitis shows focal areas of increased signal intensity in the right temporoparietal and left frontotemporal regions (arrows).
Histologic Findings
On pathologic examination, as with all viral encephalitides, there is a widespread degeneration of single nerve cells, with neuronophagia and scattered foci of inflammatory necrosis involving the gray and white matter. The brain stem is relatively spared. Perivascular cuffing with lymphocytes and plasma cells occurs, as well as patchy infiltration of the meninges.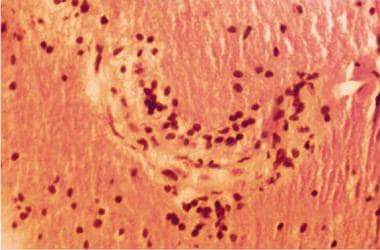 Brain biopsy specimen from a 7-year-old boy with severe La Crosse encephalitis (hematoxylin and eosin stain, 200X). Perivascular infiltration with mononuclear cells is present on light microscopy. This biopsy material tested positively for La Crosse virus antigen on direct immunofluorescence assay.
What would you like to print?