Workup
Approach Considerations
An approach to rapid evaluation of an acutely inflamed joint is to screen the synovial fluid for crystals via polarizing microscopy and for organisms via Gram stain (63-96% sensitive). If crystals are present and the Gram stain findings are negative, treatment for crystal-associated arthritis should be initiated. However, an exception to this would be the presence of significant risk factors for infection (eg, the focus of infection lies somewhere that could lead to bacteremia, such as pneumonia or pyelonephritis). Therapeutic decisions cannot be delayed until results of the synovial fluid culture are available.
If microscopy demonstrates no crystals, treat the patient for presumed infection even if the Gram stain findings are negative. The Gram stain has variable sensitivity for detection of bacteria in synovial fluid. Always send the fluid for culture, regardless of the result of the screening evaluation. A joint damaged by gout or pseudogout is prone to be infected. Culture of synovial tissue may be necessary to detect mycobacteria or fungi.
If the patient's condition does not improve significantly after 5 days, the joint must be reaspirated and examined. Most septic joints have a white blood cell (WBC) count that exceeds 50,000/μL, with more than 75% polymorphonuclear leukocytes. However, various sterile inflammatory processes may exhibit the same cellular profile.
Other considerations
The fluid of an infected bursa closely resembles that of a bacterial joint infection. [16]
An elevated erythrocyte sedimentation rate (ESR) or C-reactive protein (CRP) is useful in following response to therapy, as well as in detecting an acute process in chronically affected joints.
Measurement of serum uric acid levels cannot be used to establish or negate the diagnosis of uric acid arthropathy. Values may range widely during an acute attack.
Appropriate serologic tests for the diagnosis of various vasculitides or rheumatologic disorders are often indicated. [20]
Obtaining a biopsy of the synovium may be necessary to diagnose one of the many causes (ie, mycobacterial, fungal) of granulomatous synovitis. Examining the synovium histologically often establishes a diagnosis of fungal or mycobacterial joint infections.
Joint Fluid Analysis and Culture
Always perform joint aspiration under the most sterile conditions possible to prevent the introduction of infection.
Normal joint fluid is clear and colorless and produces a stringlike structure when ejected from a syringe, indicating normal viscosity. Infected joint fluid is typically yellow-green due to elevated levels of nucleated cells, and the cell count is usually markedly elevated, demonstrating a predominance of polymorphonuclear leukocytes. An evaluation of the synovial fluid (ie, via leukocyte count, appearance on Gram stain, polarizing microscopy examination, culture) is the most rewarding approach in assessing a potentially infected joint. Additional stains and/or cultures should be obtained depending on the differential diagnosis considered. [9, 21] Alterations in the glucose and protein concentration of the synovial fluid are nonspecific; these should not be measured routinely.
Culture of the synovial fluid or of synovial tissue itself is the only definitive method of diagnosing septic arthritis. Culture results in patients with nongonococcal septic arthritis are almost always positive, unless the patient has received antibiotics before the joint aspiration. Cultures of the joint fluid in gonococcal infections yield positive results in only about 25% of cases. If this diagnosis is suspected, the organism can be cultured from other sites, such as the cervix, urethra, or throat. The effectiveness of standard culture techniques is much more limited in patients with prosthetic joint infection (PJI), probably because of the high rate of antibiotic preadministration prior to arthrocentesis or surgery. If the patient is clinically stable, stop the administration of antibiotics for 2 weeks prior to obtaining cultures and hold for 14 days.
A minimum of 3 and preferably 6 periprosthetic tissue samples should be obtained. Ultrasonication of removed prosthetic material increases the return of cultures, especially in patients who had recently received antibiotics. This technique also helps retrieve organisms that reside in the biofilms that coat the prosthetic material. [22]
If possible, stopping antibiotics for 4 days and holding cultures for 14 days may increase the yield. [23]
In addition, sonication of removed prosthetic material appears to increase the sensitivity of culture, especially in patients who have received antibiotics before surgery.
Lyme disease
Findings from examination of the synovial fluid in Lyme arthritis are similar to those found in infection caused by any other type of bacterium. Positive serology results (ie, antibody measurements, Western blot, polymerase chain reaction [PCR] for Lyme disease) do not establish the diagnosis of Lyme arthritis. A positive result on any of these tests simply indicates that the patient has encountered B burgdorferi; a positive result does not necessarily establish a connection between the patient's musculoskeletal symptoms and Lyme disease.
Silver stains can be used to detect organisms in 5% of cases of Lyme arthritis.
Prosthetic joint infection
Evaluation of a possibly infected prosthetic joint is similar to that of a natural joint. [2, 24] The presence of leukocytes in the aspirated fluid is variable. Because many of the potential pathogens are also classic contaminating organisms (eg, coagulase-negative S aureus [CONS], Propionibacterium species, Corynebacterium species), repeat aspirates are often required to confirm the diagnosis. The use of multiple types of media with prolonged incubation times may increase both the sensitivity and specificity of the culture in prosthetic joint infection. The sensitivity of periprosthetic-tissue culture ranges from 65% to 94%. [19] Material from fistulous tracts is associated with a high rate of contamination and is probably best avoided.
Reactive and tuberculous arthritides
The synovial fluid of reactive arthritis demonstrates few signs of inflammation. PCR may reveal the DNA of the purported causative organism.
The synovial fluid of a joint infected with Mycobacterium tuberculosis shows marked leukocytosis. Although findings on acid-fast stains are usually negative, culture results are positive in 80% of cases. Culture results of synovial biopsies are positive in 94% of specimens.
Blood and Other Cultures
Obtain at least 2 sets of blood cultures to rule out a bacteremic origin of the septic joint.
In the setting of possible gonococcal infection, obtaining cultures from the patient's rectum, cervix, urethra, and pharynx and from any skin lesions is most helpful. Immediate plating of the joint fluid directly onto appropriate media and/or rapid delivery of the specimen to the laboratory for appropriate plating and culturing are of benefit in improving the relatively low yield. [25]
Polymerase Chain Reaction
Polymerase chain reaction (PCR) holds promise for detection of bacterial DNA in joint fluid and synovial tissue. PCR has led to diagnosis of infective arthritis due to Yersinia species, B burgdorferi, Chlamydia species, N gonorrhoeae, and Ureaplasma species. However, caveats concerning this approach are raised, because it cannot be used to distinguish between live and dead organisms and it is susceptible to contamination.
PCR also techniques hold some promise in detecting pathogens in patients who have recently received antibiotics. Unfortunately, many patients receive empirically administered antibiotics before the collection of synovial fluid.
Radiologic Studies
At times, imaging studies may be required to determine the significance of a given culture.
Radiography and ultrasonography
Plain radiography is of limited value in evaluating a joint for infection [18] ; periarticular soft-tissue swelling is the most common finding. This imaging modality is most useful in ruling out underlying osteomyelitis or periarticular osteomyelitis caused by the joint infection itself.
In addition, plain radiography can reveal the linear deposition of calcium pyrophosphate. The radiographic findings of reactive arthritis are usually limited to those of soft-tissue swelling. Periarticular osteoporosis may be detected.
See the x-ray films below.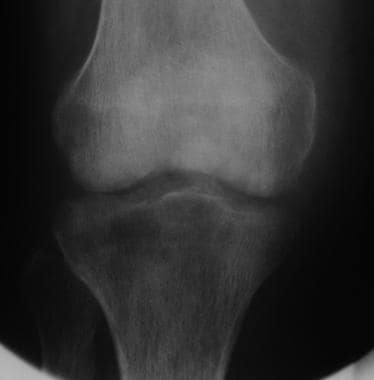 A 30-year-old man who was taking steroids presented with a joint effusion and knee pain. Anteroposterior view of the knee demonstrates patchy demineralization of the tibia and femur and joint-space narrowing. This was caused by tuberculoid infection of the joint.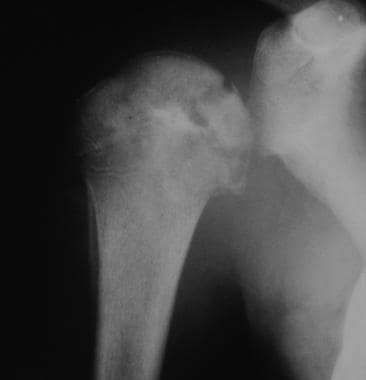 Septic arthritis. Anteroposterior view of the shoulder demonstrates subchondral erosions and sclerosis in the humeral head. These are relatively late findings of septic arthritis. Periosteal reaction due to coincident osteomyelitis is present adjacent to the surgical neck of the humerus.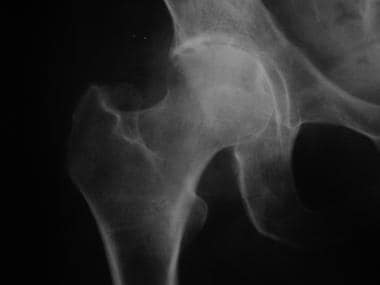 During the progression of infectious arthritis of the hip, this image was obtained early in the disease and shows only concentric joint-space loss.
Ultrasonography may be used to diagnose effusions in chronically distorted joints (secondary to trauma or rheumatoid arthritis).
CT scanning, MRI, and radionuclide scanning
Computed tomography (CT) scanning and magnetic resonance imaging (MRI) are more sensitive for distinguishing osteomyelitis, periarticular abscesses, and joint effusions. The information gained usually does not justify the increased cost; however, these tests are most helpful in patients with sacroiliac or sternoclavicular joint infection to rule out extension into the mediastinum or pelvis. MRI is preferred because of its greater ability to image soft tissue.
Radionuclide scans (ie, technetium-99m [99m Tc], gallium-67 [67 Ga], indium-111 [111 In] leukocyte scans) are used to nonspecifically localize areas of inflammation. They cannot be used to distinguish infectious from sterile processes. However, radionuclide scans may be of use in diagnosing septic arthritis in relatively sequestered areas, such as the hip and sacroiliac joints.
Imaging in prosthetic joint infection
In prosthetic joint infection [PJI], plain radiography can reveal new subperiosteal bone growth and transcortical sinus tracts. [2] These findings are specific for infection. Arthrography can demonstrate loosening of the prosthesis and abscesses. Nuclear scans of all types are of limited diagnostic use in patients with prosthetic joint infection, and MRIs are limited by the type of implanted material (this diagnostic modality can safely image only titanium or tantalum devices). Fludeoxyglucose-positron emission tomography (FDG-PET) scans may hold some promise in diagnosing lower-extremity prosthetic joint infections. However, this approach cannot differentiate aseptic loosening from infection. Sensitivity and specificity were 87% and 82%, respectively. [26] CT scans are useful in ascertaining the state of the surrounding soft tissue.
What would you like to print?