Presentation
History
The symptoms of dirofilariasis depend on the causative species and the body site involved. Patients with the disease rarely, if ever, remember being bitten by mosquitoes in the months preceding the appearance of symptoms. However, establishing the patient's place of residence and travel history to confirm possible exposure to suitable mosquito vectors is useful.
Coincidentally, some adult patients report a history of heavy tobacco use, which increases the suspicion of a malignant pulmonary process when a coin lesion is observed on chest radiography. (See the image below.)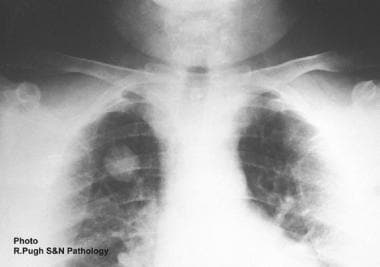 Plain chest radiographic appearance of pulmonary coin lesion secondary to Dirofilaria immitis infection in a man.
D immitis infection
Most patients (approximately 60%) with human pulmonary dirofilariasis (HPD) are asymptomatic. When they do occur, symptoms can include the following:
Localized retrosternal chest pain
One patient reported loss of consciousness following chest pain. Another patient experienced acute bilateral knee pain and swelling with fever.
Aberrant mucocutaneous sites may be involved (eg, conjunctiva), the most common symptom of which is eye pain. [69] Patients may also complain of floaters (described as "shadows"). [70]
Acute thromboembolism and endarteritis can result from exposure of vascular endothelium to a high concentration of D immitis antigenic products, caused by the sudden death of a significant number of adult worms. This is true whether or not the worms died naturally or were killed by a filaricide treatment. [18]
D repens and other dirofilarial infections
Usually, patients notice a single painful subcutaneous lump in the affected area. The areas most commonly affected include the following:
In one pediatric case report of intradural dirofilariasis, the patient presented with a stiff neck and a frontal headache. [45]
Presentation with an acute abdomen, heralding development of peritonitis as a result of D repens intraabdominal infection, has been described. [71]
Physical Examination
The signs of dirofilariasis also depend on the causative species and body site involved.
D immitis infection
Physical examination of patients with HPD is usually noncontributory, whether patients are symptomatic or not. However, the rare subcutaneous or subconjunctival lesion caused by D immitis infection is easily detectable (in contrast to HPD).
D repens and other dirofilarial infections
Superficial infections (subcutaneous or subconjunctival lesions) are easily detected. A single nodule is the usual presentation.
A review of all reported cases of D repens dirofilariasis emphasizes a greater prevalence of infections in upper body sites (76%), compared with lower body sites (24%). This is thought to reflect the biting patterns of the mosquito vector. Upper body sites, in order of involvement, are as follows:
Head (46%) - Including the eyelids and/or conjunctiva (31%) and face (15%)

Chest wall and/or breast (15%)
Ophthalmic involvement may be periorbital, [2, 3] subconjunctival, [4] subtenon, [5] or intraocular. [6] One case of ocular dirofilariasis with cellulitis presented as a periorbital mass. Clinical data of D repens human infection in the Russian Federation and Belarus indicate the ocular location was observed at a significantly higher frequency than the other anatomical locations. [55]
A single report described a pseudotumoral intradural location for D repens in a 6-year-old child that was initially misdiagnosed as a Langerhans cell histiocytosis. The physical examination showed a stiff and painful cervical spine, with spasm of the trapezius and sternocleidal-mastoid muscles. [45]
The lower body sites affected by D repens include lower limbs (11%), abdominal wall (5%), and male genitalia (6%).
A minority of D repens infections have been isolated from deep internal body sites, including lung-associated sites with subpleural infarction, as well as the gastrosplenic ligament, omentum, peritoneal cavity, mesocolon, and pancreas. A perirectal nodule has also been found.
In Sri Lanka, D repens has a predilection for the infection of male genitalia (21%) in comparison with other sites, such as the conjunctiva (19%), eye adnexa (16%), upper limbs (11%), face and/or cheek (9%), chest wall and/or breast (7%), neck (6%), lower limbs (4%), abdominal wall (3%), and peritoneal cavity (1%).
What would you like to print?