DDx
Diagnostic Considerations
The rash of chickenpox was frequently mistaken for that of smallpox during the days of natural infection. Both conditions can result in pustular scarring lesions that involve the face. Varicella typically does not have a prodromal phase, and the evolution of the rash from its appearance to scab separation takes approximately 7 days in varicella. Often, individuals who were previously vaccinated had only a mild prodrome without any rash.
The fever and vesicular rash of herpes zoster and erythema multiforme also were often confused with those of variola major.
Hemorrhagic smallpox, seen in the image below, develops fulminantly and was most often confused with meningococcemia or severe acute leukemia.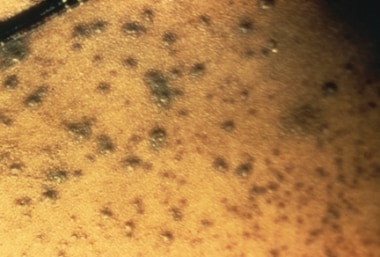 Hemorrhagic-type variola major lesions. Death usually ensued before typical pustules developed. Reprinted with permission from the World Health Organization (WHO). 1988; 10-14, 35-36.
Contact dermatitis, although often vesicular, is distinguishable from smallpox lesions because contact dermatitis is pruritic and is not accompanied by fever or constitutional symptoms.
Conditions to consider in the differential diagnosis of smallpox include the following:
Rocky Mountain spotted fever

Generalized vaccinia and eczema vaccinatum

Viral hemorrhagic fevers (may be confused with hemorrhagic smallpox)

Erythema multiforme (Stevens-Johnson syndrome)
Differential Diagnoses
What would you like to print?