Treatment
Approach Considerations
No known treatment is effective for smallpox. Medical management of smallpox is mainly supportive. Supportive care in patients with symptomatic smallpox consists of the following:
The patient should be isolated until all scabs have fallen off (about 3-4 wk after rash onset) to prevent transmission of the variola virus to nonimmune persons

The fluid and electrolyte balance should be monitored and maintained to avoid dehydration

Medications should be given for fever and pain

Good nutritional support should be maintained

Skin care should be instituted

Complications should be monitored for and treated

Unless the diagnosis of smallpox is confirmed in a laboratory, patients should receive smallpox vaccination if they will be isolated with other patients with confirmed or suspected smallpox, to prevent accidental transmission

Corneal lesions may be treated with topical idoxuridine
Whenever possible, patients should be cared for at home in the event of a large smallpox outbreak. However, in the event of an outbreak with only a few cases or when patients cannot be cared for at home, hospital admission is advisable. The CDC recommends that authorities consider designating specific hospitals for smallpox care.
Treatment of patients with possible or known exposure to smallpox
The smallpox vaccine is the only known way to prevent smallpox in an exposed person. If given within 4 days of viral exposure, the vaccine can prevent or significantly lessen the severity of smallpox symptoms. Vaccination 4-7 days after exposure may offer some protection from the disease and may lessen its severity.
Isolate patients possibly infected with smallpox virus in negative-pressure rooms under airborne precautions [15] and vaccinate them within the first 4 days after exposure. Supportive and symptomatic treatment (eg, hydration, nutrition) should be provided.
Vaccinia immunoglobulin (VIG) does not appear to offer a survival benefit when given to patients during the incubation or active-disease stages of smallpox. However, new drugs are under investigation. For example, cidofovir may be beneficial if given in the early stages of illness, although the effectiveness of this treatment has not been proven in humans. [16, 17, 18, 19]
Transfer
Smallpox patients should be transferred as necessary, with appropriate respiratory and contact isolation.
Consultations
Infectious disease specialists and public health officials should be consulted in cases of smallpox. CDC officials and state health authorities should be notified immediately.
Outpatient care
Further outpatient care for smallpox patients includes cosmetic management of scars and corrective vision care.
Vaccination
One of the best ways to prevent smallpox is through vaccination. Vaccine given to individuals before exposure to smallpox can completely protect them. Vaccination within 3 days after exposure prevents or greatly lessens the severity of smallpox in most people. Vaccination 4-7 days after exposure likely offers some protection from disease or may decrease the severity of disease. Vaccination does not protect patients with smallpox who have already developed a rash. [20, 21, 22, 23, 24] (For additional information, see Smallpox Vaccination: Vaccination Method and Reactions.)
Cross-protective immunity from vaccinia is most effective during the first 10 years after vaccination and slowly wanes thereafter. Persons who have been vaccinated several times are likely to have longer-lasting immunity of unclear duration.
The level of protection in individuals who were vaccinated 30 or more years ago, should they be exposed to smallpox today, is unclear.
Vaccinated persons normally exhibit an accelerated immune response. Thus, whenever possible, assigning those who have previously been vaccinated to duties involving close patient contact is prudent.
Persons with known or possible exposure to smallpox should be vaccinated if the exposure has occurred within 3 days, unless the patient has specific contraindications for which the risks of immunization are considered even greater than the dangers associated with contracting smallpox.
Persons with known cardiac disease (eg, previous myocardial infarction, angina, congestive heart failure, cardiomyopathy) should receive smallpox vaccination. Myocardial infarctions and angina without myocardial infarction have been reported following smallpox vaccinations. The association between smallpox vaccination and these cardiac events is not clear.
Pregnant women who receive the smallpox vaccine are at risk of fetal vaccinia, which usually results in stillbirth or death of the infant. Pregnant women should not receive smallpox vaccination, and women should be advised against becoming pregnant for 4 weeks after smallpox vaccination. [25]
Vaccinia immunoglobulin
Vaccinia immunoglobulin (VIG) is indicated when the vaccination is contraindicated.
Isolation Recommendations From the CDC
In a smallpox outbreak, patients with confirmed or suspected smallpox may be isolated in several ways. The goal of isolation is to prevent transmission of smallpox from an infected patient to nonimmune individuals while maintaining an appropriate care and comfort level for the patient. Medical personnel should consult with public health officials to determine the most appropriate method for isolation of patients with smallpox.
Hospital isolation
If a patient with confirmed or suspected smallpox requires hospital care, the steps below must be taken while the patient is hospitalized.
The patient should be kept in strict airborne and contact isolation in a room with negative air pressure (and an individual high-efficiency particulate air [HEPA]–filtered ventilation exhaust, if available). This room should have private shower and bathroom facilities and not share ventilation with any other part of the hospital.
Unvaccinated personnel who enter and leave the isolation room should wear protective clothing, including gowns, masks (properly fitted N95 respirator masks), gloves, protective eyewear, and surgical booties. Recently successfully vaccinated personnel should exercise contact precautions (eg, gowns, gloves) and should wear a surgical mask and eye protection, as indicated, for procedures in which contact with body fluids is possible.
All protective clothing should be removed and placed into biohazard waste disposal containers before leaving the isolation room and reentering other areas of the hospital.
All infectious waste and contaminated protective clothing should be disposed of or sterilized in an appropriate manner (incineration for disposable materials; autoclaving, ethylene oxide decontamination, or laundering in hot water and bleach for reusable equipment or clothing). Public health officials should be consulted for specific waste-disposal and decontamination guidelines.
Personnel entering the isolation room or handling infectious waste or clinical specimens from the patient should be vaccinated or should have had recent, documented, successful smallpox vaccinations (within 3 y). Public health officials should be contacted for vaccination requests.
Steps should be taken to confirm or rule out the diagnosis of smallpox. Public health officials should be consulted for assistance with the laboratory diagnosis.
Nonhospital isolation
Public health officials should be consulted before nonhospital isolation is initiated. Patients with confirmed or suspected smallpox who do not require hospital care may be isolated in nonhospital facilities that do not share ventilation systems with other facilities. These facilities should have appropriate climate-control capabilities (heating and air conditioning), running water, and bathroom facilities.
If patients with suspected or confirmed smallpox are isolated together, all patients should receive smallpox vaccination to prevent accidental transmission due to misdiagnosis. All persons entering these facilities must have had recent, documented, successful smallpox vaccinations (within 3 y).
Additional Infection-Control Considerations
Avoid transporting the patient through the hospital (eg, use in-room portable radiographic equipment); if transporting the patient is unavoidable, have the patient wear a surgical mask and the health care worker a mask with an N-95 respirator.
If smallpox infection is confirmed, place contacts under fever surveillance for 18 days after their last contact with the infected patient.
Contacts or a supervisor should monitor the patient's temperature twice daily. If the patient's temperature is higher than 38.1°C (100.5°F), public health authorities should be notified immediately. (See the graph below.)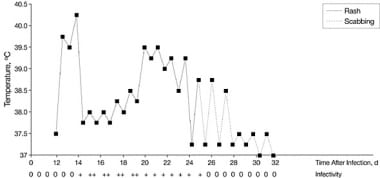 Typical temperature chart of a patient with smallpox infection (from Henderson, 1999).
Deterrence and Prevention
Isolation and mass and/or ring vaccination can prevent the spread of smallpox. The reemergence of smallpox would constitute an international emergency, and failure to immediately report cases to public health authorities would severely impair their ability to contain the disease. [9, 26]
An informed public could better comply with vaccination and quarantine procedures if smallpox reemerged. If the disease did reemerge, management strategies would include the following:
Isolation

Barrier protection - Gown, mask, gloves

Cremation of corpses

Isolation of contacts if fever or rash develops

Surveillance of all face-to-face contacts
Any suspected index case of smallpox should be immediately reported to state health officials and the CDC. The 24-hour emergency telephone number of the Emergency Preparedness and Response Branch of the CDC is 770-488-7100 or 404-639-3532. General clinician information regarding smallpox and smallpox vaccine can be obtained from the CDC Web site or by calling 877-554-4625.
What would you like to print?