Presentation
History
As previously mentioned, local trauma and/or pressure (often in association with lack of sensation because of neuropathy), in addition to microvascular disease, may lead to a diabetic foot infection. However, patients may not necessarily have a history of trauma or have suffered a previous infection.
Physical Examination
Cellulitis
Cellulitis may involve tender, erythematous, nonraised skin lesions on the lower extremity that may or may not be accompanied by lymphangitis. Lymphangitis suggests a group A streptococcal etiology. If bullae are present, S aureus is the most likely pathogen, but group A streptococci occasionally cause bullous lesions. No ulcer or wound exudate is present in patients with cellulitis.
Deep-skin and soft-tissue infections
Patients with deep-skin and soft-tissue infections may be acutely ill, with painful induration of the soft tissues in the extremity. These infections are particularly common in the thigh area, but they may be seen anywhere on the leg or foot. Wound discharge is usually not present.
In mixed infections that may involve anaerobes, crepitation may be noted over the afflicted area. Extreme pain and tenderness indicate the possibility of a compartment syndrome. Similarly, extreme pain may be an indication of infection with clostridial species (ie, gas gangrene). The tissues are not tense, and bullae may be present. If a discharge is present, it is often foul.
Acute osteomyelitis
Unless peripheral neuropathy is present, the patient has pain at the site of the involved bone. Usually, fever and regional adenopathy are absent.
Chronic osteomyelitis
In chronic osteomyelitis, the patient's temperature is usually less than 102°F. Discharge is commonly foul. No lymphangitis is observed, and pain may or may not be present, depending on the degree of peripheral neuropathy.
The deep, penetrating ulcers and deep sinus tracts (which are diagnostic of chronic osteomyelitis) are usually located between the toes or on the plantar surface of the foot. In patients with diabetes, chronic osteomyelitis usually does not occur on the medial malleoli, shins, or heels. (See the image below.)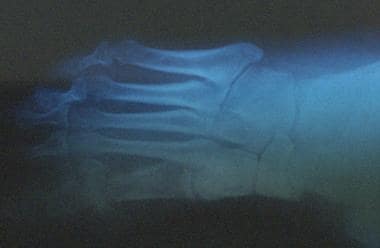 Chronic diabetic ulceration with underlying osteomyelitis. Plain film radiograph exhibiting cortical disruption at the medial aspect of the first MTP joint.
What would you like to print?