Workup
Approach Considerations
The patient's white blood cell count (WBC) and erythrocyte sedimentation rate (ESR) vary according to the type of diabetic foot infection. [2] Gram stain and cultures can aid in determining the etiology of infection in skin and soft-tissue infections, while in acute osteomyelitis and cellulitis, blood cultures can help to identify causative organisms. In chronic osteomyelitis, bone biopsy can be used to find the infecting microbe.
A multicenter, prospective, cross-sectional study by Nelson et al indicated that the use of tissue samples is superior to that of wound swabs in identifying pathogens in infected diabetic foot ulcers. The investigators found that pathogens were more often identified, and nonpathogens less often identified, using tissue samples than wound swabs, with antibiotic regimen changes more frequently recommended by blinded clinicians in response to the results of tissue samples than to those of swabs. [13]
Imaging studies do not play a role in the diagnosis of cellulitis, but they are a valuable tool in the assessment of the other infection types.
Guidelines
In 2019, the International Working Group on the Diabetic Foot (IWGDF) published an update to its evidence-based guidelines on diabetic foot disease prevention and management. These included the following recommendations with regard to infection [14] :
The severity of a diabetic foot infection should be assessed via the Infectious Diseases Society of America/International Working Group on the Diabetic Foot classification scheme

When osteomyelitis of the foot is suspected in a patient with diabetes, a combination of the probe-to-bone test, the erythrocyte sedimentation rate (or C-reactive protein and/or procalcitonin), and plain radiographs are recommended as the initial diagnostic studies for this infection

When osteomyelitis of the foot is suspected in a patient with diabetes, but plain radiography and assessment of clinical and laboratory findings have not led to a conclusive diagnosis of osteomyelitis, an advanced imaging study, such as magnetic resonance imaging (MRI), 18F-fluorodeoxyglucose (FDG)-positron emission tomography (PET)/computed tomography (CT) scanning, or leukocyte scintigraphy (with or without CT scanning), can be considered

Using curettage or biopsy, a tissue specimen for culture should be aseptically collected from the ulcer in patients with a soft tissue diabetic foot infection
Cellulitis
The WBC and ESR are slightly or moderately elevated in cellulitis. However, the elevations are not diagnostic and, therefore, are unhelpful.
Blood culture results are usually negative. If positive, they usually indicate the presence of group A or group B streptococci.
Cultures of skin via aspiration or biopsy are generally unrewarding. Aspiration of a sample from the leading edge of the erythematous border may be performed if the likely organism must be identified on initial presentation. However, the yield is low, likely to be less than 5%.
Imaging studies are not applicable in cellulitis.
Skin and Soft-Tissue Infections
The WBC and ESR are mildly or moderately elevated in these tissue infections. If bullae are present, Gram stain and culture results from aspirated exudate from a bullous lesion may provide clues to the etiology of the infection. Blood culture results may be positive.
In a patient with diabetes who are considered to have a deep soft-tissue infection, plain radiography, computed tomography (CT), or magnetic resonance imaging (MRI) may be performed to rule out a compartment syndrome, which may present as extreme pain and tenderness of the affected limb, or to demonstrate the presence of gas or a foreign body in the deep tissues. [1] A finding of excessive gas signifies a mixed aerobic-anaerobic infection, in contrast to gas gangrene (clostridial myonecrosis).
Samples from deep-skin and soft-tissue infections may be aspirated. Gram stains, cultures, or both may be used to identify the organism.
Acute Osteomyelitis
In acute osteomyelitis, the WBC is usually elevated and the ESR is moderately or highly elevated. [2] Blood culture results are usually negative; when positive, blood cultures most frequently indicate the presence of Staphylococcus aureus.
For affected long bones, plain radiographic findings generally become abnormal after 10-14 days. Soft-tissue swelling and periosteal elevation are the earliest signs of acute osteomyelitis on a plain radiograph.
Bone scans are preferred to gallium or indium scans in the assessment of acute osteomyelitis, as the latter imaging studies offer no additional information, and the findings are not more specific than those of bone scans. In addition, indium scans often show false-negative results in acute or chronic osteomyelitis. Bone-scan findings are positive within 24 hours.
Bone biopsy is not necessary in acute osteomyelitis, because the pathogens are predictable.
Chronic Osteomyelitis
In chronic osteomyelitis, the WBC is often within the reference range. Usually, the ESR is very highly elevated and may exceed 100 mm/h. [2] The platelet count is also often elevated in chronic osteomyelitis. Blood culture results are usually negative.
When osteomyelitis becomes chronic, plain radiographic findings are invariably abnormal, as shown in the image below.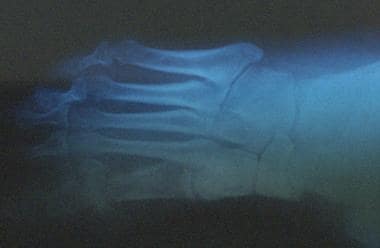 Chronic diabetic ulceration with underlying osteomyelitis. Plain film radiograph exhibiting cortical disruption at the medial aspect of the first MTP joint.
Bone scans are usually unnecessary unless diagnostic confusion exists with another disorder, as when a bone tumor must be differentiated from chronic osteomyelitis before definitive bone biopsy. An MRI would also be helpful in such a situation.
Bone biopsy performed under aseptic conditions in the operating room is the preferred way to identify the pathogen in chronic osteomyelitis. Bacteroides fragilis is an important cause of chronic osteomyelitis in patients with diabetes, as are Escherichia coli, Proteus mirabilis, and Klebsiella pneumoniae. Pseudomonas aeruginosa is usually not the causative organism.
Because surgical debridement is critical in treating chronic osteomyelitis, bone biopsy specimens are usually not obtained during the surgical debridement procedure.
Histologic Findings
Subperiosteal elevation and/or infection may involve the cortex in acute osteomyelitis. Involucrum and/or sequestrum may be present in the cortical bone in cases of chronic osteomyelitis.
What would you like to print?