Presentation
History
SARS initially manifests as a flulike syndrome that may progress to pneumonia, respiratory failure, and, in some cases, death. The mortality rate associated with SARS is significantly higher than that of influenza or other common respiratory tract infections. [1, 2]
Epidemiologic statistics and exposure history are critical to the diagnosis of SARS. The case definition of SARS (see the document below), an essential tool from an epidemiologic perspective, is continually updated by the CDC (see Updated Interim US Case Definition for Severe Acute Respiratory Syndrome). [52]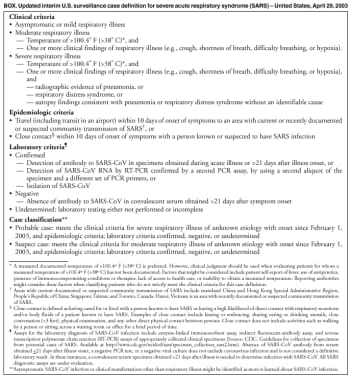 Severe acute respiratory syndrome case definition put forth by the US Centers for Disease Control and Prevention (CDC) on April 29, 2003. Courtesy of the CDC.
Exposure history
Research suggests that the major modes of SARS transmission are contact and droplet based. Fecal-oral transmission may also be possible via diarrhea. Evidence indicates that SARS may also be transmitted through airborne, virus-containing aerosols. [45]
Anyone who has had close personal contact with a person with known or suspected SARS within 10 days of symptom onset (eg, healthcare workers, family members, caregivers) is at high risk of SARS-CoV infection. [5]
Close contact is defined as caring for or living with a person known to have SARS or having a high likelihood of direct contact with respiratory secretions or body fluids from a patient known to have SARS. Examples of close contact include kissing, embracing, sharing eating or drinking utensils, conversing closely (< 3 ft [1 m]), performing a physical examination, or sharing any other direct physical contact. Close contact does not include walking by a person or briefly sitting across from a patient with SARS in a waiting room or office.
Traveling to an area where community transmission of SARS has been recently documented or suspected (including visiting an airport) within 10 days of symptom onset in that area is a risk factor. [5, 53]
Disease stages
The clinical course of SARS generally follows a typical pattern. Stage 1 is a flulike prodrome that begins 2-7 days after incubation and is characterized by fever (>100.4°F [38°C]), fatigue, headaches, chills, myalgias, malaise, anorexia, and, in some cases, diarrhea. This stage lasts 3-7 days. This phase is characterized by increasing viral load.
Stage 2 is the lower respiratory tract phase and begins 3 or more days after incubation. Patients experience a dry cough, dyspnea, and, in many cases, progressive hypoxemia. Chest radiography findings may initially be normal, and 7 days or longer may elapse before findings become abnormal. Radiographs may show focal interstitial infiltrates that may progress to a patchier, generalized distribution. Respiratory failure that requires mechanical ventilation may occur.
This phase is thought to be secondary to immunopathologic injury and is characterized by a decreasing viral load.
Physical Examination
Physical examination findings in patients with SARS are consistent with those of a combined mild to severe respiratory tract infection and influenzalike illness. [1, 2, 3, 20] However, from a respiratory standpoint, patients can deteriorate quickly and may require mechanical ventilation during hospitalization.
Moderate respiratory illness is indicated by fever and 1 or more clinical findings of respiratory illness (eg, hypoxia, cough, dyspnea, breathing difficulties).
Severe respiratory illness is indicated by fever, 1 or more clinical findings of respiratory illness (eg, hypoxia, cough, dyspnea, breathing difficulties), and radiographic evidence of pneumonia or respiratory distress syndrome or autopsy findings consistent with pneumonia or respiratory distress syndrome without an identifiable cause. Cough associated with SARS can be mild to severe and tends to be dry and nonproductive.
Chest auscultation results can be unremarkable. If abnormal, findings are more commonly upper respiratory tract in nature as opposed to lower respiratory tract.
Research on patients with SARS found the estimated mean incubation period to be 4.6 days (range of 2-14 d), with the mean time between the development of symptoms and hospitalization ranging from 2-8 days. The major clinical features on presentation included fever, chills/rigor, myalgia, dry cough, headache, malaise, and dyspnea. Sputum production, sore throat, coryza, nausea and vomiting, dizziness, and diarrhea have been found to be less common features. [1, 2, 3]
Hepatitis was a common complication of SARS-CoV infection, with 24% and 69% of patients respectively having increased alanine aminotransferase (ALT) levels on admission and during the subsequent course of the illness. Patients with severe hepatitis had worse clinical outcomes. A severe, acute neurologic syndrome may occasionally accompany SARS.
An atypical presentation, such as malaise, decreased oral intake, fall/fracture, and, in some cases, delirium, without fever, was more likely in older patients.
There was no reported fatality in young children and teenage patients, but SARS in pregnancy carried a significant risk of mortality.
Documentation of a temperature of more than 100.4°F (38°C) is preferred for diagnosis, but clinical judgment is important in the absence of this finding. Features consistent with respiratory illness, such as cough, wheezing, dyspnea, and other breathing difficulties, are noted.
The incidence of asymptomatic infection remains unknown, although 0.1% for the general population and higher rates for healthcare workers have been estimated. [1, 2, 3, 20, 21]
What would you like to print?