Workup
Approach Considerations
Initial tests in patients suspected to have SARS include pulse oximetry, blood cultures, sputum Gram stain and culture, and viral respiratory pathogen tests, notably influenza A and B viruses and respiratory syncytial virus.
Legionella and pneumococcal urinary antigen testing should also be considered. Specimens should also be made available for antibody testing, polymerase chain reaction (PCR) assay, and viral culture/isolation tests.
Acute and convalescent (>28 d after symptom onset) serum samples should be collected. Paired sera and other clinical specimens can be forwarded through state and local health departments for testing at the CDC.
Test results for human metapneumovirus, a virus genetically related to respiratory syncytial virus, have been positive in some patients with SARS.
Histologic findings
Autopsies demonstrated changes mostly confined to pulmonary tissue, with diffuse alveolar damage being the most prominent feature. Multinucleated syncytial giant cells were thought to be characteristic but were rarely seen. [14] SARS-CoV infection causes significant damage to lung tissue, as shown below.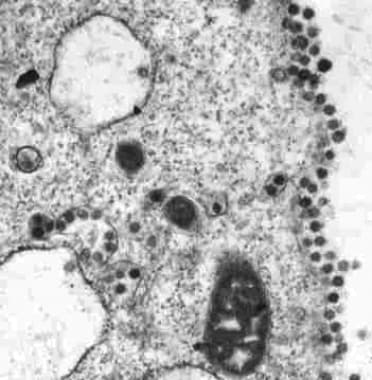 Thin-section electron micrograph of the severe acute respiratory syndrome–associated coronavirus isolated in FRhK-4 cells. Courtesy of the Government Virus Unit, Department of Health, Hong Kong SAR, China.
Airport identification
Infrared scanners designed for use by the military for night operations were adapted for airport screening use in various locales (eg, Singapore). These scanners were used to identify potentially febrile passengers by measuring their body heat. False-positive results were common with these scanners. Individuals with positive scanner results were temporarily isolated and brought to a special cubicle, where temperatures were confirmed with an oral thermometer. [5]
Laboratory Findings and Techniques
Data from the 2002-2003 outbreak indicate that SARS may be associated with the following laboratory findings [1, 2, 3, 4] :
Modest lymphopenia, leukopenia, and thrombocytopenia - Series have shown white blood cell (WBC) counts of less than 3.5 x 109/L and lymphopenia of less than approximately 1 x 109/L

Elevated levels of lactate dehydrogenase, alanine aminotransferase, and hepatic transaminase

Elevated creatine kinase level
Coronavirus antibody testing methods include indirect fluorescent antibody or enzyme-linked immunosorbent assays, which are used to test for specific antibodies after infection. Although these antibodies are found in some patients during the acute phase (ie, within 14 d of onset), a negative test finding using a sample that has been obtained less than 28 days after symptom onset does not exclude the diagnosis of SARS. [54, 55]
Reverse-transcriptase PCR (RT-PCR) assay results can be positive in some patients within the first 10 days of fever. RT-PCR assay can be used to detect SARS-CoV in serum, stool, and nasal secretions. SARS-CoV can also be isolated in viral cultures.
A negative SARS-CoV antibody test finding less than 28 days after symptom onset, a negative PCR assay finding, and a negative viral culture finding do not exclude the diagnosis of SARS. Obtaining convalescent serum for a final antibody determination 28 days or more after symptom onset is critical to the disease's diagnosis.
Below are the CDC's guidelines for the laboratory diagnosis of SARS-CoV infection. [5] Diagnosis is established based on the detection of any of the following with a validated test, with confirmation in a reference laboratory:
Serum antibodies to SARS-CoV in a single serum specimen

A 4-fold or greater increase in SARS-CoV antibody titer between acute- and convalescent-phase serum specimens tested in parallel

Negative SARS-CoV antibody test result on acute-phase serum and positive SARS-CoV antibody test result on convalescent-phase serum tested in parallel

Isolation in cell culture of SARS-CoV from a clinical specimen, with confirmation using a test validated by the CDC

Detection of SARS-CoV RNA via RT-PCR assay validated by the CDC, with confirmation in a reference laboratory, from (1) two clinical specimens from different sources or (2) two clinical specimens collected from the same source on 2 different days [7]

Clinical and laboratory criteria for severe acute respiratory syndrome cases and infection per the US Centers for Disease Control and Prevention (CDC) on April 29, 2003. Courtesy of the CDC.
FDA gives emergency approval for Middle East Respiratory Syndrome Coronavirus (MERS-CoV) test
In July 2013, at the request of the CDC, the FDA issued an emergency authorization for a diagnostic test to detect the presence of the Middle East coronavirus (formerly referred to as novel coronavirus). The emergency approval follows the Health and Human Services secretary's determination that MERS-CoV, which has killed at least 40 people, poses a potential public health threat. [56]
Imaging Studies
Initial chest radiography findings were found to be abnormal in approximately 60% of patients. Abnormalities on chest radiographs were observed in serial examinations in nearly all patients by 10-14 days after symptom onset. [8, 9]
Interstitial infiltrates can be observed early in the disease course, although in the early stage, a peripheral, pleural-based opacity (ranging from ground-glass opacification to frank consolidation) may be the only abnormality. High-resolution computed tomography (HRCT) scanning of the chest during this time may reveal an infiltrate in the retrocardiac region. (See the image below.)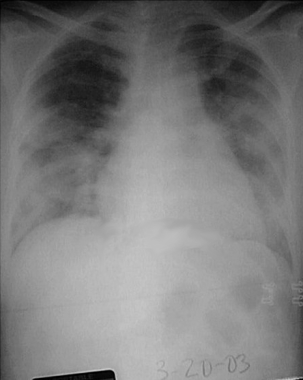 Chest radiograph of a 52-year-old symptomatic woman with severe acute respiratory syndrome (March 20, 2003) taken 5 days after presentation. Moderately severe-to-severe ground-glass and consolidative bilateral changes are noted in the lung fields and are somewhat worse on the left side. Courtesy of Michael E. Katz, MD.
As the disease progresses, widespread opacification affects large areas. These changes tend to affect the lower lung fields first. Calcification, cavitation, pleural effusion, and lymphadenopathy are not observed in SARS.
HRCT scanning of the chest
The role of HRCT scanning in the evaluation of SARS is still controversial. Patients with abnormal chest radiographic findings do not need HRCT scanning. However, when SARS is a strong clinical possibility despite a normal chest radiographic finding, the clinician should consider HRCT scanning. [9]
Findings consistent with SARS include ground-glass opacification, with or without thickening of the intralobular or interlobular interstitium, or frank consolidation. Indeed, a combination of ground-glass opacification (with or without thickening of the interstitium) and frank consolidation may be noted. [9]
What would you like to print?