Workup
Laboratory Studies
The workup for anti–glomerular basement membrane (anti-GBM) disease includes the following laboratory studies:
Urinalysis and 24-hour urine collection

Complete blood cell count (CBC) and blood chemistry

Complement levels and serology
Urine studies
A urinary dipstick test and a 24-hour urine collection to test for protein and creatinine should be performed for detection of hematuria and proteinuria. Urinary sediment should be analyzed using microscopy to detect dysmorphic red blood cells and cellular casts. Typical findings are as follows:
Hematuria: Urinary sediment frequently reveals dysmorphic red blood cells and red blood cell casts.

Proteinuria: This is usually absent in patients in the early years of life. Proteinuria usually progresses with age and may be in the nephrotic range in up to 30% of patients.
CBC and blood chemistry
On the CBC, hemoglobin and hematocrit levels may be low, reflecting blood loss from pulmonary hemorrhage; serial analysis may be helpful for monitoring blood loss. Low hemoglobin levels can also be due to advanced renal failure. The platelet count is usually within reference ranges. A mild leukocytosis is often observed.
On blood chemistry studies, blood urea nitrogen and serum creatinine levels are usually elevated. Serum bicarbonate levels are usually low, and serum phosphate levels may be elevated because of renal failure.
Complement levels and serology
Complement: levels are usually within reference ranges. Antineutrophil cytoplasmic antibodies (ANCA):are usually absent. However, approximately 25-30% patients with anti-GBM disease have circulating ANCA. Of these patients, approximately 75% have perinuclear ANCA; the remaining 25% have cytoplasmic ANCA.
Circulating anti-GBM antibodies
More than 95% of patients with anti-GBM nephritis have circulating anti-GBM antibodies. The antibodies are usually of the immunoglobulin G (IgG) class, although immunoglobulin A or immunoglobulin M anti-GBM antibodies are occasionally observed.
Anti-GBM antibodies can be detected with indirect immunofluorescence assays, usually using monkey kidneys as the substrate, or by radioimmunoassay or enzyme-linked immunosorbent assay (ELISA), which use human recombinant GBM antigens. [14] Radioimmunoassay and ELISA are more sensitive and specific than indirect immunofluorescence assays. Currently, ELISA is most commonly used to detect circulating anti-GBM antibodies. ELISAs are highly sensitive, but their specificity varies depending upon the antigen used. [14]
Imaging Studies
In the early stages, renal ultrasound shows normal-sized kidneys. However, with advancing renal failure, the kidneys shrink and become echogenic.
Procedures
Unless contraindicated, a renal biopsy should be promptly performed in every case. Rapid diagnosis is necessary to assess the degree of crescentic involvement and the extent of fibrosis and to exclude other disease processes. Furthermore, prompt diagnosis is essential in order to start specific treatment as early as possible to preserve renal function.
Histologic Findings
Light microscopy reveals the presence of crescents in more than 95% of patients (see the image below), and approximately 80% of patients show crescents involving more than 50% of the glomeruli. In early stages, the crescents are cellular and associated with necrotizing glomerular lesions. They gradually evolve into fibrotic crescents and glomerular sclerosis. Focal rupture of the GBM and fibrinoid necrosis of glomeruli are usually observed. In severe cases, rupture of the Bowman capsule ensues.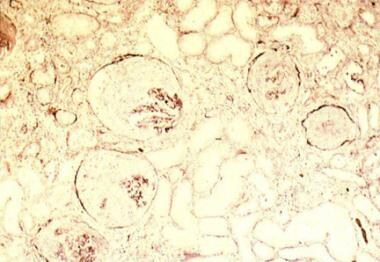 Light microscopy of kidney biopsy specimen from a patient with antiglomerular basement membrane nephritis showing extensive crescent formation and the collapse of glomerular tuft.
Tubulointerstitial changes, including interstitial edema and inflammation and tubular damage, are usually observed along with glomerular injury. If necrotizing inflammation is observed in arteries or arterioles, the possibility of concurrent ANCA-associated glomerulonephritis should be considered.
Immunofluorescent examination of the biopsy specimen reveals the characteristic linear deposition of IgG (rarely immunoglobulin A or immunoglobulin M) antibodies along the GBM (as demonstrated in the image below). Linear staining for IgG may also occur along the tubular basement membrane. Weak linear staining of the GBM is frequently observed in persons with diabetic nephropathy, but clinical data and light microscopic features can easily distinguish the 2 conditions.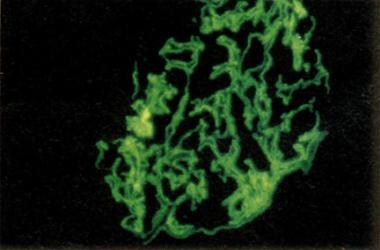 Immunofluorescent examination of a kidney biopsy specimen from a patient with antiglomerular basement membrane nephritis showing a linear deposition of immunoglobulin G along the glomerular basement membrane.
Electron microscopy findings reflect those observed with light microscopy and include the presence of crescents, disruption of the GBM, and cellular infiltration at the sites of necrosis.
What would you like to print?