Workup
Approach Considerations
Diabetic nephropathy is characterized by the following:
Persistent albuminuria (>300 mg/d or >200 μg/min) that is confirmed on at least 2 occasions 3-6 months apart

A relentless decline in the glomerular filtration rate (GFR)

Elevated arterial blood pressure
The rate of decline in the GFR in various stages of type 1 and type 2 diabetes is shown in the image below.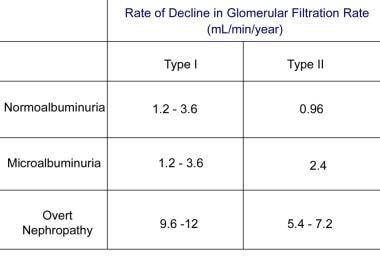 Rate of decline in glomerular filtration rate in various stages of type 1 and type 2 diabetes.
Whether cystatin C or creatinine-based calculation of GFR is the most sensitive measure for assessing early decline in renal function in patients with type 2 diabetes who have mild-to-moderate chronic kidney disease is controversial. The two methods were compared in a cohort of 448 patients with type 2 diabetes. Creatinine-based calculation was found to be more accurate than cystatin-C, which confirms the current practice in diabetes literature of reporting estimated GFR primarily by creatinine decrements and the modification of diet in renal disease (MDRD) calculation. [23]
A study by Jansson Sigfrids et al indicated that in patients with type 1 diabetes, a rise in the remnant cholesterol concentration can predict the progression of diabetic nephropathy. The investigators found that individuals in whom the albumin excretion rate (AER) was at a more advanced baseline stage had a higher remnant cholesterol level. They also determined that the remnant cholesterol concentration in patients whose AER progressed was greater than in those who experienced no progression (0.55 vs 0.41 mmol/L, respectively). In addition, the study reported that remnant cholesterol levels are associated with the development of severe diabetic retinopathy. [24]
Urinalysis
A 24-hour urinalysis for urea, creatinine, and protein is extremely useful in quantifying protein losses and estimating the GFR. Typically, the urinalysis results from a patient with established diabetic nephropathy show proteinuria varying from 150 mg/dL to greater than 300 mg/dL, glucosuria, and occasional hyaline casts.
Microalbuminuria is defined as albumin excretion of more than 20 μg/min or an albumin-to-creatinine ratio (µg/g) of greater than 30. This phase indicastes incipient diabetic nephropathy and calls for aggressive management, at which stage the disease may be potentially reversible (ie, microalbuminuria can regress). (See the image below.)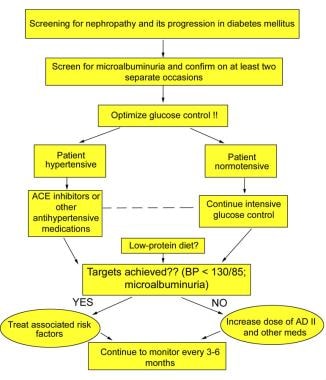 Screening for and prevention of the progression of microalbuminuria in diabetes mellitus. (ACE-I stands for angiotensin-converting enzyme inhibitor)
Perform microscopic urinalysis to help rule out a potentially nephritic picture, which may lead to a workup to rule out other primary glomerulopathies, especially in the setting of rapidly deteriorating renal function (eg, rapidly progressive glomerulonephritis). In general, onset of overt proteinuria with less than 5 years of the onset of diabetes, an active urine sediment with dysmorphic red cells and casts, or an abrupt decline in kidney function suggests a nondiabetic etiology of the kidney disease.
Blood Tests
Blood tests, including calculation of GFR (by various formulas, such as the MDRD formula), are helpful in monitoring for the progression of kidney disease and in assessing its stage.
Serum and Urinary Electrophoresis
Serum and urinary electrophoresis is performed mainly to help exclude multiple myeloma (in the appropriate setting) and to classify the proteinuria (which is predominantly glomerular in diabetic nephropathy).
Renal Ultrasonography
Observe for kidney size, which is usually normal to increased in the initial stages and, later, decreased or shrunken with chronic renal disease. Rule out obstruction. Perform echogenicity studies for chronic renal disease.
Renal Biopsy
Renal biopsy is not routinely indicated in all cases of diabetic nephropathy, especially in persons with a typical history and a progression typical of the disease. It is indicated if the diagnosis is in doubt, if other kidney disease is suggested, or if atypical features are present.
Histologic Findings
The following three major histologic changes occur in the glomeruli of persons with diabetic nephropathy:
First, mesangial expansion is directly induced by hyperglycemia, perhaps via increased matrix production or glycosylation of matrix proteins.

Second, thickening of the glomerular basement membrane (GBM) occurs.

Third, glomerular sclerosis is caused by intraglomerular hypertension (induced by renal vasodilatation or from ischemic injury induced by hyaline narrowing of the vessels supplying the glomeruli).
These different histologic patterns appear to have similar prognostic significance.
The Renal Pathology Society proposed a histologic classification system for diabetic nephropathy in 2010, which can be used for both type 1 and type 2 DM. Based on the presence and severity of glomerular lesions, four classes are proposed [25] :
Class I, glomerular basement membrane thickening - Isolated glomerular basement membrane thickening exists, with light microscopy revealing only mild, nonspecific changes

Class II, mesangial expansion, mild (IIa) or severe (IIb) - Mild or severe mesangial expansion in the glomeruli but without Kimmelstiel-Wilson lesions (nodular sclerosis) and with no more than 50% of glomeruli demonstrating global glomerulosclerosis

Class III, nodular sclerosis (Kimmelstiel–Wilson lesions) - At least one Kimmelstiel-Wilson lesion and none of the changes described in class IV, with no more than 50% global glomerulosclerosis present on biopsy

Class IV, advanced diabetic glomerulosclerosis - More than 50% global glomerulosclerosis on biopsy, with clinical or pathologic evidence indicating that the sclerosis stems from diabetic nephropathy.
In this report, a separate classification was proposed based on the presence and severity of interstitial fibrosis and tubular atrophy (IFTA) and vascular lesions. Generally, the classification is believed to correspond to the clinical stages of diabetic nephropathy, although there are no definitive data validating this correspondence.
Staging
See the image below regarding the developmental stages in the natural history of diabetic nephropathy.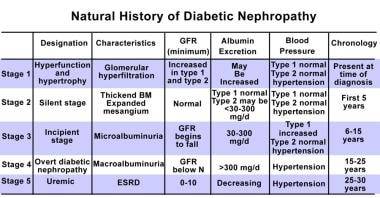 Stages in the development of diabetic nephropathy.
What would you like to print?