Workup
Approach Considerations
The first step in confirming the diagnosis is a careful urinalysis of a first-void urine sample performed by an experienced urine analyst. Direct examination of the urine sediment is required to identify red blood cells (RBCs) and RBC casts, both of which indicate glomerular injury.
Proteinuria testing can be accomplished quantitatively by a 24-hour measurement of urinary protein or semiquantitatively by measuring a urine protein/creatinine ratio. A normal ratio should be less than approximately 0.1. Also, adults older than 50 years with proteinuria should have a urine protein electrophoresis performed to exclude monoclonal light chains as a cause of proteinuria.
Assess renal function in patients with proteinuria or hematuria by a 24-hour creatinine clearance test. Alternatively, the glomerular filtration rate (GFR) can be estimated using the Modification of Diet in Renal Disease (MDRD) formula or CKD-EPI.
Although the serum IgA level is elevated in up to half of patients, this finding is insensitive, nonspecific, and of no clinical utility
Diagnosis of IgA nephropathy should be confirmed by renal biopsy.
Proteinuria
In IgA nephropathy, proteinuria rarely occurs without microscopic hematuria. Mild proteinuria is common.
Nephrotic-range proteinuria is uncommon, occurring in only 5% of patients with IgA nephropathy, and is more commonly seen in children and adolescents. Nephrotic-range proteinuria can be seen early in the disease course as well as in patients with advanced disease
Patients with heavy proteinuria and nephrotic syndrome are likely to have IgA deposition with diffuse proliferative glomerular lesions or minimal-change light microscopic findings
Acute kidney injury
Acute kidney injury, with edema, hypertension, and oliguria, occurs in fewer than 5% of patients. It can develop from either of the following two distinct mechanisms:
Acute severe immune injury can manifest as necrotizing glomerulonephritis and crescent formation

Alternatively, only mild glomerular injury is observed with gross hematuria, and kidney injury is presumably due to tubular occlusion by RBCs; this is reversible, and renal function recovers with supportive measures
Histologic Findings
Light microscopy
The most common light microscopy findings are focal or, more often, diffuse mesangial proliferation and extracellular matrix expansion (as seen in the image below). Morphology can range from normal to moderate or severe intracapillary or extracapillary proliferative lesions. While some patients have IgA deposits on immunofluorescence and little or no change by light microscopy.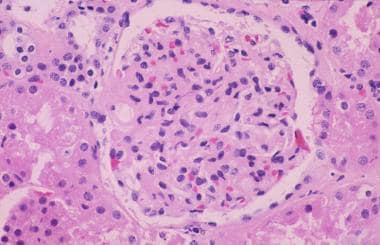 Light microscopy of a glomerulus from a patient with immunoglobulin A nephropathy showing increased mesangial matrix and cellularity.
Occasionally, patients have focal glomerular sclerosis indistinguishable from focal segmental glomerulosclerosis on light microscopy. A number of other findings can be observed in advanced disease, including interstitial fibrosis, tubular atrophy, and vascular sclerosis. A few patients have segmental necrotizing lesions with crescent formation due to extensive disruption of the capillaries. These findings can be helpful prognostic tools in patients with IgA nephropathy (see Follow-up/Prognosis).
Electron microscopy
Electron microscopy shows mesangial hypercellularity and increased mesangial matrix. The important finding is electron-dense deposits of IgA in the mesangium, such as those in the image below, but deposits in the subendothelial and subepithelial region of the glomerular capillary wall are found in a minority of patients, especially those with more severe disease. Subendothelial deposits are often present when there is endocapillary hypercellularity.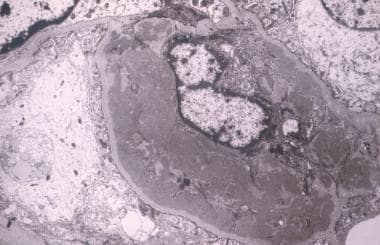 Electron microscopy showing large dark mesangial deposits.
Immunofluorescence
Immunofluorescence findings are the pathologic hallmark of this disease. IgA is deposited in a diffuse granular pattern in the mesangium (as seen in the image below) and occasionally in the capillary wall. The deposits are predominantly polymeric IgA of the IgA1 subclass; in addition, IgG is found in 43% of cases, and IgM in 54%. [11] C3 is often present. Polyclonal deposits, often with more lambda than kappa light chains, are seen. Presence of C4d indicates a worse prognosis.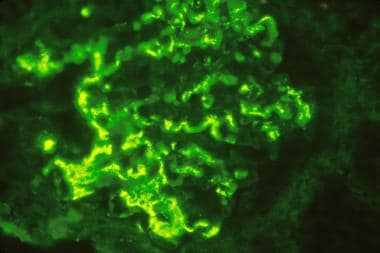 Immunofluorescence microscopy demonstrating large mesangial immunoglobulin A (IgA) deposits diagnostic of IgA nephropathy.
What would you like to print?