Presentation
History
The history should include screening for symptoms of malignant hypertension, focusing on the cardiac, renal, and central nervous systems. Underlying medical disorders should be reviewed, including the possibility of eclampsia. The patient's medications and other drugs should be thoroughly reviewed [10] ; agents that may cause a hypertensive emergency include cocaine, monoamine oxidase inhibitors (MAOIs), and oral contraceptives; the withdrawal of beta blockers, alpha stimulants (eg, clonidine), or alcohol also may cause a hypertensive emergency.
In one review, the most common presentations of hypertensive emergencies at an emergency department were chest pain (27%), dyspnea (22%), and neurologic deficit (21%).
Physical Examination
A thorough physical examination should be conducted, with the focus on the cardiovascular and central nervous systems and on the retinal examination.
Cardiovascular system
The cardiac presentation of malignant hypertension is angina and/or myocardial infarction, congestive heart failure, or pulmonary edema. Orthostatic symptoms may be prominent.
The heart's initial response to systemic hypertension is to develop concentric left ventricular hypertrophy. Eventually, the left ventricle becomes dilatated. This is reflected on physical examination by a fourth heart sound initially, followed by the typical changes of dilated cardiomyopathy.
Blood pressure must be checked in both arms to screen for aortic dissection or coarctation. If coarctation is suspected, blood pressure also should be measured in the legs. Furthermore, screen for carotid or renal bruits; palpate the precordium, looking for sustained left ventricular lift; and auscultate for a third or fourth heart sound or murmurs.
The patient's volume status must also be assessed with orthostatic vital signs, examination of the jugular veins, assessment of the liver size, and investigation for peripheral edema and pulmonary rales.
Central nervous system
Neurologic presentations include occipital headache, cerebral infarction or hemorrhage, visual disturbance, and hypertensive encephalopathy (a symptom complex of severe hypertension, headache, vomiting, visual disturbance, mental status changes, seizure, and retinopathy with papilledema). Focal signs and symptoms are uncommon and may indicate another process, such as cerebral infarct or hemorrhage.
A complete neurologic examination is needed to screen for localizing signs. Note that focal neurologic signs might not be attributable to encephalopathy; focal signs mandate screening for cerebral hemorrhage, infarct, or the presence of a mass.
Renal, gastrointestinal, and ophthalmologic systems
Renal disease may present as oliguria or any of the typical features of acute kidney injury or chronic renal disease. Gastrointestinal symptoms are nausea and vomiting; in addition, diffuse arteriolar damage can result in microangiopathic hemolytic anemia.
Patients may complain of blurred vision. A funduscopic examination may reveal flame-shaped retinal hemorrhages, soft exudates, or papilledema (see the following images). [11]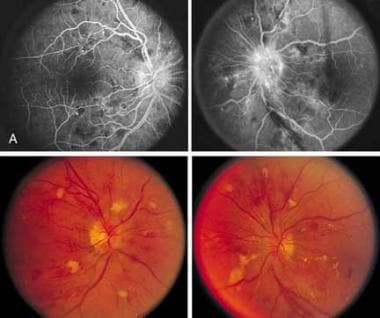 Hypertensive retinopathy. Note the flame-shaped hemorrhages, soft exudates, and early disc blurring.
What would you like to print?