Workup
Approach Considerations
Symptomatic patients with classic clinical findings of acute hypocalcemia require immediate resuscitation and evaluation. However, most cases of hypocalcemia are discovered by clinical suspicion and appropriate laboratory testing. Albumin, liver function studies, and coagulation parameters should be obtained to assess liver dysfunction and hypoalbuminemia. Blood urea nitrogen (BUN) and serum creatinine should be measured, as elevated levels may indicate kidney dysfunction.
In a patient with hypocalcemia, measurement of the serum albumin is essential to distinguish true hypocalcemia, which involves a reduction in ionized serum calcium, from factitious hypocalcemia, meaning decreased total, but not ionized, calcium. To correct for hypoalbuminemia, add 0.8 mg/dL to the total serum calcium for each 1.0 g/dL decrease in albumin below 4.0 g/dL.
The parathyroid hormone (PTH) level should be checked as early as possible. Vitamin D should be measured if deficiency is suspected. In patients with PTH deficiencies, alkaline phosphatase levels tend to be normal or slightly decreased, whereas these levels frequently are elevated in patients with osteomalacia and rickets. If the diagnosis of osteomalacia is suspected, a bone biopsy can determine the final diagnosis.
An electrocardiogram (ECG) is indicated. Imaging studies may include plain radiography or computed tomography (CT) scans. On radiographs, disorders associated with rickets or osteomalacia present with the pathognomonic Looser zones, which are better observed in the pubic ramus, upper femoral bone, and ribs. Radiography will also disclose osteoblastic metastases from certain tumors (eg, breast, prostate, lung), which can cause hypocalcemia. CT scans of the head may show basal ganglia calcification and extrapyramidal neurologic symptoms (in idiopathic hypoparathyroidism).
Serum Ionized Calcium
Ionized calcium is the definitive method for diagnosing hypocalcemia. A serum calcium level less than 8.5 mg/dL or an ionized calcium level less than 1.0 mmol/L is considered hypocalcemia.
Analysis for the ionized calcium level must be performed rapidly with whole blood to avoid changes in pH and anion chelation. Blood should be drawn in an unheparinized syringe for best results.
Falsely elevated calcium levels may be seen with elevated acetaminophen levels, alcohol, hydralazine, and hemolysis. Falsely depressed levels can be seen with heparin, oxalate, citrate, or hyperbilirubinemia.
Serum Electrolytes
In healthy kidneys, parathyroid hormone (PTH) stimulates phosphate excretion. The combination of hypocalcemia and elevated phosphorus levels typically suggests hypoparathyroidism or pseudohypoparathyroidism.
Patients with kidney failure and hypocalcemia usually present with hyperphosphatemia and high PTH levels. Hypophosphatemia develops in patients with vitamin D deficiency and hungry bone disease.
The serum magnesium level should always be checked to determine its potential contribution to the hypocalcemia. Occasionally, inadequate dietary magnesium intake leads to hypomagnesemia, hypophosphatemia, and hypocalcemia. [1]
Parathyroid Hormone
The parathyroid hormone level should be checked as early as possible. This test is an antibody-mediated radioimmunoassay. Low-to-normal PTH levels occur in patients with hereditary or acquired hypoparathyroidism and in patients with severe hypomagnesemia.
Patients with ineffective PTH have elevated PTH levels. The PTH elevation is a result of hypocalcemia.
Vitamin D Metabolites
If vitamin D deficiency is suspected, measurements of 25(OH) D and 1,25(OH)2 D should be performed. A low 25(OH) D level suggests vitamin D deficiency from poor nutritional intake, lack of sunlight, or malabsorption. Low levels of 1,25(OH)2 D in association with high PTH suggest ineffective PTH from a lack of vitamin D, as observed in patients with chronic renal failure, vitamin D–dependent rickets type I (VDDR-I), and pseudohypoparathyroidism.
Urinary cyclic adenosine monophosphate (cAMP) may help differentiate hypoparathyroidism from pseudohypoparathyroidism types I and II. Urinary cAMP levels are generally elevated in hypoparathyroidism.
Electrocardiogram
Acute hypocalcemia causes prolongation of the QT interval, which may lead to ventricular dysrhythmias (see the image below). It also causes decreased myocardial contractility, which can lead to heart failure, hypotension, and angina. Cardiomyopathy and ventricular tachycardia may be reversible with treatment.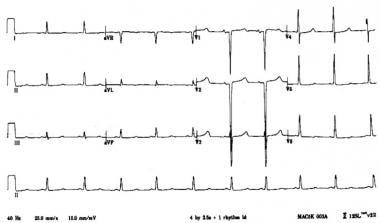 Electrocardiogram (ECG) findings in severe hypocalcemia.
What would you like to print?