Presentation
History
Patients invariably present with an abrupt onset of renal dysfunction. Patients with other symptoms are much less uniform in their presentation. Possible presentations include the following:
Fever is present in 60-100% of patients.

Patients with tubulointerstitial nephritis-uveitis (TINU) usually present with a 2- to 3-week history of uveitis. Uveitis may precede nephritis, occur subsequent to nephritis, or occur simultaneous with nephritis.

Patients with NSAID-associated acute interstitial nephritis have a history of NSAID use, and symptoms of nephrotic syndrome may be present (eg, lower extremity edema, lethargy).
Physical
Frequently, nothing unusual is discovered on physical examination. The two most common findings are rash and fever.
The rash is frequently described as maculopapular, although, in allopurinol-related acute interstitial nephritis, it is sometimes exfoliative.

Fever is present in 60-100% of cases.
Causes
Acute interstitial nephritis can be categorized into 5 groups based on the inciting etiology: (1) drug hypersensitivity reactions, (2) infections, (3) immune-mediated disease, (4) glomerular, and (5) idiopathic. All of these entities manifest as an abrupt onset of renal dysfunction, which may occur at any time following exposure to the inciting agent. In early reports of methicillin-associated acute interstitial nephritis, onset usually occurred after 10-20 days of administration, although it must be noted that this is not always the case. Acute interstitial nephritis is quite heterogeneous in its presentation, and the time course is often subject to variation. Acute interstitial nephritis can also be grouped into acute and chronic subgroups.
Drug hypersensitivity reactions
Many drugs can cause acute interstitial nephritis. The first medications noted to cause acute interstitial nephritis were sulfonamide antibiotics (1950s). By the end of the 1960s, reports surfaced of acute interstitial nephritis due to methicillin. According to one study, up to 15% of patients receiving a 2-week course developed acute interstitial nephritis.
Other medications that have been linked to acute interstitial nephritis include rifampin, penicillins, cephalosporins, and NSAIDs.
When NSAIDs lead to acute interstitial nephritis, patients often present with nephrotic-range proteinuria. Extrarenal signs, such as eosinophilia and rash, are less common with NSAIDs than with other medications.
Acute interstitial nephritis can occur at any point following administration of the above medications, from a few weeks to several months later.
Infections
Many infections have been associated with acute interstitial nephritis. Determining whether the infection or its treatment is responsible for acute interstitial nephritis is often difficult.
Common bacterial infections associated with interstitial nephritis include Staphylococcus aureus and Escherichia coli. These infectious agents are often associated with mononuclear infiltration (shown below) and the proliferation of organisms within the kidney, sometimes leading to abscess formation. Viral etiologies include cytomegalovirus, polyomavirus, and rubeola. Hantavirus causes an acute hemorrhagic interstitial nephritis. [5] Patients who are HIV positive may develop acute interstitial nephritis, although it is usually secondary to medications rather than the virus itself. [6]
See the images below.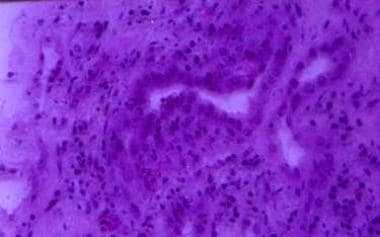 Acute interstitial nephritis with mononuclear cell infiltrate.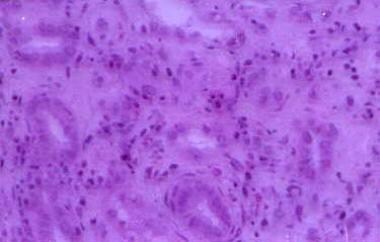 Mononuclear cell infiltrate between tubules.
Other implicated organisms include Toxoplasma gondii, Rickettsia rickettsii, and Leishmania donovani.
Immune-mediated disease
Acute interstitial nephritis may manifest in conjunction with a variety of immune-mediated diseases. These include sarcoidosis, systemic lupus erythematosus, Sjögren syndrome, and essential cryoglobulinemia.
The presentation of acute interstitial nephritis in the course of these diseases may be in conjunction with an exacerbation of the systemic symptoms or as an isolated entity.
Often, what is described as idiopathic acute interstitial nephritis may prove to be little more than the initial symptoms of one of these systemic diseases.
Glomerular
Renal biopsies from patients with glomerulopathies often reveal tubulointerstitial nephritis. Some authors feel that the important contribution of tubulointerstitial disease to the development of end-stage renal disease warrants adding glomerulonephritis to the list of potential etiologies of acute interstitial nephritis.
Tubulointerstitial nephritis-uveitis
TINU is an uncommon subtype of acute interstitial nephritis. Patients with this syndrome present with diffuse eosinophilic interstitial nephritis associated with granulomas in the bone marrow and lymph nodes. Uveitis and systemic malaise usually precede other symptoms, but, in some cases, uveitis occurs after nephritis.
TINU most often manifests in pubertal females, but fortunately, this syndrome is rare.
What would you like to print?