Workup
Laboratory Studies
Urine is often examined for eosinophils, but this method lacks adequate sensitivity and specificity. One study found a positive predictive value of 38%. [21] Regular urine microscopy must be supplanted with specific stains for eosinophils (Hansel stain).
Eosinophilia may be present, but this is also an unreliable diagnostic finding.
Urinalysis often reveals sterile pyuria with microscopic hematuria. Proteinuria is often present, but the quantity varies greatly, ranging from nephrotic levels in patients with NSAID-associated acute interstitial nephritis (AIN) to less than 1 g/d in others.
Imaging Studies
Renal ultrasound is of minimal value. Normal-sized kidneys with a slight increase in echogenicity are typically noted.
Gallium scans often show diffuse bilateral uptake. This can be helpful in differentiating acute interstitial nephritis and acute tubular necrosis, which has a uniformly negative scan result.
Procedures
The criterion standard diagnostic test for acute interstitial nephritis is renal biopsy. Unfortunately, little else is available to help make a definitive diagnosis. Biopsy frequently reveals either a diffuse or segmental mixed infiltrate.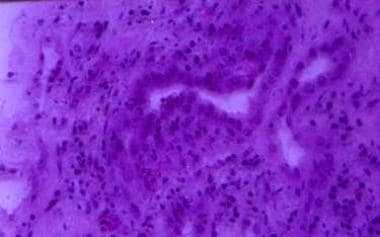 Acute interstitial nephritis with mononuclear cell infiltrate.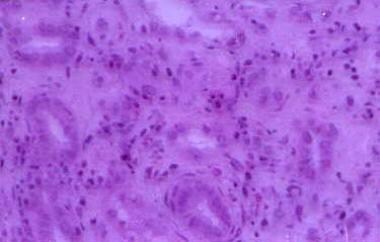 Mononuclear cell infiltrate between tubules.
What would you like to print?