Workup
Laboratory Studies
Urine is often examined for eosinophils, but this method lacks adequate sensitivity and specificity. One study found a positive predictive value of 38%. [19] Regular urine microscopy must be supplemented with specific stains for eosinophils (Hansel stain). A proportion of patients develop peripheral blood eosinophilia, but this is an inconsistent feature. [11]
Urinalysis often reveals sterile pyuria with microscopic hematuria. Proteinuria is often present, but the quantity varies greatly, ranging from nephrotic levels in acute interstitial nephritis from nonsteroidal anti-inflammatory drugs to less than 1 g/d in others.
Imaging Studies
Renal ultrasound is of minimal value. Normal-sized kidneys with a slight increase in echogenicity are typically noted.
Gallium scans often show diffuse bilateral uptake. This can be helpful in differentiating acute interstitial nephritis and acute tubular necrosis, which has a uniformly negative scan result.
Procedures
The criterion standard diagnostic test for acute interstitial nephritis is kidney biopsy. Unfortunately, little else is available to help make a definitive diagnosis. Biopsy frequently reveals either a diffuse or segmental mixed infiltrate (see the images below).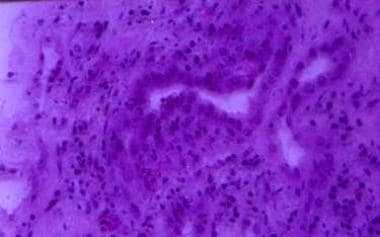 Acute interstitial nephritis with mononuclear cell infiltrate.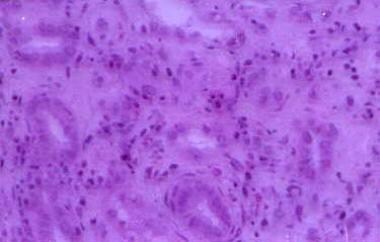 Mononuclear cell infiltrate between tubules.
What would you like to print?