Treatment
Approach Considerations
Antihypertensive drug therapy is indicated. Optimal blood pressure control plays an essential role in the therapeutic management of renovascular hypertension (RVHT); however, aggressive control of other risk factors for atherosclerosis is also crucial. Cessation of smoking is important for its positive impact on the cardiovascular risk profile in patients with hypertension. Similarly, antidyslipidemic therapy for those patients with hyperlipidemia likely provides benefit in atherosclerotic RVHT.
Progression of atherosclerotic stenosis may occur in as many as one third of patients, and the sequelae of ongoing ischemia to the stenotic kidney are a theoretical concern. Furthermore, normalization of blood pressure may be associated with reduced renal perfusion pressures, and renal function may deteriorate despite good blood pressure control.
Definitive therapy for the underlying cause must be considered in order to avoid the development of ischemic nephropathy. [14] Intervention to treat hemodynamically significant stenoses has been presumed to offer clinical benefit; however, trials comparing renal artery revascularization with medical management do not unequivocally favor surgical over medical intervention, suggesting the need for research to identify patients most likely to benefit from intervention. [15, 16]
The invasive and surgical options for treatment of renovascular hypertension include the following:
Percutaneous transluminal angioplasty (PTA)

Surgical revascularization

Nephrectomy
Catheter-based radiofrequency denervation of the renal arteries has entered clinical use in many countries as a treatment for resistant hypertension. The SYMPLICITY HTN-3 trial randomized 535 patients with severe resistant hypertension and found that catheter-based radiofrequency denervation of the renal arteries was safe but did not result in a significant reduction of systolic blood pressure 6 months post-procedure, as compared with a sham control. [17] However, subsequent reviews have shown that renal denervation was not effectively or consistently achieved in the trial. [18]
The patient should be transferred to a tertiary care medical facility whenever the need for invasive or surgical treatments has been established and the current treating facility is not equipped for such procedures.
Inpatient care usually is necessary for the management of hypertensive urgencies or emergencies associated with RVHT. Timely diagnosis of RVHT and early intervention are required to prevent further ischemic end-organ damage to the kidney and other organs.
Pharmacologic Therapy
Hypertensive patients should receive antihypertensive medication. In children with severe hypertension, it may be necessary to initiate medical treatment before a definitive diagnosis is obtained.
RVHT is often refractory to medical treatment. Because current approaches to renal artery dilation and surgical revascularization yield excellent results, these procedures are generally considered the treatments of choice in preference to life-long antihypertensive medication. However, attempts to control the patient's blood pressure in preparation for surgical intervention should always be made. In particular, it is advisable to defer surgery until manifestations of malignant hypertension are relieved.
All classes of antihypertensive medications are used to treat RVHT; however, the most effective therapy is with an angiotensin-converting enzyme (ACE) inhibitor, which minimizes the ischemia-induced rise in angiotensin production. Because hypertension may be dependent on angiotensin II, antihypertensives that inhibit renin or angiotensin II are used widely.
An ACE inhibitor markedly decreases blood flow through the stenotic kidney; thus, in patients with a solitary kidney or bilateral renovascular disease, blood pressure may fall rapidly, with an ensuing deterioration in renal function. Although this deterioration usually is reversible upon discontinuance of the medication, ACE inhibitors are generally avoided until definitive therapy has been attempted. There has been less clinical experience with angiotensin receptor blockers (ARBs), but these agents appear to be as effective as ACE inhibitors in experimental models.
Certainly, any patients with RVHT who are treated with ACE inhibitors or ARBs should have their serum creatinine levels monitored, and therapy should be discontinued if their creatinine levels rise significantly. In patients without hemodynamically significant renal artery disease, a serum creatinine increase of up to 35% above baseline with an ACE or an ARB is considered acceptable and is not a reason to withhold treatment unless hyperkalemia develops.
Both beta blockers and diuretics also are used, the latter often in conjunction with ACE inhibitors. Diuretics enhance sodium and water diuresis, thereby eliminating the volume-mediated component of RVHT. Calcium channel blockers may provide equally good control of hypertension while presumably causing less impairment of the function of the ischemic kidney than ACE inhibitors do. Nitroprusside and phenoxybenzamine are useful in the short-term management of malignant hypertension before surgery.
The selective aldosterone inhibitor eplerenone is also available for the treatment of hypertension. This agent selectively blocks aldosterone at the mineralocorticoid receptors in both epithelial tissues (eg, kidney) and nonepithelial tissues (eg, heart, blood vessels, and brain), thereby decreasing blood pressure and sodium reabsorption. The adult dosage is 50 mg/day orally, which may be increased after 4 weeks to a dosage not exceeding 100 mg/day. Contraindications include the following:
Documented hypersensitivity

Coadministration with drugs causing increased potassium

Type 2 diabetes with microalbuminuria

Moderate-to-severe renal insufficiency (ie, creatinine clearance less than 50 mL/min or serum creatinine level higher than 2 mg/dL in males or 1.8 mg/dL in females)
Because eplerenone is a cytochrome P-450 (CYP450) 3A4 substrate, potent CYP3A4 inhibitors (eg, ketoconazole) increase serum levels of the drug about 5-fold, whereas less potent CYP3A4 inhibitors (eg, erythromycin, saquinavir, verapamil, and fluconazole) increase serum levels about 2-fold. Grapefruit juice increases serum eplerenone levels by about 25%.
Coadministration of eplerenone with potassium supplements, salt substitutes, or drugs known to increase serum potassium (eg, amiloride, spironolactone, triamterene, ACE inhibitors, and ARBs) increases the risk of hyperkalemia. Eplerenone may cause hyperkalemia, headache, or dizziness. Caution is advised in patients with hepatic insufficiency.
Percutaneous Transluminal Angioplasty
PTA is a therapeutic nonsurgical procedure involving expansion of a small balloon on a special vascular catheter to dilate narrow areas in a blood vessel. Up to 10 atm of pressure is generally used to expand the balloon, and more than 1 dilation may be required to achieve the desired effect. PTA is cheaper and less invasive than surgical revascularization and can be performed at the time of angiography. If the stenosis is refractory to treatment or if restenosis develops, surgical revascularization can still be performed.
In patients with RVHT, PTA is performed to open stenotic renal arteries (percutaneous transluminal renal angioplasty [PTRA]), the most amenable lesions being those without total occlusion. PTRA is most effective against midvessel stenosis. Lesions involving segmental arteries or the ostia of renal arteries and lesions in patients with neurofibromatosis are especially refractory to balloon angioplasty.
Outcomes appear to be significantly better in patients whose lesions result from fibromuscular dysplasia (FMD) than they are in persons whose lesions are associated with atherosclerotic stenosis: Cure was reported in 50-85% of patients in the former group and 8-20% of patients in the latter group. Restenosis necessitating repeat angioplasty was reported in fewer than 10% of patients with FMD and in 8-30% of those with atherosclerotic stenosis. Improvement in blood pressure control with fewer antihypertensive medications was achieved in 30-35% of patients with FMD and 50-60% of those with atherosclerotic lesions.
However, in a study of 64 patients with a high coronary artery disease burden who underwent baseline captopril renal scintigraphy followed by renal angiography, Stratigis et al reported that in those patients with atherosclerotic renal artery stenosis of 70% or greater, captopril renal scintigraphy positivity had 100% sensitivity and specificity for both a hypertension and renal benefit from percutaneous renal revascularization. [19]
A Swedish study of 105 patients treated with PTRA reported a 5-year survival rate of 83% for patients with arteriosclerotic renovascular disease. [20] The rate for patients with fibromuscular vascular disease was even higher, reaching 100%.
PTRA has yielded mixed results in children. Long-term maintenance of blood pressure improvement ranges from 38% to 90%. Guzzetta et al [21] and Tyagi et al [4] found that approximately 25% of patients treated with PTRA developed restenosis. Casalini et al, evaluating PTRA in a selected group of 36 children with RVHT, found that 34 (94%) of the patients were normotensive 2 years after the procedure. [22]
The results of PTRA in patients with bilateral renal artery disease have been relatively poor, suggesting that surgical intervention should be a strong consideration in this setting. In patients with diffuse atherosclerosis, the complication rate is relatively high with either surgery or angioplasty; medical therapy may be preferred in this setting.
Renal stents
Placement of intravascular stents during angioplasty (see the images below) may be helpful in preventing restenosis and managing RVHT. Data suggest that stenting may prove useful in patients with ostial disease, those who develop restenosis after PTRA, or those with complications resulting from PTRA (eg, dissection). Primary renal artery stenting in patients with atherosclerotic RAS has a high rate of technical success and a low rate of complications. [23, 24]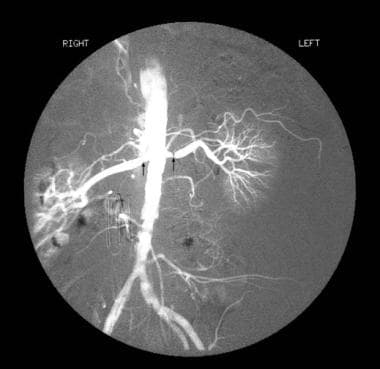 Angiogram showing bilateral renal artery stenosis. Courtesy of Department of Radiology, Henry Ford Hospital.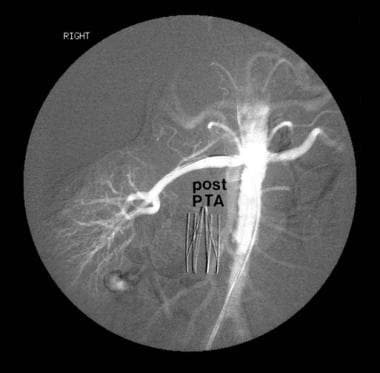 After percutaneous transluminal angioplasty (right renal artery). Courtesy of Department of Radiology, Henry Ford Hospital.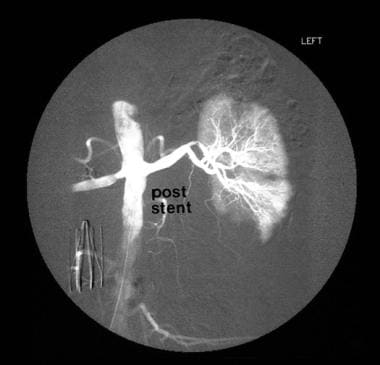 After percutaneous transluminal angioplasty and stent placement (left renal artery). Courtesy of Department of Radiology, Henry Ford Hospital.
The Angioplasty and Stenting for Renal Artery Lesions (ASTRAL) trial—a randomized, unblinded trial in 806 patients with atherosclerotic renovascular disease that compared revascularization (PTRA with or without stenting) plus medical therapy with medical therapy alone—found substantial risks but no evidence of a worthwhile clinical benefit from revascularization. Over a 5-year period, the two patient groups showed no statistically significant difference in systolic blood pressure or in the rate of progression of renal impairment, renal or major cardiovascular events, or death. [25]
Similarly, the addition of renal artery stenting to comprehensive medical therapy provided no significant clinical benefit in the Cardiovascular Outcomes in Renal Atherosclerotic Lesions (CORAL) study, which included 947 patients with atherosclerotic renal artery stenosis and hypertension or chronic kidney disease. Despite a consistent modest difference in systolic blood pressure favoring the stent group (-2.3 mm Hg), there was no significant difference in adverse cardiovascular and renal events or all-cause mortality. [26]
Saad and colleagues have offered a partial explanation for the limited clinical benefit of renal stenting. These researchers reported that severe renovascular disease is associated with tissue hypoxia and increased levels of renal venous markers of inflammatory cytokines and tissue injury. In their study, revascularization reduced hypoxia and partially restored blood flow, but failed to alter markers of inflammation, suggesting that additional measures may be needed to reverse the process of kidney injury. [27]
Other authors have proposed that stenting may be beneficial in carefully selected patient subgroups. Noory et al suggest that patients with hemodynamically significant RAS who have progressive renal insufficiency and/or deteriorating arterial hypertension may derive clinical benefit from stent revascularization. [28]
According to a consensus statement from the Society for Cardiovascular Angiography and Interventions (SCAI), the strongest evidence supporting renal artery stenting for RAS is in patients with a cardiac disturbance syndrome or flash pulmonary edema. In addition, carefully selected patients with severe bilateral RAS or stenosis to a solitary functioning kidney may experience clinical improvement with renal artery stenting. [9]
Other cases in which renal artery stenting generally represents appropriate care after a trial of optimal medical therapy, according to the SCAI, include the following [9] :
Patients with accelerated or resistant hypertension (failure of ≥3 maximally tolerated medications including the use of a diuretic)

Global renal ischemia (bilateral RAS or severe RAS in a solitary functioning kidney)

Hypertension with medication intolerance
Sustained benefit of renal artery stenting was shown in a retrospective study of 26 patients with ≥70% stenosis and uncontrolled systolic hypertension despite three or more antihypertensive drugs. On median follow-up of 5.1 years, blood pressure reduction was sustained (135/70 ± 18/11 mmHg) compared with initial reduction at 6 months and from baseline (162/80 ± 24/18 mmHg). The patients were also taking fewer antihypertensive drugs than at baseline (2.7 ± 2.1, down from 4.1 ± 1.0). [29]
Complications
The rate at which complications of PTRA develop varies among physicians, but potential adverse consequences are known to include thrombosis, vascular or renal perforation, and tearing or dissection of the vessel wall. Restenosis appears to occur approximately 25% of the time.
Surgical Revascularization
The goal of surgical revascularization is correction of RVHT with preservation of renal function. Reports have shown that more than 90% of patients are cured or experience improvement of their hypertension with surgical revascularization. Preservation of a functional kidney is especially important because of the high rate of bilateral disease in children.
The underlying diagnosis is the major determinant of the results of surgical revascularization. As more patients with advanced atherosclerosis in multiple vessels are brought to surgery, performing various bypass procedures may become less feasible, for the following reasons:
The certainty that renal artery stenosis (RAS) is the cause of the hypertension is less

The prognosis may be determined by the extent of atherosclerosis elsewhere in the body
Another potential problem is the release of cholesterol emboli during the operation; however, 80-90% of patients undergoing operation for atherosclerotic RVHT benefit (ie, experience cure or improvement), with a perioperative mortality of less than 5%.
In patients with FMD, the cure rate is as high as 80%, and morbidity is low; however, these results are not significantly better than what can be achieved by means of PTRA with less morbidity, mortality, cost, and inconvenience.
In patients with diffuse atherosclerosis, the complication rate is relatively high with surgical revascularization, as with angioplasty; thus medical therapy may be preferable.
Preoperative care
Pharmacologic treatment of RVHT should be provided before the operation in an effort to control blood pressure. Routine chest radiography, electrocardiography (ECG), and, perhaps, echocardiography are important in evaluating the patient's cardiovascular stability under the stress of hypertension. Abdominal aortography and arteriography are necessary, not only to help establish a diagnosis but also to determine the extent of disease and the approach to surgical intervention.
Operative approach
For unilateral renal artery stenosis, a transverse transperitoneal incision may be used. This allows direct approach to the renal artery. Dissection of the kidney is minimized to limit disruption of the collateral vessels; these collaterals provide some renal perfusion during occlusion of the renal artery for bypass of the lesion. Generally, generous operative exposure is required for optimal operative therapy.
In 1995, Stanley et al recommended a supraumbilical transverse abdominal incision. [3] In small children, the incision may have to extend from the xiphoid to the pubis. Reflection of the colon and viscera to the opposite side permit complete control of the inferior vena cava and the renal vasculature. In small children, evisceration of the intestines may be required to provide sufficient exposure. Dissecting the renal vein completely free and retracting it upward is usually best.
To prevent inadvertent injury to small vessels, the proximal renal artery is dissected before the more distal portion of the artery is approached. The aorta is circumferentially dissected just below the renal arteries, and the aortorenal junction is freed when the lesion involves the renal artery ostium. After completion of the dissection and just before cross-clamping, 1 mg/kg of heparin and 0.17 g/kg of mannitol are administered.
Broad spatulation of the end of the renal artery or graft creates a generous anastomotic patch for attachment. In small children, anastomoses should be performed with interrupted monofilament sutures to allow for growth. In older patients with larger anastomoses, a continuous suture may be used. When the reconstruction is complete, reversal of the heparin is accomplished with slow intravenous (IV) administration of 1.2 mg of protamine sulfate for every 100 U of previously administered heparin.
Renal autotransplantation
Renal autotransplantation involves bypassing the stenotic lesion by reconnecting the renal artery to the aorta in an end-to-side fashion. This procedure has a high success rate but requires extensive mobilization of the kidney. It is the preferred procedure for RAS, but whether it can be employed in a given patient depends on how long the stenosis is and how widespread the renovascular disease is.
Aortorenal bypass
Aortorenal bypass, the surgical procedure most commonly performed for RAS, involves bypassing the lesion by interposing a graft that is anastomosed to the aorta in an end-to-side fashion and to the renal artery in an end-to-end fashion. Various techniques can be used, and no uniform agreement regarding the best graft material has yet been reached.
Synthetic graft material or a prosthesis has been used, but this is not the preferred approach. The risk of infection is increased, and technical limitations are associated with the use of synthetic material.
Some surgeons prefer to use a segment of the hypogastric artery. [3, 30] The size of this vessel conforms to that of the renal artery in most instances; a low incidence of dilation is observed, and the hypogastric artery is easily amenable to suturing. Problems with this graft include potential arteritis and the possibility of impotence in patients from whom both hypogastric arteries were harvested for bilateral reconstruction.
To avoid the potential problems associated with the hypogastric artery graft, O'Neill tried using the saphenous vein as graft material. [31] One problem with reversed saphenous vein grafts is the tendency of the graft to dilate. Aneurysms develop in approximately 25% of these grafts, most often occurring occur within the first 2 years postoperatively. To prevent these aneurysms, O'Neill placed a 4- to 6-mm Dacron net mandrel around the graft (see the images below).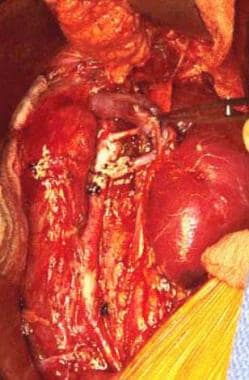 Operative photograph of 4-year-old child. Patient underwent aortorenal bypass with reinforced saphenous vein graft. Inferior pole renal artery was preserved.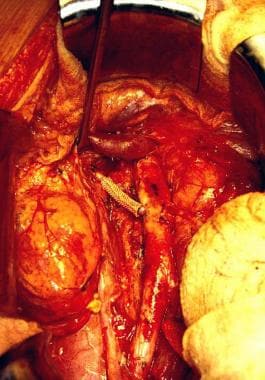 Operative photograph of 8-year-old child. Aortorenal bypass was performed with Dacron-reinforced saphenous vein graft. Aorta is completely exposed, and graft is visible inferior to native renal artery.
Using Dacron reinforcement, Berkowitz et al reported no aneurysmal dilatation in 19 grafts, [32] though 3 of the 19 patients did develop restenosis. Whether the restenosis was directly related to the use of a mesh support is unknown. In theory, using a synthetic support for the graft has the potential to increase the risk of infection; however, this potential has not yet been documented in published reports.
Aortoaortic bypass
Children with midaortic syndrome or subisthmic coarctation require an aortoaortic bypass procedure that makes use of an 8- to 12-mm woven Dacron or expanded polytetrafluoroethylene (ePTFE) graft. In the classic approach, the bypass is connected to the low thoracic aorta and the bifurcation of the iliac arteries. Grafts can also extend from the upper abdominal aorta behind the esophagus to the aortic bifurcation.
The appropriate length of graft material must be used so as to allow for growth while avoiding kinking. Placing the graft behind the kidney may help protect the graft. Renal artery bypass grafts may be attached to the aortoaortic bypass graft or to the low aorta. Theoretically, attachment of the renal artery graft to the native aorta below the coarctation should result in less anastomotic neointimal hyperplasia.
Postoperative care
Carefully monitor patients' blood pressures; postoperative medical therapy may be necessary. Postoperative renal scanning or arteriography is also important to identify possible thrombosis, stricture, or any failures in the graft or anastomosis.
Complications
Most authors have reported a 0% mortality after surgical revascularization. Failure or complications of the procedure may lead to another operation approximately 27% of the time; usually, the second operation is curative. Date from larger series indicate that graft stenosis may occur about 5% of the time and that thromboses may occur in about 10% of revascularization operations. The various graft materials that may be used are all associated with their own specific complications.
It is vital to create secure anastomoses. In children, it is critical to use a graft that is long enough to allow for future growth but not so long that it is susceptible to kinking.
Nephrectomy
As noted, the goal of therapy for RVHT is to resolve systemic hypertension without compromising renal function. Nephrectomy should be considered a last resort in the treatment of RVHT.
Because renovascular disease is often bilateral, with the contralateral renal system occasionally not affected until years later, it is always best to keep both kidneys functioning whenever possible. However, in cases of severe renal hypoplasia that reduces functional capacity to less than 10% of total renal function, removal of the kidney is the best form of treatment.
Nephrectomy may be necessary if complications arise during surgical revascularization or if the disease is too widespread (especially in segmental arteries) to be effectively bypassed. Children whose hypertension is refractory to the previously mentioned forms of treatment may also need nephrectomies to correct their high blood pressure. Modern surgical technique has allowed surgeons to perform nephrectomy laparoscopically (see the images below).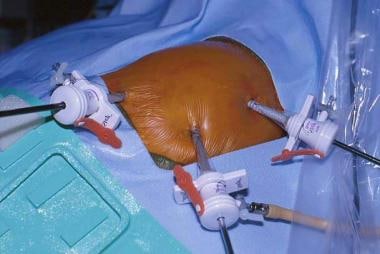 Although nephrectomy is rarely indicated in treatment of renovascular hypertension in children, it can be safely performed with modern pediatric surgical laparoscopy technique. This 3-month-old child with renal dysplasia and refractory hypertension underwent laparoscopic nephrectomy. Photograph illustrates patient positioning and placement of small trocars at time of nephrectomy. Dysplastic kidney was easily removed through slightly enlarged umbilical incision.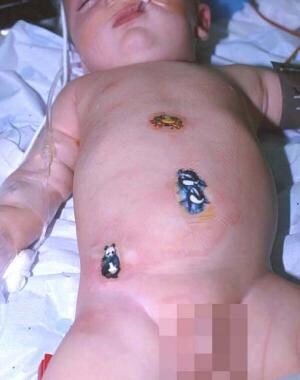 3-month-old child immediately after laparoscopic nephrectomy. This patient was discharged from hospital 2 days after surgery. This approach eliminates need for large incisions and facilitates recovery from surgery, minimizing pain and length of hospital stay.
Diet
Placing all patients who are hypertensive on a low-salt diet is recommended. In patients with RVHT, this is unlikely to correct the systemic hypertension, but it may assist in managing the hypertension until more definitive therapy can be performed. It certainly does not hurt patients.
In addition, efforts should be made to keep patients well hydrated; dehydration may lead to decreased renal perfusion or increased renin release.
Prevention
Atherosclerotic RAS is now recognized as an important and fast-growing cause of end-stage renal disease. Because this form of renal failure can be prevented by performing an operation or angioplasty, it is important to identify patients who may be at risk for renal ischemia as a result of atherosclerosis. Even when renal function is impaired, relief of the stenosis, if achieved early enough, may result in dramatic improvement.
Factors that should prompt evaluation for renal artery disease include the following:
Clinically atypical course of hypertension developing in people older than 50 years

Difficulty in controlling long-standing hypertension that previously was easy to control

Increase in creatinine level after administration of an ACE inhibitor
Deterioration of renal function in the setting of diffuse atherosclerosis without proteinuria or known renal parenchymal disease, even in the absence of hypertension, is highly suggestive of renovascular disease.
Consultations
The need for consultation depends on the degree of end-organ damage. If a patient has had chronic hypertension that led to heart failure, referral to a pediatric cardiologist should be considered. Likewise, a patient presenting with neurologic symptoms may need to see a neurologist or neurosurgeon before surgical treatment is started.
Once a diagnosis of RVHT is made, prompt treatment of the disease is the best protection against further end-organ damage.
Long-Term Monitoring
In addition to diagnosis and treatment of hypertension, renal function must be assessed and followed so that any renal dysfunction can be recognized at an early stage, allowing definitive intervention (when appropriate) to be initiated promptly.
Because long-term outcomes have not yet been determined, sequential blood pressure measurements should be monitored indefinitely. In some patients with unilateral disease, contralateral stenosis has been reported to develop as late as 14 years after treatment. In addition, stenosis of the graft or thrombosis may occur up to 2 years postoperatively.
Approximately 25% of patients who undergo surgical treatment still require some drug therapy to maintain blood pressure measurements within the reference range.
What would you like to print?