Workup
Approach Considerations
In the outpatient setting, pyelonephritis is usually suggested by the history and physical examination and supported by urinalysis results, which should include microscopic analysis. Other laboratory studies are used to identify complicating conditions and to assist in determining whether the patient should be admitted.
Easily diagnosed cases typically occur in women, both pregnant and nonpregnant. [14] Insidious onset may occur in the following:
Men

Patients at the extremes of age

Patients harboring subclinical pyelonephritis

Hospitalized patients
Imaging studies may be required to make the diagnosis in infants and children in whom pyelonephritis presents insidiously. Imaging studies are rarely indicated for the diagnosis of acute pyelonephritis in an adult who presents with typical signs and symptoms, but they may be warranted if the presentation is atypical or confusing. Imaging is also warranted if the patient deteriorates or does not respond to therapy, in which case the important considerations are nephrolithiasis, obstructive uropathy, and perinephric abscess.
Collection of Urine Specimens
Urine specimens obtained for urinalysis and culture should approximate the urine contained in the bladder as closely as possible. The procedures for collecting such a urine specimen are as follows:
Clean catch

Urethral catheterization

Suprapubic needle aspiration
Clean catch
When properly collected, a clean-catch specimen adequately reflects the microbiology of the urine in the bladder. This technique can be performed by ambulatory females aged 6 years and older who do not have any limiting physical handicap.
Importantly, female patients should wash only the area where urine is passed, wash front to back, hold the cup by the outside, and keep the labia spread while collecting the urine. This is to ensure that the urine goes into the cup without touching the labia. The presence of a large number of epithelial cells on microscopic examination suggests that the specimen is not a true clean catch and is unreliable for culture because of contamination with vaginal contents.
Clean-catch technique can also be performed by ambulatory males aged 6 years and older who do not have any limiting physical handicap. Specimens are usually reliable. Importantly, the patient should clean the head of the penis, retract the foreskin (if uncircumcised), maintain a good stream, and hold the cup by the outside. In the presence of epispadias or hypospadias, care must be taken to maintain a good stream while collecting the specimen.
Urethral catheterization
Catheterization poses a small risk of introducing bacteria into the normally sterile bladder environment. Circumstances that justify this risk when a urine culture is necessary include the following:
Inability to void, or difficulty voiding urine even with hydration

Marked obesity or redundant labia in females

Ill patients who cannot reliably perform the procedure

Performance of a urologic procedure during which a specimen can be collected

Children 2-6 years of age (if a clinician-assisted clean-catch specimen cannot be collected)
For details on performing this procedure, see Urethral Catheterization in Women and Urethral Catheterization in Men.
Suprapubic needle aspiration
Suprapubic needle aspiration is rarely necessary. Indications are as follows:
An alternative is lacking

To exclude contamination from other methods of collection

To verify the presence of an infecting organism that is otherwise considered a contaminant

To verify infection in an infant who has a positive culture result from a specimen obtained from a strap-on device
For details on performing this procedure, see Suprapubic Aspiration.
Urinalysis
Pyuria is defined as more than 5-10 white blood cells (WBCs) per high-power field (hpf) on a specimen spun at 2000 rpm for 5 minutes. Almost all patients with pyelonephritis have significant pyuria (> 20 WBCs/hpf), although the numbers may be smaller, particularly in those with subacute pyelonephritis.
The dipstick leukocyte esterase test (LET) helps screen for pyuria. LET results have a sensitivity of 75-96% and a specificity of 94-98% for detecting more than 10 WBC/hpf.
The nitrite production test (NPT) for bacteriuria has 92-100% sensitivity and 35-85% specificity. It may be falsely negative in the presence of diuretic use, low dietary nitrate, or organisms that do not produce nitrate reductase (eg, Enterococcus, Pseudomonas, Staphylococcus). Combined, the LET-NPT has a sensitivity of 79.2% and a specificity of 81%, which is too low for it to be used as the only screening study for bacteriuria.
Gross hematuria occurs infrequently with pyelonephritis and is more common with cystitis (hemorrhagic cystitis). When gross hematuria is present, the differential should include calculi, cancer, glomerulonephritis, tuberculosis, trauma, and vasculitis.
Microscopic hematuria may be present in patients with uncomplicated acute pyelonephritis, but other causes should be considered, particularly calculi. This is especially true if the patient does not respond to therapy. White cell casts are suggestive of pyelonephritis; however, centrifuge speeds (> 2000 rpm) used for urinalysis sediment preparation often fracture them and lead to their absence in the sediment.
Proteinuria is expected (up to 2 g/day). When it exceeds 3 g/day, glomerulonephritis should be considered.
The presence of a single bacterium in an unspun urine specimen by oil-immersion microscopic examination is equivalent to at least 105 colony-forming units (cfu)/mL. Bacteria are identified much more easily on a stained versus an unstained specimen.
Urinary neutrophil gelatinase-associated lipocalin
Urinary neutrophil gelatinase-associated lipocalin (NGAL) is a sensitive biomarker for the diagnosis of acute pyelonephritis in children. In a case-control study of 134 children with acute pyelonephritis or febrile states of other etiology, NGAL values were significantly higher in children with acute pyelonephritis. At a cut-off value of 29.4 ng/mL, urinary NGAL had 92.5% sensitivity and 90.7% specificity for diagnosing acute pyelonephritis. NGAL was also useful for differentiating acute pyelonephritis from cystitis and differentiating cystitis from febrile states with etiology other than urinary tract infection. [15]
Urinary concentrations of NGAL may also help identify children with acute pyelonephritis who are at increased risk of developing kidney scarring. In a study of 54 children, urinary NGAL levels were significantly higher in patients with acute pyelonephritis with scarring than in those without scarring. At a cut-off value of 7.32 ng/ml, the sensitivity and specificity of this marker for diagnosing scar formation were 81.3% and 66%, respectively. [16]
Urine and Blood Cultures
Urine culture is indicated in any patient with pyelonephritis, whether treated in an inpatient or an outpatient setting, because of the possibility of antibiotic resistance. Reliable results require proper specimen collection.
Blood cultures are indicated in any patient who is being admitted or who has already been admitted. Approximately 12-20% of patients have cultures that are positive for infection. Bacteremia has not been associated with a poor outcome unless sepsis or another significant comorbidity is present.
Indications for Imaging Studies
Imaging may be required to make the diagnosis in infants and children in whom pyelonephritis presents insidiously. Imaging is warranted at the time of admission in patients with the following conditions:
AIDS

Poorly controlled diabetes

Organ transplant (particularly kidney)

Other immunocompromised state

Sepsis syndrome

Septic shock
Imaging early in the presentation of acute pyelonephritis may be more useful than previously thought. In one study, 16% of patients admitted for acute pyelonephritis were found to have new and clinically significant abnormalities on kidney imaging at the time of admission. Later in the hospital course, imaging studies are used for the prompt evaluation of a potentially organ- or life-threatening complication.
Indications for imaging studies are as follows:
Fever or positive blood culture results that persist for longer than 48 hours

Sudden worsening of the patient's condition

Toxicity persisting for longer than 72 hours

Complicated urinary tract infection
After acute pyelonephritis has resolved, imaging studies may be used during a follow-up examination to identify urinary tract abnormalities that can predispose the patient to infection. In addition, studies may be used in conjunction with urologic procedures, including cystoscopy.
Computed Tomography
Contrast-enhanced helical/spiral computed tomography (CECT) is the imaging study of choice, both in adults and in children with acute pyelonephritis [17] . CECT is more sensitive than ultrasonography and intravenous pyelography (which has only 25% sensitivity), and it can more readily identify alterations in kidney parenchymal perfusion, alterations in contrast excretion, perinephric fluid, and nonrenal disease.
Noncontrast helical/spiral CT findings may be normal in acute pyelonephritis with mild parenchymal involvement, but the findings are usually positive when the involvement is moderate or severe. It is the standard study for demonstrating gas-forming infections, hemorrhage, inflammatory masses, and obstruction.
If findings are suggestive of nephrolithiasis complicating the presentation, a noncontrast CT scan of the kidneys, ureters, and bladder (KUB) or a CT urogram should be obtained to exclude the possibility of obstruction or hydronephrosis. [18] CT has 97% accuracy in identifying kidney stones. (See the images below.)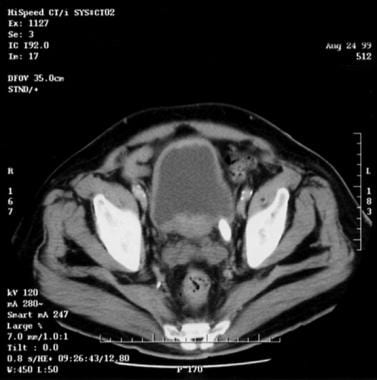 Nonobstructing distal left ureteral calculus 2 X 1 X 2 cm.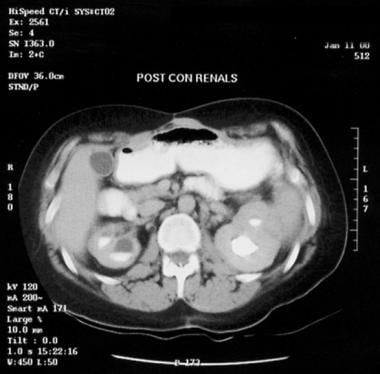 Bilateral hydronephrosis.
Abscesses typically appear on CT scans as low-density masses with contrast enhancement of the wall from inflamed/dilated blood vessels (see the image below). Acute focal bacterial nephritis has a lobar distribution of inflammation, wedge-shaped hypodense lesions (postcontrast), and masslike hypodense lesions in severe infections. Xanthogranulomatous pyelonephritis (see the images below, as well as Xanthogranulomatous Pyelonephritis Imaging) may have the following CT features:
Large kidney calculi

Nonfunctioning kidneys

Contrast enhancement around low-attenuation areas

Thickening of the Gerota fascia

Spherical areas of low attenuation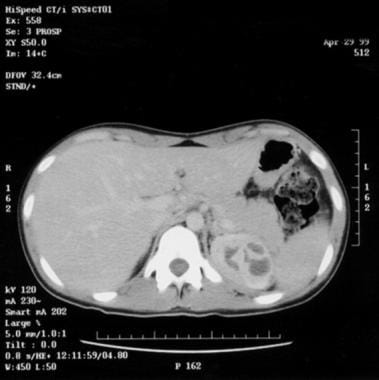 Multiple abscesses, upper pole of left kidney.
Magnetic Resonance Imaging
Magnetic resonance imaging (MRI) can detect kidney infection or masses and urinary obstruction, and it can evaluate the kidney vasculature. Although American College of Radiology Appropriateness Criteria finds CT most appropriate for imaging, MRI and ultrasound are the primary imaging modalities used in pregnant patients with acute pyelonephritis. [17]
A study of diffusion-weighted MRI found that MRI had higher sensitivity than CT (with or without contrast) for the diagnosis of acute pyelonephritis, and could differentiate areas of nephritis and kidney abscesses. However, MRI was less useful than CT for the diagnosis of renal calculi and emphysematous pyelonephritis. [19]
As there is no radiation exposure, MRI can be used in pregnancy. [20] The cost and availability of MRI remain concerns, however. [20]
Ultrasonography
Ultrasonography (US) can sometimes detect acute pyelonephritis, but a negative study does not exclude the possibility. Power Doppler US is superior to color Doppler US in the detection of pyelonephritis but remains inferior to contrast-enhanced helical/spiral computed tomography (CECT).
Kidney US is nevertheless a useful imaging modality in patients with complicated UTIs, and it may be performed at the bedside in a patient who is hemodynamically unstable. It is relatively inexpensive and does not involve radiation or iodinated contrast. It is an alternative to CT to identify hydronephrosis if there is concern regarding nephrolithiasis. [18] US is useful in screening for urinary obstruction in children admitted for febrile illnesses.
In a study of 207 patients with acute pyelonephritis, Enikeev et al reported that the main findings on US were the following [21] :
Decreased mobility of the kidney

Enlargement of the kidney

Thickened parenchyma

Hydrophilic parenchyma

Impairment of corticomedullary differentiation
On US, a kidney abscess may appear as a fluid-filled mass with a thick wall. Acute focal bacterial nephritis appears as a poorly defined mass with low-amplitude echoes and disruption of the corticomedullary junction. In xanthogranulomatous pyelonephritis, imaging reveals stones in approximately 70% of patients.
US findings may be falsely negative in 36% of cases of perinephric abscesses. Other drawbacks to US are the difficulty in differentiating kidney abscess from tumor and the difficulty in interpreting results in obese patients. Angiography may help differentiate kidney abscess from kidney tumor because an abscess often has increased peripheral vascularization, while the remainder of the mass is avascular.
Scintigraphy
Scintigraphy with technetium-99m dimercaptosuccinic acid (99mTc-DMSA) is almost as sensitive clinically as contrast-enhanced helical/spiral computed tomography (CECT) in detecting focal kidney abnormalities during acute pyelonephritis in adults. DMSA is a radiotracer that localizes to the kidney cortex. This modality is not used much in adults, however, because the findings are not specific; focal abnormalities may indicate abscess, cyst, infarct, pyelonephritis, or tumor. Additionally,99mTc-DMSA scintigraphy is much less available in the acute setting than CECT.
In children, however,99mTc-DMSA scintigraphy is the preferred study, because it involves less radiation exposure than CT scans. It is excellent for helping detect inflammation, scarring, and the distribution of function between kidneys.
In pediatric studies, diffusion-weighted magnetic resonance imaging (DW-MRI) compares favorably with 99mTc-DMSA scintigraphy. A study in seven children with acute pyelonephritis diagnosed on scintigraphy within 7 days of fever onset found that whole-body non-enhanced DW-MRI had 80% sensitivity and 100% specificity for detecting acute pyelonepritis lesions. [22]
Bosakova et al reported that non-contrast DW-MRI has higher sensitivity than 99mTc-DMSA scintigraphy for detecting acute inflammatory kidney lesions and multifocal lesions in pediatric patients with acute pyelonephritis. Their prospective study included 31 children aged 3-18 years with a first episode of febrile urinary tract infection and without a previously detected congenital urinary tract malformation, who were evaluated within 5 days of diagnosis. DW-MRI confirmed acute inflammatory changes of the kidney parenchyma, mostly unilateral, in all 31 patients, whereas scintigraphy detected inflammatory lesions in 22 (100% versus 71%; P = 0.002). [23]
CT and MR Urography
CT urography and MR urography are evolving modalities that surpass intravenous urography, which was the prior mainstay of urinary tract imaging. [24] CT urography provides a detailed anatomic depiction of the urinary tract. MR urography has the advantage of not using ionizing radiation and has the potential to provide more functional information than CT. However, MR urography is less established than CT urography and is less reliable in providing diagnostic image quality. [24]
CT urography and MR urography are currently used in the evaluation of hematuria and will become more applicable to the study of other urologic problems.
Diagnosis of Papillary Necrosis
Histology and/or imaging studies may help make the diagnosis of papillary necrosis. The sloughed papillae may be obtained by straining the urine and sending for histology. Retrograde pyelography is the radiologic procedure of choice, but ultrasonography or CT scan also reveals the diagnosis.
Findings of early renal papillary necrosis include a dilated calyceal fornix, retracted or irregular papillary tip, and extension of contrast into the parenchyma. A club-shaped cavity in the medulla or papilla may be formed in later disease. When a separated papilla is surrounded by contrast, a ring may be visualized, which is characteristic of papillary necrosis.
For more information on this topic, see Papillary Necrosis.
Histologic Findings
Features of acute pyelonephritis include suppurative necrosis or abscess formation within the kidney substance. In contrast, features of chronic pyelonephritis (chronic interstitial nephritis) include the following:
Papillary atrophy and blunting

Interstitial fibrosis with inflammatory infiltrate (ie, lymphocytes, plasma cells, neutrophils [occasional]), tubule changes (ie, dilated with possible colloid casts, contracted with atrophy of epithelium), and concentric fibrosis around the parietal layer of the Bowman capsule
What would you like to print?