Workup
Approach Considerations
Initial imaging studies include ultrasonography of the kidneys. The distinctive features of acquired cystic kidney disease (ACKD) are renal size (not usually increased) and normal parenchyma distinguishable between cysts (see Table 1 in Presentation: Physical). See the image below.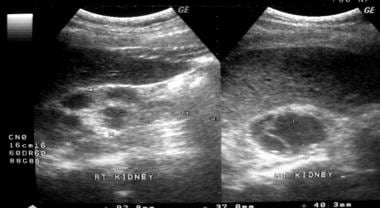 Acquired cystic kidney disease. Patient with end-stage renal disease (ESRD) on maintenance hemodialysis presented with macrohematuria. Ultrasonogram showing numerous cysts in the right kidney and previous cysts in the left kidney.
Detecting ACKD in end-stage renal disease (ESRD) with ultrasonography may be difficult because of the complexity of the cysts and the increased echogenicity of the kidneys in ESRD. Differentiating ACKD from autosomal dominant polycystic kidney disease (ADPKD) may occasionally be difficult.
Sonography is used more often than computed tomography (CT) as the initial screening method. Sonography is better than CT scanning to differentiate a hemorrhagic cyst because almost all hemorrhagic cysts appear isodense or slightly hyperdense on CT scanning. However, clot formation in the cystic cavity appears as an echoic mass by sonography, and dynamic CT scanning is required for differentiation of clot formation from renal cancer.
On CT scanning, early enhancement with contrast is superior to ultrasonography for detecting renal cancer. [19] CT scanning is the best imaging technique to establish a diagnosis of cancer. The presence of a small renal cell carcinoma may be suspected if a CT scan shows a mass with contrast enhancement. [20, 21]
Although CT scanning is useful for the clinical diagnosis of ACKD, acquired cysts in patients who have not undergone dialysis may be difficult to diagnose because these cysts are usually small. See the images below.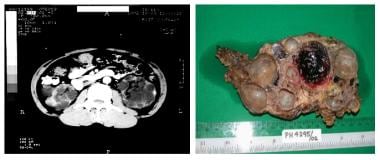 Acquired cystic kidney disease. A 39-year-old man on dialysis for longer than 10 years with acquired cystic kidney disease. CT scan showed a mass in the lower pole of the right kidney. Fine-needle aspiration cytology (FNAC) of the lesion showed renal cell carcinoma. The patient underwent nephrectomy.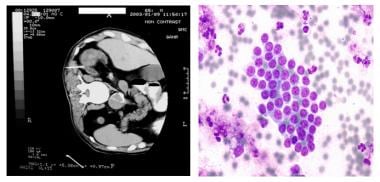 Acquired cystic kidney disease. A 66-year-old man with acquired cystic kidney disease had a mass in the lower pole of the right kidney. CT-guided biopsy proved the mass to be renal cell carcinoma. This patient also had type II dissection of the aorta.
The use of iodinated contrast media in the workup of renal cysts In kidney transplant recipients may be an issue, due to the increased risk of contrast-induced nephropathy. [22] However, gadolinium-enhanced MRI should be avoided in patients with stage 4 or 5 chronic kidney disease, due to the risk of nephrogenic systemic fibrosis (NSF). [23] In a pilot study comparing ultrasound with non-enhanced MRI in kidney transplant patients with ACKD, MRI showed higher sensitivity for detection of renal cell carcinoma and suspicious lesions. [24] Therefore, non–contrast-enhanced MRI seems to be a reasonable alternative for further assessment of a renal lesion, especially when there are limitations to the use of either iodinated or gadolinium-based contrast media.
No other test is specific to aid in the diagnosis of ACKD. However, patients require investigations related to renal failure.
In patients with equivocal lesions, fine-needle aspiration is required to rule out malignancy. If renal malignancy is diagnosed, then other investigations, including chest radiography, are required to rule out distant metastasis.
Histologic Findings
Grossly, the cysts are usually smaller than 0.5 cm in maximal dimension but may attain sizes of 2-4 cm. They occur in both the renal cortex and the medulla.
Many cysts contain a single layer of cuboidal epithelial cells; however, many kidneys also contain atypical cysts characterized by a multilayered epithelial lining. There appears to be a histologic continuum from cysts lined with single-layered epithelia, to those with multilayered epithelia, to renal adenoma and carcinoma. Most acquired cysts originate from the proximal tubule. Oxalate crystal deposition is predominant in the cyst walls and the renal interstitium in acquired renal cystic disease.
What would you like to print?