Workup
Approach Considerations
Although normal-pressure hydrocephalus (NPH) is a relatively rare cause of dementia, identifying NPH is important because it is a treatable entity. NPH is one of the reasons why all dementia patients should be evaluated by means of neuroimaging with either computed tomography (CT) or magnetic resonance imaging (MRI) as part of their workup. For more information, see Imaging in Normal Pressure Hydrocephalus.
Imaging Studies
CT of the head delineates the degree of ventriculomegaly and, in many cases, the etiology. When performed with contrast, it can show infection and tumors that cause obstruction. It also helps with operative planning. Ventricles are usually dilated proximal to the point of obstruction. Ventriculomegaly can be an early sign of neurodegeneration in normal-pressure hydrocephalus. [6] In pseudotumor cerebri, CT findings are usually normal.
MRI of the head is warranted in most, if not all, congenital cases of hydrocephalus. (See the images below.) This delineates the extent of associated brain anomalies (eg, corpus callosum agenesis, Chiari malformations, disorders of neuronal migration, and vascular malformations). Some tumors (eg, midbrain tectal gliomas) can be detected only with this study. T2-weighted images can show transependymal flow of cerebrospinal fluid (CSF). Perfusion and diffusion MRI can help select appropriate patients for surgical treatment of idiopathic NPH. [7]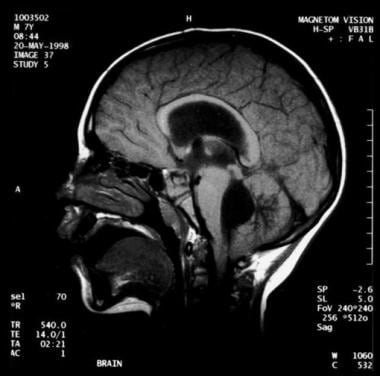 Noncommunicating obstructive hydrocephalus caused by obstruction of foramina of Luschka and Magendie. This MRI sagittal image demonstrates dilatation of lateral ventricles with stretching of corpus callosum and dilatation of fourth ventricle.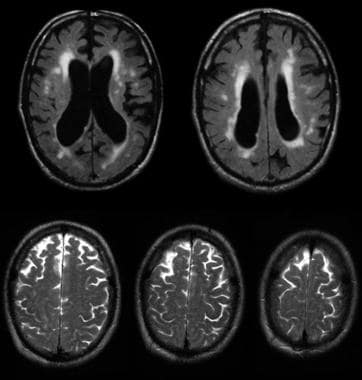 Communicating hydrocephalus with surrounding "atrophy" and increased periventricular and deep white-matter signal on fluid-attenuated inversion recovery (FLAIR) sequences. Note that apical cuts (lower row) do not show enlargement of sulci, as is expected in generalized atrophy. Pathologic evaluation of this brain demonstrated hydrocephalus with no microvascular pathology corresponding with signal abnormality (which likely reflects transependymal exudate) and normal brain weight (indicating that sulci enlargement was due to increased subarachnoid cerebrospinal fluid [CSF] conveying pseudoatrophic brain pattern).
Fetal and neonatal cranial ultrasonography (US) is a good study for monitoring ventricular size and intraventricular hemorrhage in the neonatal intensive care unit (NICU) setting. Certainly, it is worthwhile to perform other imaging studies before treatment.
Lumbar Puncture
Lumbar puncture can be used to measure intracranial pressure (ICP), but it should only be performed after imaging studies rule out an obstruction. A diagnostic high-volume lumbar puncture in NPH can assist in making decisions regarding shunting. Spinal fluid can show the type and severity of infection (see Meningitis).
What would you like to print?