Overview
Background
In the United States, approximately 1-3% of patients who undergo spinal surgery for cauda equina (CE) syndrome (CES) have either atraumatic or traumatic types of CES. [1] CES has no predilection for any race or either sex. Although CES can occur at any age, it is most often seen in adults in whom the spinal canal may already be compromised and stenosed.
The prognosis for CES improves if a definitive cause (eg, lumbar disk herniation [2] ) is identified and management is instituted early. [3] Surgical treatment may be necessary for decompression or tumor removal, especially if the patient presents with acute onset of symptoms. Surgical decompression should be performed if the patient is medically stable and able to undergo the procedure. [4, 5, 6, 7] Surgery has been demonstrated to be safe in pregnant patients; however, obstetric support is advisable in case complications occur to the fetus. [8]
In acute compression of the conus medullaris or CE, surgical decompression as soon as possible becomes mandatory. In a more chronic presentation with less severe symptoms, decompression could be performed when medically feasible and should be delayed to optimize the patient's medical condition; with this precaution, decompression is less likely to lead to irreversible neurologic damage.
Technical Considerations
Anatomy
Images depicting CES can be seen below.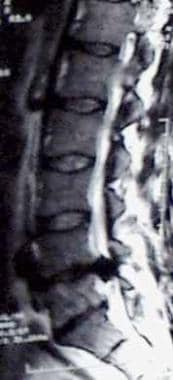 Sagittal MRI of a patient with cauda equina syndrome secondary to a large lumbar disk herniation.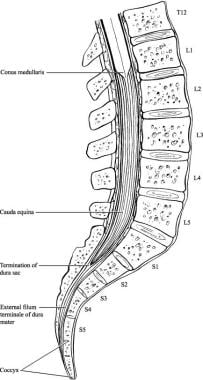 Illustration demonstrating the relevant anatomy of the cauda equina region.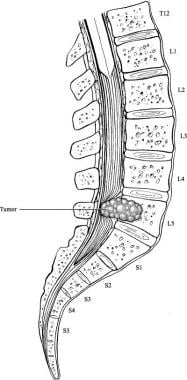 Illustration demonstrating an example of cauda equina syndrome secondary to a spinal neoplasm.
Go to Cauda Equina and Conus Medullaris Syndromes and Tumors of the Conus and Cauda Equina for complete information on these topics.
Outcomes
A systematic review and meta-analysis of 22 studies by Kumar et al evaluated long-term outcomes in 852 patients with CES from lumbar disk herniation who underwent surgical decompression (492 males, 360 females; mean age, 44.6 ± 5.5 years). [2] On follow-up (mean, 39.2 months; minimum, 12 months), persistent bladder dysfunction was oberved in 43.3%, persistent bowel dysfunction in 31.1%, sensory deficit in 53.3%, motor weakness in 38.4%, and sexual dysfunction in 40.1%. Decompression within 48 hours of symptom onset of symptoms was associated with a better outcome with regard to bladder function than later decompression (24.6% rate of persistent dysfunction vs 50.3%).
In a study of long-term core outcomes in 61 patients who underwent surgical decompression for acute CES secondary to massive lumbar disk prolapse (mean age at presentation, 43 years; mean follow-up, 58.2 months, Barker et al reported bladder dysfunction in 33% of patients (with 10% requiring a urinary catheter), bowel dysfunction in 38%, sexual dysfunction in 53% (with 47% reporting genital numbness), and significant back pain in 67% (with 44% requiring further investigation and 10% further intervention for management of lower back pain). [9] Half of the patients reported moderate or worse depression, and 40% of working-age patients were no longer able to work because of CES.
What would you like to print?