Overview
Overview
Background
The prognosis for cauda equina syndrome (CES) improves if a definitive cause is identified and management is instituted early. Surgical treatment may be necessary for decompression or tumor removal, especially if the patient presents with acute onset of symptoms. Surgical decompression should be performed if the patient is medically stable and able to undergo the procedure. [1, 2, 3, 4]
In acute compression of the conus medullaris or cauda equina, surgical decompression as soon as possible becomes mandatory. In a more chronic presentation with less severe symptoms, decompression could be performed when medically feasible and should be delayed to optimize the patient's medical condition; with this precaution, decompression is less likely to lead to irreversible neurological damage.
The timing of surgical decompression is controversial, with immediate, early, and late surgical decompression showing varying results. In acute compression, the dictum was to operate emergently within 6 hours for CES, [5] but several authors have argued over the clarity of the data supporting this practice. [1, 2, 4, 6, 7, 8] Hussain et al reported no differences at a 16-month follow-up among patients who underwent surgery within 5 hours and those who underwent surgery within 24 hours. [9] Furthermore, a recent small prospective study reported no difference in outcome at 3 and 12 months after surgical decompression performed at less than 24 hours, at 24-48 hours, and within more than 48 hours after the onset of CES. [10]
One study reported significant differences in outcome when surgery was delayed for more than 24 hours after bladder paralysis. [11] In addition, a significantly worse outcome was observed in incontinent patients; however, duration of symptoms did not influence the outcome. [10] Thongtrangan et al studied trauma-induced cases of CES patients and recommend that surgery be performed within 48 hours of syndrome onset reported that the bladder function in, if expected to recover, would happen within 3 months. [12]
Another study determined that decompressive surgery within 24 hours after onset of autonomic symptoms in incomplete cauda equina syndrome reduced bladder dysfunction at initial follow-up after surgery; however, no difference in outcome was observed in cauda equina syndrome with retention regarding timing of operation. In 36 cases with incomplete cauda equina syndrome of less than 24 hours, normal bladder function was seen at follow-up in all patients except 4. In 64 cases of incomplete cauda equina syndrome of less than 48 hours, normal bladder function was seen at follow-up in all except 10 patients, but in 75 cases with incomplete cauda equina syndrome more than 48 hours, 42 (56%) had bladder dysfunction. For the 35 patients with cauda equina syndrome with retention, operating within 24, 48, or 72 hours made no obvious difference to bladder outcome. [13]
In a study of the outcome of surgery for intrudural cauda equina and conus medullaris tumors, overall neurologic improvement was achieved in 62% of patients. The reversibility of preoperative symptoms was found to be related to the interval between the time of symptom onset and the time of surgery and to the presence of preoperative neurologic deficits. Ependymoma and carcinoma metastases were associated with a higher rate of morbidity. According to the authors, early surgery is advisable because more than 94% of patients maintain at least their preoperative status and more than 60% improve during follow-up. [14]
In 14 patients with cauda equine syndrome presenting with low back pain, sciatica, and impaired sphincteric disturbance, surgery resulted in relief of back and/or leg pain and sensory improvement in all patients; full return of urination and defecation in 12 patients; and improvement in lower extremity strength in 9 patients. The surgeries were all performed 1 to 3 months after onset of sphincteric disturbance. [15]
Images depicting cauda equina syndrome can be seen below.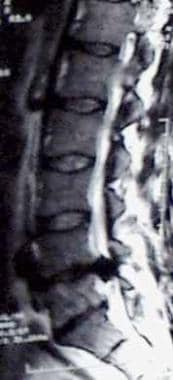 Sagittal MRI of a patient with cauda equina syndrome secondary to a large lumbar disk herniation.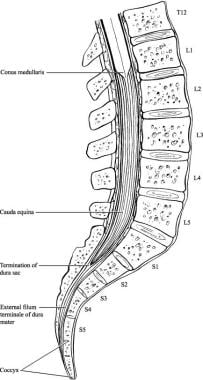 Illustration demonstrating the relevant anatomy of the cauda equina region.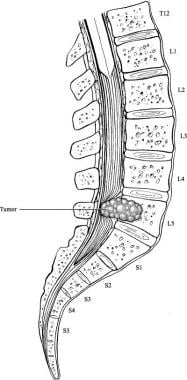 Illustration demonstrating an example of cauda equina syndrome secondary to a spinal neoplasm.
Go to Cauda Equina and Conus Medullaris Syndromes and Tumors of the Conus and Cauda Equina for complete information on these topics.
Frequency
In the United States, approximately 1-3% of patients who undergo spinal surgery for CES have either atraumatic or traumatic types of CES. [6] CES has no predilection for any race or either sex. Although CES can occur at any age, it is most often seen in adults in whom the spinal canal may already be compromised and stenosed.
Technique
Overview
The role of surgery is to relieve pressure from the nerves in the cauda equina (CE) region and to remove the offending elements. Surgical treatment may include laminectomy and instrumentation/fusion for stabilization or discectomy. After spinal surgery, internal stabilization with fixation devices may be needed in the same operative setting or at a later date.
Routine preoperative care is recommended. The goal of preoperative care is to make sure that the patient gets to the operating room in the recommended time frame to maximize chances of a complete recovery.
The intraoperative use of somatosensory and motor-evoked potentials (SSEPs) may be helpful in monitoring the patient.
Routine postoperative care is necessary for all patients. The recovery time depends on the duration and the extent of symptoms of CES and a multitude of other factors, including the etiology.
Postoperative physical and occupational therapies are often beneficial to the patient's progress. Some patients may require inpatient or outpatient rehabilitation; therefore, a physical medicine and rehabilitation consultation should be considered early in the course of management.
Follow-up
If therapy is delayed, potential problems include residual weakness, incontinence, impotence, and sensory abnormalities. These problems may persist even with prompt decompression. Follow-up depends on the needs of the patient and recovery potential.
Complications
Ever-present adverse events of any spinal surgery include paralysis, along with urinary bladder, bowel, and sexual dysfunction. The specific risks of surgical complications for widely varied procedures and equally varied etiologies are beyond the scope of this article.
What would you like to print?