Technique
Arthroscopic Assessment and Treatment of Hip Pathology
After the patient is properly positioned but before traction is applied, a systematic fluoroscopic examination should be performed first with the leg in extension in neutral, internal, and external rotation and next with the leg in 45º of flexion. Intraoperatively, the same views can be obtained and compared with the preoperative equivalents so that bony resection can be better judged. [23] The hip area is then prepared and draped in the standard fashion.
After traction is applied, an anterolateral portal is first identified, just over the anterosuperior margin of the greater trochanter. Portal placement must be done carefully, with care taken not to injure nearby neurovascular structures (see Technical Considerations).
Careful positioning and padding can help avoid traction-induced or compressive injuries to the obturator, pudendal, and peroneal nerves or branches thereof. Marking the border of the greater trochanter and the anterior superior iliac spine (ASIS) can help identify anatomic landmarks. Drawing a line from the ASIS longitudinally down the leg should help ensure that no portal is placed medial to the line, thus minimizing major risk to the femoral nerve. (See the image below.)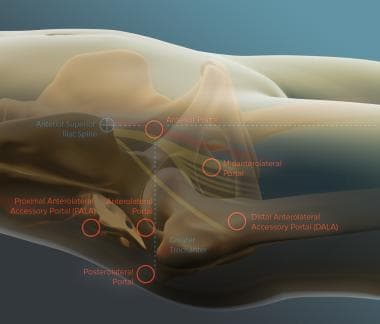 Hip arthroscopy. Portal placement.
A spinal needle is used to localize the portal under fluoroscopic guidance. The needle is placed intra-articularly and repositioned by means of either a venting or a saline-distention technique so as to avoid chondral damage to the head or prevent labral penetration. [24, 25] A nitinol wire is then placed though the spinal needle and into the acetabular fossa. The skin is carefully nicked so as to avoid damaging sensory nerves.
A cannulated obturator—and, in some cases, a series of dilators—is used to place the first portal. Placement of the next portal may vary to some degree, depending on the individual surgeon's preference. A traditional anterior portal is made at the junction of the line drawn longitudinally from the ASIS down the thigh and a perpendicular line drawn from the superior margin of the greater trochanter. Modified versions of this portal may be placed slightly more laterally or distally than the traditional portal.
Next, a spinal needle is introduced under direct vision from the anterior portal, between the femoral head and the labrum. A nitinol wire is introduced though the needle, and a cannulated portal is brought in under direct vision. Any cloudy blood that may be present can be cleared out at this point. Posteriorly, a posterior portal can be made in the same manner off the posterior superior corner of the greater trochanter.
An arthroscopic knife or cautery device is then used to create a capsulotomy between the anterior and anterolateral portals. The anterior and anterolateral portals will have to be switched to complete the capsulotomy.
After complete access has been obtained, a systematic 23-point diagnostic examination is carried out. Any of several accessory portal variants, such as the distal anterolateral accessory (DALA) portal or the midanterolateral portal, may be needed, depending on the additional procedures to be performed. [6, 7, 13, 14, 15, 11] After the central compartment procedure is complete, traction is released and the hip is flexed to approximately 45º so as to relax the capsule. If the peripheral compartment cannot be completely accessed, a T-capsulotomy can be done, after which the 23-point examination can be completed.
The labrum can be inspected for tearing and chondrolabral separation. The labrum can be addressed with either partial or, in some cases, full takedown and repair. Repair takes the form of either a wraparound repair or a labral-base repair. Some studies have suggested that labral-base repair has a biomechanical advantage with more normal head contact; however, a comparative study found no difference in outcomes between labral-base repair and wraparound repair. [26] (See the images below.)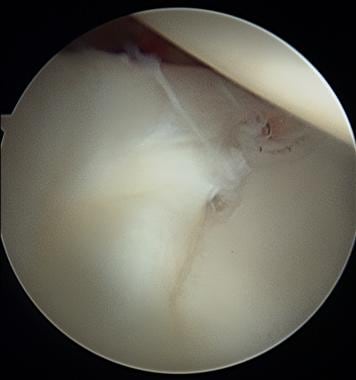 Hip arthroscopy. Labral tear with adjacent chondrolabral separation and wave sign.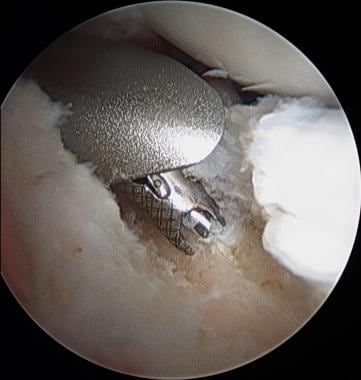 Hip arthroscopy. Drilling for anchor placement in acetabulum after acetabuloplasty.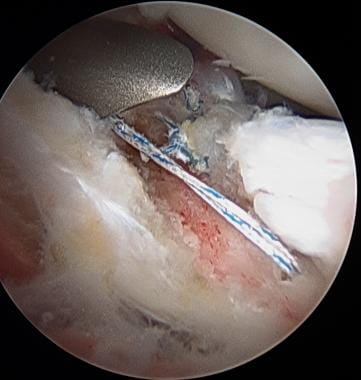 Hip arthroscopy. Suture anchor in place ready for labral repair.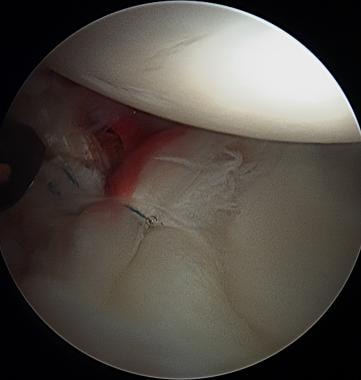 Hip arthroscopy. First anchor placed for labral repair.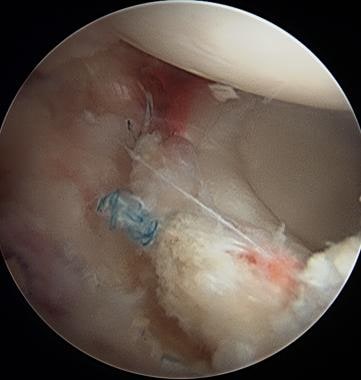 Hip arthroscopy. Labral repair with wraparound technique.
Hip arthroscopy. Labral repair status post takedown and acetabuloplasty.
Before repair of the labrum, the existing pincer is carefully assessed and resected. Preoperative imaging can help the surgeon judge the extent and nature of resection necessary.
Traction is released, and the hip is flexed to approximately 45º. The peripheral compartment is evaluated. Commonly, the cam lesion, when present, is assessed and addressed at this point. (See the images below.) Rotation of the hip can facilitate access to the cam lesion. Delineation of the planned resection can be done with an articular curette. A motorized burr is used to resect the cam lesion and recontour the head-neck offset, tapering this to the femoral neck. Flexion of the hip can be used to check for any remaining impingement, and fine-tuning resection can be done from that point.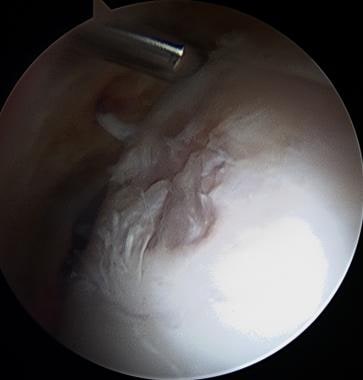 Hip arthroscopy. Cam lesion with adjacent cartilage damage.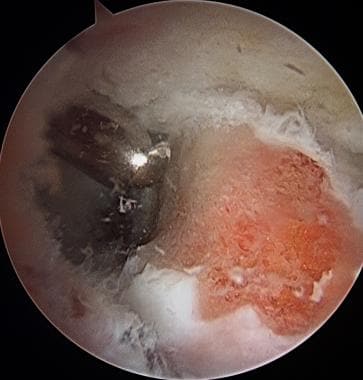 Hip arthroscopy. Motorized burr recreating femoral head offset; resection of cam.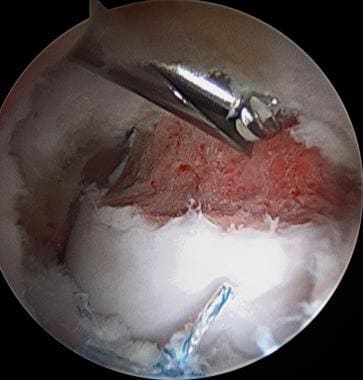 Hip arthroscopy. Cam resection.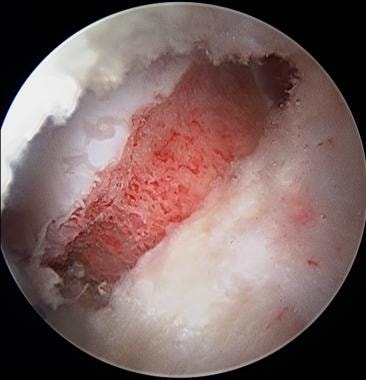 Hip arthroscopy. Cam resection.
Repair of the capsule has become more popular and has some potential advantages, including avoidance of micro or macro instability. [27]
Intraoperative fluoroscopy can help the surgeon judge an intraoperative resection through comparison with equivalent preoperative views. Intra-articular injection of a local anesthetic may be employed for pain relief after the procedure.
Postprocedural Care
Hip arthroscopy is generally an outpatient procedure. Depending on the procedure, bracing can be used for 2-6 weeks after surgery if there is concern that excess range of motion (ROM) may damage the repair or contribute to instability. If resection gives rise to concern about possible stress fracture or femoral neck fracture, limitations on weightbearing may be imposed, generally for 2-6 weeks after surgery.
Physical therapy is generally initiated as soon as possible postoperatively. Passive ROM with continuous passive motion (CPM) or an exercise bike is initiated as soon as possible as well. These early measures can help prevent arthrofibrosis and adhesive capsulitis.
A nonsteroidal anti-inflammatory drug (NSAID) or aspirin is administered for at least 3 weeks to minimize risk of heterotopic ossification. Postoperative follow-up visits are scheduled at regular intervals for checking wound status and advancing rehabilitation.
Complications
In a prospective multicenter study by Larson et al, complication data were compiled for 1615 hip arthroscopies (including both revision [n = 128] and primary procedures [n = 1487]). [28] The overall complication rate, not counting transient nerve issues, was 8.3%. Higher rates were reported for female patients and for cases involving longer traction times (>60 minutes). Rates for specific complications included the following:
Periportal sensory disturbance, 16.5% (mostly transient)

Perineal numbness, 1.4%

Iatrogenic chondral injury, 1.2%

Superficial portal infection, 1.1%

Iatrogenic labral puncture, 0.9%

Foot sensory defect, 0.8%

Femoral neck stress fracture, 0.1%
Other serious complications reported in the literature have included avascular necrosis (AVN), abdominal compartment syndrome, and iatrogenic instability [29, 30] ; however, these were not observed in the study by Larson et al. [28]
What would you like to print?