Overview
Background
The genus Thogotovirus in the family Orthomyxoviridae contains multiple species, including Araguari, Aransas Bay, Bourbon, Dhori, Jos, Thogoto, and Upolu viruses. Of these viruses, only two have been identified in the United States: Aransas Bay virus (on the southern gulf coast of Texas), from soft ticks found in the nests of seabirds, and Bourbon virus, as a cause of human infection in Kansas and, more recently, in Missouri (although the pathogenesis remains undefined). [1, 2] In the genus Thogotovirus, only 3 have been associated with human disease: Thogoto, Dhori, and Bourbon viruses. [1, 8]
Thogoto and Dhori viruses are transmitted by ticks. [3] Their genome is composed of 6 segments of negative-sense, single-stranded RNA. Replication and transcription occur in the cell nucleus. Polymerase basic subunits 1 and 2, in addition to the polymerase acidic subunit, compose the polymerase complex. These subunits synthesize viral genomic negative-strand DNA, complementary positive-strand RNA, and capped polyadenylated mRNAs. [4]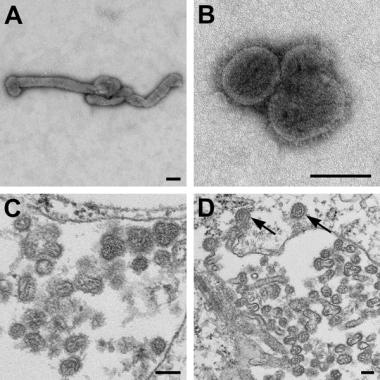 Electron microscopic images of novel Thogotovirus isolate. Filamentous (A) and spherical (B) virus particles with distinct surface projection are visible in culture supernatant that was fixed in 2.5% paraformaldehyde. Thin-section specimens (C and D), fixed in 2.5% glutaraldehyde, show numerous extracellular virions with slices through strands of viral nucleocapsids. Arrows indicate virus particles that have been endocytosed. Scale bars indicate 100 nm. Courtesy of the CDC.
Pathophysiology
Thogoto virus initially attaches to sialic acid receptors in host cells through glycoproteins. Subsequently, clathrins from the host cell lead to endocytosis of the virus. The encapsidated RNA segments migrate to the nucleus. [5]
The genome of thogotoviruses consists of 6 segments. Thogotoviruses undergo replication and transcription within the cell nucleus. A viral polymerase complex composed of polymerase basic subunit 1, polymerase basic subunit 2, and polymerase acidic subunit synthesizes negative-strand viral RNA, capped polyadenylated mRNAs, and complementary positive-strand RNA. Segment 5 of the genome encodes nucleoprotein (NP). Segment 6 encodes the matrix protein and an accessory M-long protein that can interfere with the host's innate immune response. [4] High levels of M1 protein, which is encoded by an alternative splicing of the segment 6 of the viral genome, induces genome segments to be exported from the nucleus of the virion through nuclear export protein (NEP protein). Viral assembly and budding occurs at the plasma membrane. [5]
Murine models of Dhori virus infection, which belongs to the Thogotovirus genus, demonstrate an exaggerated cytokine response, including tumor necrosis factor, interleukin-1, interleukin-6, interleukin-10, macrophage inflammatory protein 1, monocyte chemoattractant protein (MCP)–1, and interferon (IFN). Infected mice also exhibited leucopenia and lymphopenia. On necropsy, pulmonary inflammation, hemorrhage, and edema, as well as hepatic necrosis, apoptosis, and steatosis, were seen. Lymphocytic apoptosis with karyorrhexis was marked in lymph nodes and spleen. [6]
Epidemiology and Transmission
Thogoto virus has been isolated from various species of ticks, including Boophilis species in Kenya and Rhipicephalus species in Sicily. In Nigeria and Egypt, Hyalomma ticks and Amblyomma variegatum have been identified as vectors for Thogoto virus. Thogoto virus has also been isolated in Uganda, Ethiopia, Cameroon, central African Republic, and southern Europe. [7]
Cattle, sheep, donkeys, buffaloes, rats, and camels are also susceptible to Thogoto virus, as suggested by serological evidence. [7]
Dhori virus, another species of the Thogotovirus genus, also infects humans. It has 7 RNA segments, in contrast to Thogoto virus, which has 6 RNA segments. Dhori virus has been found in eastern Russia, Egypt, India, and southern Portugal. It has also been isolated from Hyalomma species ticks. [7]
Bourbon virus was discovered in 2014 in Bourbon County, Kansas, when it caused clinical illness in a single index patient who had had prior exposure to ticks, although the presumptive vector, ticks, has not been clearly established as the vector of disease in this single case. [8] A 2017 case was reported in a 58-year-old female employee of Meramec State Park, Missouri, who was infected via a tick bite. During her course of illness, the woman developed hemophagocytic lymphohistiocytosis (HLH) and died of the infection. The CDC confirmed Bourbon virus as the etiology. [9]
What would you like to print?