Workup
Imaging Studies
Various imaging modalities are employed to diagnose cerebral vasospasm after aneurysmal subarachnoid hemorrhage (aSAH). Currently, transcranial Doppler (TCD) is the primary imaging technique used in screening for asymptomatic spasm. [13, 14] It is used both for diagnosis and for close monitoring. [3]
TCD is a noninvasive modality that extrapolates the likelihood of vasospasm on the basis of selective intracranial arterial blood flow velocity ratios, trends, and relations. It is less sensitive in some patients with unfavorable bony anatomy "windows" that hinder soft-tissue evaluation, and it is subject to user error or variability, which inevitably affects its clinical applicability. [15, 16]
Other imaging techniques routinely used in surveillance for vasospasm are computed tomography (CT) perfusion scanning [17] and conventional angiography, both of which have demonstrated efficacy with varying usage patterns and in different clinical settings. CT perfusion studies have been shown to be more useful for diagnosing vasospasm in patients with delayed neurologic deficits than they are in asymptomatic patients. [18, 16, 19, 20, 21]
Digital subtraction angiography (DSA) has been regarded as the gold standard for diagnosis and treatment of vasospasm, but outcome benefit for the treatment of angiographic vasospasm has not been demonstrated, leading to the addition of more qualitative blood flow tools. [16]
Magnetic resonance angiography (MRA) has been employed in this setting as well. In a study that compared three-dimensional (3D) spin-echo-based black-blood MRA (BBMRA) with time-of-flight (TOF)-MRA for detection of cerebral vasospasm in the early posttreament period after subarachnoid hemorrhage, Takano et al found that BBMRA, owing to its contrast properties, may be superior to TOF-MRA for the evaluation of intracranial arteries. [22]
New neurologic deficits caused by vasospasm may be difficult to recognize in patients who are already severely debilitated. For this reason, routine surveillance imaging studies are carried out to supplement the neurologic examination with the aim of diagnosing vasospasm before the onset of delayed cerebral ischemia (DCI). Common practice is as follows:
Routine TCD on a daily basis

Diagnostic cerebral angiography 1 week after aneurysm treatment

Adjunctive imaging as clinically indicated
Case example
A 26-year-old woman with a history of cocaine use presented with acute subarachnoid hemorrhage (Hunt-Hess grade III; Fischer grade III). (See the images below.) Cerebral angiography revealed an anterior communicating artery aneurysm. The aneurysm was treated successfully with surgical clipping. Five days after presentation, the patient became symptomatic as a consequence of cerebral vasospasm. Angiography demonstrated severe narrowing of the right anterior cerebral artery (ACA).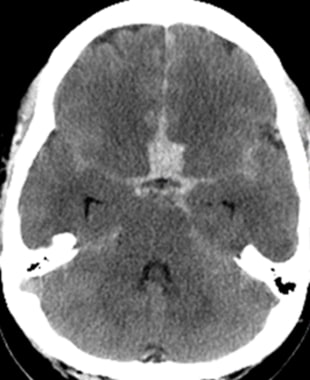 Initial presenting head CT scan showing subarachnoid hemorrhage and blood filling basal cisterns.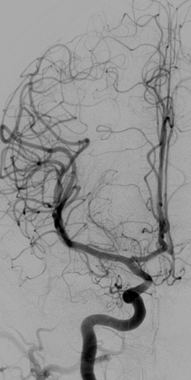 Initial cerebral angiogram from patient with subarachnoid hemorrhage.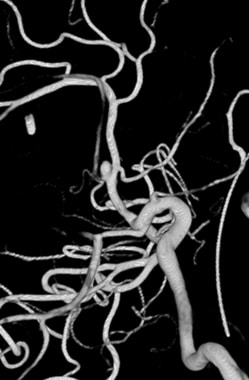 Three-dimensional reconstruction of cerebral angiogram showing anterior communicating artery aneurysm.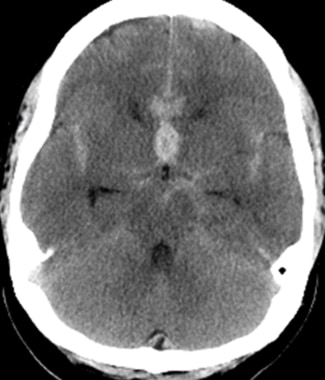 Follow-up head CT scan showing subarachnoid blood.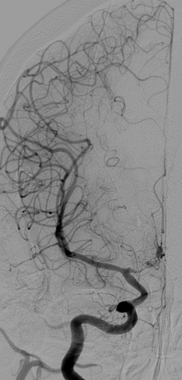 Cerebral angiogram obtained on posthemorrhage day 5 in patient symptomatic from vasospasm. Angiogram shows severe narrowing of right anterior cerebral artery.
Other Tests
In addition to clinical and radiographic evaluation for the prevention of DCI, alternative methods are being investigated, including continuous electroencephalography (EEG), [23, 24, 25] serum biomarker assays, [26] and bedside cerebral blood oxygenation monitoring. [27]
What would you like to print?