Overview
Background
Refractive lenticule extraction (ReLEx) small-incision lenticule extraction (SMILE) is used to treat myopia, with or without astigmatism.
Laser in situ keratomileusis (LASIK) and its variant, femtosecond LASIK (FS-LASIK), despite their success in providing independence from corrective eyeglasses (spectacles) and contact lenses, has continued to be associated with rare complications, including flap-related complications, postoperative dry eye, denervation of corneal nerves, and biomechanical instability leading to corneal ectasia. Engineers, scientists, and surgeons have continued to study alternatives to LASIK because of these uncommon but potentially serious complications.
Refractive lenticule extraction (ReLEx) was the byproduct of existing applications—automated lamellar keratoplasty, automated in situ keratomileusis, and femtosecond lasers. In 2007, an intrastromal femtosecond lenticule extraction (FLEx) was revisited for patients with extreme myopia. In 2011, a small-incision lenticule extraction (SMILE) procedure was introduced as a third-generation laser refractive surgery procedure. The flap creation was eliminated and replaced with creation of a corneal pocket, in which a lenticule is gently removed from a small keyhole incision, usually 2-4 mm in width. Fewer corneal nerves are severed during creation of the pocket and removal of the lenticule, so dry-eye symptoms and loss of corneal sensitivity may occur less frequently after SMILE.
The VisuMax® Femtosecond Laser System is the only laser approved to perform the SMILE procedure.
The image below shows a comparison of the different treatment steps of SMILE, LASIK, and photorefractive keratectomy (PRK).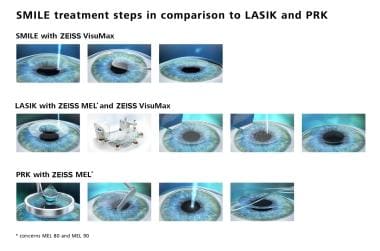 SMILE treatment steps in comparison to LASIK and PRK. Courtesy of ZEISS (http://www.zeiss.com/corporate/en_us/home.html).
Indications
VisuMax® ReLEx SMILE (Carl Zeiss, Inc., [Carl-Zeiss-Straße 2273447, Oberkochen, Germany] is indicated for myopia and astigmatism with the following ranges:
Sphere: -0.50 to -10.00 diopters (D)

Cylinder: 0 to 5.00 D
The US FDA–approved indications are as follows: [1]
Sphere: -1.00 D to -8.00 D

Cylinder: ≤ -0.50 D

Manifest refraction spherical equivalent (MRSE): -8.25 D
Contraindications
Absolute contraindications to ReLEx SMILE include the following:
Unstable refraction over a 12-month period

Age younger than 18 years

Insufficient corneal thickness

Visually significant cataract

Uncontrolled glaucoma or external disease

Unrealistic patient expectations

Hyperopia (current studies are underway)
Relative contraindications to ReLEx SMILE are as follows:
Prior history of diseases that lead to

neurotrophic keratopathy

(herpes zoster ophthalmicus [HZO], herpes simplex virus [HSV] keratitis, uncontrolled diabetes mellitus)

Uncontrolled systemic immune-mediated diseases (Sjögren syndrome, rheumatoid arthritis, systemic lupus erythematous, ankylosing spondylitis, psoriatic arthritis, inflammatory bowel disease (IBD) with arthritis, Behçet disease)

Abnormal tear film with dry eye disease

Patients with AIDS, patients who have ocular complications related to HIV or AIDS, or patients who are noncompliant with their HIV/AIDS medications
Technical Considerations
VisuMax® femtosecond laser system
System components are as follows:
Patient supporting system, including platform

Integrated uninterruptible power supply (UPS)

Surgical microscope with additional slit illumination

Video camera with integrated digital recording
Laser parameters are as follows:
Wavelength: 1043 nm

Pulse duration: 220-580 fs

Laser pulse rate: 500 kHz
Installation and setup conditions
The weight of the system is 870 kg (including patient support system, platform, UPS).
The recommended space requirement is 3.8 x 4.4 meters (standalone) or 3.8 x 6 meters in combination with the MEL 80 excimer laser.
The electrical connection is 100-240 V, 50/60 Hz, 16 amp max. The system has a separately fused circuit.
Operating conditions
Room temperature: 18-25°C
Atmospheric humidity: 30%-70%
Accessories include the following:
Single-use contact glasses treatment pack (sizes small/medium/large, type KP)

Keratoplasty adapter for patient support system
Outcomes
At 6 months following SMILE, the LogMAR uncorrected and corrected distance visual acuity was -0.15 ± 0.10 and -0.19 ± 0.07, respectively. All eyes were within 0.5 D of the targeted spherical equivalent correction. Changes of 0.00 ± 0.30 D occurred in manifest refraction from 1 week to 6 months postprocedure among patients who underwent SMILE. [2]
Complications
Potential complications of ReLEx SMILE include the following:
Epithelial defect due to vigorous application of dissecting spatula and lenticule forceps, leading to damage of the epithelium at the corneal pocket (< 1%)
Suction loss due to patient movement, eyelash or foreign body at the edge of the curved cornea glass cone, redundant conjunctiva, too much liquid interface, or poor suction application (< 1%)
Opaque bubble layer due to delayed application of the curved cornea glass cone, leading to the corneal epithelium drying up prior to docking and suction (< 1%)
Cap rupture due to overly vigorous windshield wiper movement that does not respect the fulcrum at the pocket (< 1%)
Lenticule rupture due to incomplete windshield wiper dissection of the lenticule (< 1%)
Foreign body inside the pocket: Loose epithelium, lint, or other foreign body may inadvertently enter the corneal pocket during dissection or removal of the lenticule (< 1%)
Diffuse lamellar keratitis [3]
Ectasia [4]
Potential complications #1-6 may occur during the initial learning curve. As the skill of the surgeon improves, these potential complications become rare.
Future applications
Numerous studies are underway for future applications of ReLEx SMILE, as follows:
Higher myopia (ie, >10.00 D SE)

Higher astigmatism (ie, >5.00 D)

Hyperopia

Enhancement of prior SMILE

Lenticule cryopreservation and reimplantation
Summary
The Carl Zeiss VisuMax® SMILE procedure, like LASIK, is a safe, effective, and predictable surgical option for treating myopia. Dry-eye symptoms and loss of corneal sensitivity may occur less frequently after SMILE than after LASIK. [5]
What would you like to print?