Treatment
Nonoperative Therapy
Nonoperative management of supracondylar humerus fractures (SCHFs) is indicated for nondisplaced fractures (Gartland type 1) or mildly displaced fractures without rotational deformity (Gartland type 2A). [1, 18, 19]
Gartland type 1 fractures with no medial comminution can be managed with a long arm back slab at 90º of elbow flexion and neutral forearm rotation or a collar-and-cuff, depending on local protocol. When applying the back slab, treating physicians should be mindful of pressure areas and should repeat the neurovascular examination after application. If the degree of swelling allows, it is possible to change to a long arm full cast in 1-2 weeks. The total immobilization time is 4-6 weeks, again depending on local hospital protocol.
Gartland type 2A fractures with mild swelling and no medial comminution can also be treated nonoperatively. A collar-and-cuff with the elbow in hyperflexion is used as a method of achieving reduction and maintaining alignment (see the image below). In this setting, it is important to inform the patient and family members that the collar-and-cuff should not be removed during the treatment period and that the patient should wear clothing covering it.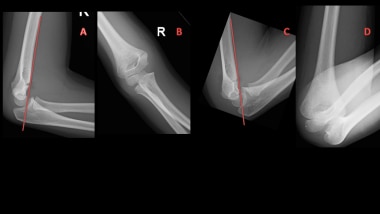 (A, B) Anteroposterior (AP) and lateral elbow radiographs of 6-year-old girl with type 2A supracondylar humerus fracture with no rotational deformity on AP view. Anterior humeral line is crossing anterior to capitellum. (C, D) AP and lateral elbow radiographs of same patient after treatment with collar-and-cuff in elbow hyperflexion. Fracture is now reduced, and anterior humeral line now transects capitellum.
During application of the collar-and-cuff, the patient's fist should be under the chin to permit optimal flexion at the elbow. After application, it is important to check the radial pulse and hand perfusion; hyperflexion of a swollen elbow can affect the blood supply. Additionally, a repeat elbow radiograph should be ordered to ensure that the fracture is in good alignment. The total immobilization time ranges from 4 to 6 weeks, depending on local protocol.
It is worth noting that the management of type 2A fractures remains a subject of debate. It is heavily driven by local guidelines and surgeon preference. Many orthopedic surgeons argue for surgical management with closed reduction and percutaneous pinning (CRPP).
Surgical Therapy
Indications
Indications for closed reduction with percutaneous Kirschner wire (K-wire) fixation (ie, CRPP) include the following [10, 11, 6, 20] :
Severe type 2A, type 2B, type 3, and all flexion-type fractures (see the images below)

Neurovascular changes

Associated ipsilateral upper-limb injuries (5-10% of patients with ipsilateral distal radius fractures)
Indications for open reduction with K-wire fixation include the following [10, 11, 6, 20] :
Failure of closed reduction (often due to soft-tissue infolding within the fracture site)

Placement of medial wires (often done via a miniopen approach to avoid injuring the ulnar nerve)

Flexion type 3 injuries
Surgical treatment may follow a medial approach, an anteromedial approach (for brachial artery exploration), or a miniopen medial approach that includes a mini-incision for K-wire placement (see below).
Timing
The timing of surgical treatment depends on the severity of the injury, the presence of neurovascular compromise, and the patient's fasting status. [1, 12, 7] At present, there is no consensus regarding optimal surgical timing in the treatment of displaced pediatric SCHFs. Urgent surgical intervention is indicated in patients with significant fracture displacement (type 2B or 3) or nerve palsy. Emergency surgical intervention is indicated in patients with vascular compromise leading to an underperfused limb or in the setting of acute limb ischemia.
Operative details
The surgical techniques employed may vary, as follows. [10, 11, 6, 21, 20]
Use of Kirschner wires
Two lateral K-wires (see the image below) are usually sufficient for maintaining reduction. Reduction should be tested under an image intensifier in internal and external rotation. If instability is noted, consideration should be given to adding a third lateral pin or using a cross-pin construct
Three lateral K-wires (see the image below) are usually placed when two are insufficient to control rotational or torsional forces. This construct is biomechanically stronger than a two-pin construct and similar in strength to a cross-pin construct.
A cross-pin construct (see the image below) is the biomechanically strongest option. Miniopen or open placement of a medial wire may be required to avoid ulnar nerve injury. A medial pin should be inserted with the elbow in extension.
Important technical points for fixation with lateral-entry pins include the following:
Maximize separation of the pins at the fracture site

Engage the medial and lateral columns proximal to the fracture

Engage sufficient bone in both the proximal segment and the distal fragment

Maintain a low threshold for use of a third lateral-entry pin if there is concern about fracture stability or the location of the first two pins
Closed reduction
The technique for closed reduction includes the following elements:
In-line traction with elbow flexed

Correction of coronal plane deformity with varus/valgus stress

Correction of sagittal deformity - Place the elbow in hyperflexion; reduce extension-type fractures by thumbing the distal fragment anteriorly; beware of type 4 fractures that are unstable in flexion and extension

Confirmation of reduction by placing the elbow in external rotation - Assess the Baumann angle, and identify the anterior humeral line crossing the middle of the capitellum
Open reduction
For the medial approach, the upper limb is placed in external rotation (the position of stability). A curvilinear incision is made from the supracondylar ridge of the medial epicondyle and passing through the elbow joint. The ulnar nerve is identified proximally between the triceps and the medial intermuscular septum and distally within the tunnel posterior to the medial epicondyle. The medial supracondylar ridge of the humerus and the supracondylar fracture are identified. Any soft tissue within the fracture (eg, brachialis muscle trapped inside) is removed to facilitate reduction. The fracture is reduced under direct vision with the aid of an image intensifier. A medial K-wire is placed in external rotation.
The miniopen medial approach is commonly adopted for placement of a medial K-wire to avoid ulnar nerve injury. A 1- to 2-cm incision is made over the medial epicondyle. Blunt dissection with artery forceps is carried down to bone or cartilage. The K-wire is inserted under direct vision with the use of an image intensifier.
The anteromedial approach is preferred for exploration of the brachial artery in limb ischemia, in the interval between the brachialis and brachioradialis proximally and the brachioradialis and pronator teres distally.
Approach to Pulseless Limb
If perfusion of the hand is normal, the following are recommended [13] :
Urgent surgical reduction and fixation

Repetition of vascular evaluation intraoperatively - Check for hand perfusion and return of radial pulse; exploration is not indicated with an absent radial pulse in a perfused hand

Immobilization, elevation, and overnight monitoring
if the hand is underperfused or ischemic, the following are recommended [13] :
Emergency surgical reduction and fixation within 2 hours to reestablish perfusion

Repetition of vascular evaluation intraoperatively

Open antecubical exploration in the event of ongoing hand underperfusion in a reduced and stabilized fracture (indicative of vascular injury)

In a hospital without vascular surgery coverage or the expertise to perform on-table vascular repair, consideration of transfer to a tertiary facility
Postoperative Care
In the immediate postoperative period, the surgeon should recheck the patient's neurovascular status, keeping in mind that neurapraxia secondary to traction and reduction maneuvers is not uncommon. The most common nerve palsy after manipulation is anterior interosseous nerve (AIN) palsy. In a study of nerve injuries with displaced SCHFs in children younger than 12 years, Khademolhosseini et al reported 100% recovery with ongoing observation. [12] Nerve entrapment is rare in the manipulation of pediatric SCHFs.
It is particularly important to check vascular status in cases involving preoperative vascular compromise, limb ischemia, or both.
After the immediate postoperative period, the follow-up protocol for SCHFs is highly variable, depending on patient factors, injury severity, surgeon preference, and local hospital protocol. In most Australian centers, the protocol includes repeat radiography at 1 and 2 weeks after the injury, an immobilization time of 3-4 weeks, and pin removal 3-4 weeks after the procedure, depending on patient age.
As with the initial presentation, both an anteroposterior (AP) and a true lateral radiograph should be obtained for accurate assessment of the fracture and the fixation. Positioning for the AP image in this setting may be hindered by the presence of a cast or collar-and-cuff. The humerus is the area of interest and should be placed on the imaging plate (this will result in distortion of the radius and ulna). The patient may have to stand for this view. Alternatively, a horizontal-beam lateral view can be obtained with the patient sitting and the arm elevated on a radiolucent sponge. Positioning for the lateral projection follows the standard protocol.
Complications
Possible complications after treatment of a pediatric SCHF include the following [1, 10, 3, 11, 6, 21, 20, 18, 19, 9, 8, 17, 12] :
Pin-site infection

K-wire migration

Malunion

Cubitus valgus

Cubitus varus

Recurvatum

Nerve palsy (direct injury or traction neurapraxia)

Vascular injury - Absent radial pulse (~10% of injuries; most common in type 3 injuries); pulseless hand after CRPP (3%)

Volkmann contracture

- Rare but significant complication, occurring secondary to brachial artery compression in a hyperflexed elbow during fracture immobilization; after surgery, immobilize arm with elbow at no more than 90º of flexion

Postinjury elbow stiffness

Repeat operation

Physeal injury or arrest due to percutaneous wires crossing physis or multiple passes with wires during operation
Activity
As a general rule, returning to sports or activities (especially contact sports) is appropriate once the fractured elbow has achieved clinical and radiologic union and once the patient has regained full range of motion. In the clinical setting, parents are generally told to wait 8 weeks after the injury before allowing any sports or contact activities.
Consultations
Consultations with vascular surgeons are appropriate in the setting of compromised vascularity or perfusion to the injured limb. Acute arterial injuries necessitating vascular repair, though rare, are possible; when such injuries occur, close consultation with a vascular surgeon is indicated.
Long-Term Monitoring
For pediatric SCHFs that have been promptly diagnosed and treated, long-term monitoring usually is not required past 6 months. In the setting of neurapraxia or nerve palsy, monitoring is required until full function is restored. [12] In the rare event of vascular injury, further follow-up may be indicated. Physeal arrest secondary to percutaneous wire fixation is extremely rare; however, if this becomes a concern, patients should be followed up for longer durations as appropriate.
What would you like to print?