Workup
Laboratory Studies
A full pituitary endocrine workup is usually mandatory. This includes evaluating the following:
Adrenocorticotropic hormone (ACTH or corticotropin)

Growth hormone (GH) and insulin growth factor (IGF)-1

Cortisol

Prolactin

Luteinizing hormone (LH)

Follicle-stimulating hormone (FSH)

Thyrotropin (ie, thyroid-stimulating hormone [TSH])

Triiodothyronine (T 3)

Thyroxine (T 4).
Any abnormalities should be corrected preoperatively but, at the very least, low cortisol levels and diabetes insipidus should be treated prior to any surgical procedure.
Imaging Studies
Magnetic resonance imaging
Magnetic resonance imaging (MRI) with and without contrast is the preferred imaging approach. [29, 30] On T1-weighted images, the cystic component is often hyperintense and the solid component is isointense, with enhancement of the rim or tumor nodule. On T2-weighted images, the cystic component is hyperintense, as is the solid component. (See the images below.)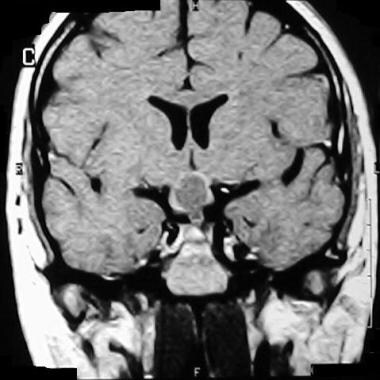 Coronal MRI shows a craniopharyngioma in the suprasellar space that causes compression of the optic nerves and chiasm.
Sagittal MRI shows a cystic craniopharyngioma in the suprasellar space with extension into the third ventricle.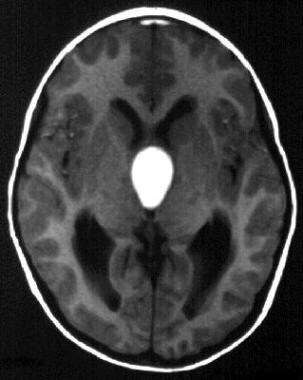 Axial MRI shows a craniopharyngioma cyst that contains proteinaceous fluid in the third ventricle. The cyst fluid appears hyperintense.
In the immediate postoperative period (within the first 48 hr), a contrast-enhanced MRI is usually performed to determine whether residual tumor is present, as well as to establish a baseline for future follow-up. [29]
Computed tomography
Craniopharyngiomas can vary greatly in size, from a few millimeters to greater than 5 cm. On computed tomography (CT), 90% are at least partially cystic, 90% have calcifications, and 90% have nodular or rim enhancement. These tumors are heterogeneous, with the cystic component being hypodense on CT scan and the solid component being isodense or slightly hyperdense with variable enhancement with contrast.
Other Tests
Visual acuity and visual field assessment is required to delineate any deficit, including papilledema.
Histologic Findings
Craniopharyngiomas are usually composed of both solid and cystic components. Cyst walls may vary from thin membranes to thick, tough structures that may be hard and rigid because of calcifications. The interior is lined with stratified squamous epithelium with pearly keratin formations. The outside layer is columnar epithelium on a collagenous basement membrane. Calcifications are common; 90% of tumors in children have calcifications, as do 40% of these tumors in adults. Inside the tumor, fibrous tissue, necrotic debris, cholesterol clefts, and keratin pearls are commonly found.
The following three histologic phenotypes are seen in craniopharyngioma:
Adamantinous tumors

Squamous papillary tumors

Mixed tumors
Adamantinomatous tumors (seen predominantly in children) resemble enamel-forming oropharyngeal neoplasms. The classic appearance is that of a cystic tumor, usually with a solid component. The cyst may contain fluid that can vary in color, but it usually has a tan appearance that is classically described as resembling motor oil. Extensive fibrosis and inflammation have also been observed, which result in dense adhesions between the mass and vasculature, a phenomenon that further contributes to the difficulty in resecting craniopharyngiomas.
Squamous papillary tumors (seen predominantly in adults) generally involve only a solid component, which is typically seen without calcifications. It is frequently located in the third ventricle and is usually more encapsulated than the other types and, thus, more easily resectable.
Mixed tumors are a combination of the adamantinomatous and papillary forms.
Craniopharyngiomas are known to not undergo malignant degeneration and are usually well defined. [31] However, at the tumor margins, the epithelial fronds tend to penetrate deep into the brain tissue. This may cause a glial reaction in the surrounding brain, making complete resection difficult and possibly predisposing this tissue to traction injuries, particularly in the hypothalamus.
The characteristic location of these tumors in the sellar and parasellar region, together with the different histologic subtypes, allows for the above theories that may explain the origin of these tumors. [32]
What would you like to print?