Workup
Imaging Studies
Imaging studies are required in patients presenting with presumed mass effect. For very young children, CT scanning is the procedure of choice. CT scan demonstrates a homogeneously hypodense to slightly hyperdense enhancing mass with cystic areas. This mass may be sizable and may be associated with hydrocephalus. Punctate calcifications, observed in 20% of tumors, are more indicative of a papilloma, whereas global calcification throughout the mass is more indicative of carcinoma.
Choroid plexus carcinoma is generally associated with edema or invasion into the surrounding parenchyma, which may be observed as an area of enhancement. Areas suggestive of necrosis by imaging studies generally are not a feature of CPP but may be seen in choroid plexus carcinoma. Typically, changes on CT scan are observed in the lateral ventricles of children and in the fourth ventricle of adults, as depicted in the image below, corresponding to the typical location of this tumor.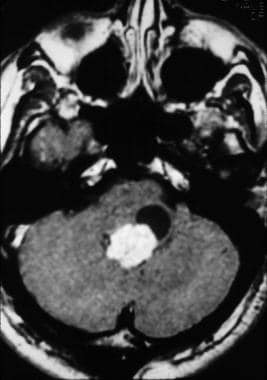 Imaging appearance of a fourth ventricular choroid plexus papilloma (CPP).
For older children and adults, MRI is indicated. [32] The appearance of a CPP on MRI (with and without contrast) is similar to that on CT scan and shows intermediate-to-strong intensity on both T1- and T2-weighted images. The malignant choroid plexus carcinoma appears more heterogeneous than the papilloma and often shows adjacent parenchymal invasion or surrounding edema.
Prenatal ultrasound and prenatal/antenatal MRI have also been used for diagnosis. [31]
Diagnostic Procedures
Although intraventricular lesions are readily identified on imaging studies, tumor biopsy is still warranted. Biopsy may facilitate differentiation of a papilloma from an aggressive carcinoma that may require a different surgical approach. Biopsy also helps diagnose tumors not of choroid plexus origin. Biopsy is most practically accomplished intraoperatively with the help of frozen section neuropathology consultation. However, differentiating normal choroid plexus from CPP can be very difficult.
Monitoring and normalizing excessive CSF pressure in young children is suggested prior to surgery. This is generally accomplished in the very young patient by repeated lumbar puncture and in the older patient by ventricular shunt.
Histologic Findings
Histologically, well-differentiated CPP is difficult to distinguish from normal choroid plexus. Both have papillae with fibrovascular cores and are lined by a single layer of cuboidal-to-columnar epithelium. Normal choroid plexus epithelial cells tend to have a hobnail shape on the ventricular side, whereas the epithelium of CPPs is more flattened, as depicted in the image below. Well-differentiated choroid plexus papillomas are designated as World Health Organization (WHO) grade I lesions. Occasional examples of brain invasion in otherwise benign CPPs have been described, but parenchymal invasion more often heralds anaplasia.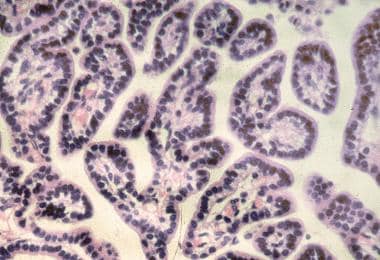 Histologic appearance of a choroid plexus papilloma (CPP) stained with hematoxylin and eosin.
Atypical choroid plexus papilloma is now recognized as a grade II lesion by the WHO Classification of Tumours of the Central Nervous System. [33] It is defined as a choroid plexus papilloma with increased mitotic activity. The study cited by the WHO states that a mitotic index of 2 or more mitoses per 10 randomly selected high-power microscopic fields (or >1 mitosis/mm2) can establish the diagnosis. [34] These tumors often have a more solid appearance, with blurring of papillary architecture, increased cellularity, nuclear pleomorphism, and tumor necrosis, but these criteria are not required for the diagnosis.
Choroid plexus carcinoma, WHO grade III, is characterized by frank signs of malignancy such as nuclear pleomorphism and hyperchromasia, increased mitotic activity (usually more than 5 mitoses per 10 high-power fields or >2.5 mitoses/mm2), increased cellular density, poorly structured sheets of tumor cells that obscure the papillary pattern, and tumor necrosis. [35] Frank invasion of the underlying brain parenchyma is also seen in high-grade lesions; however, the significance of brain invasion in an otherwise low-grade lesion is unclear.
The histologic differential diagnosis includes choroid plexus hyperplasia, papillary ependymoma, metastatic carcinoma (in older patients), and rare entities such as medulloepithelioma or germ cell tumor, in which a papillary pattern may predominate. Distinction of these entities can be successfully accomplished with the judicious use of immunohistologic markers and with careful attention to clinical and imaging features. [5]
What would you like to print?