Overview
Practice Essentials
Abruptio placentae is defined as the premature separation of the placenta from the uterus. Patients with abruptio placentae, also called placental abruption, typically present with bleeding, uterine contractions, and fetal distress. A significant cause of third-trimester bleeding associated with fetal and maternal morbidity and mortality, placental abruption must be considered whenever bleeding is encountered in the second half of pregnancy. [1] Placental abruption is demonstrated in the image below. (See Presentation.)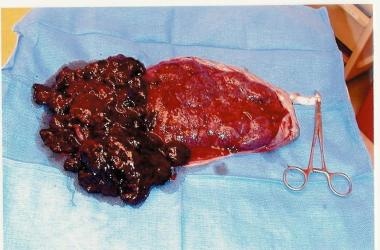 Placental abruption seen after delivery.
Complications
Hemorrhage into the decidua basalis occurs as the placenta separates from the uterus. Vaginal bleeding usually follows, although the presence of a concealed hemorrhage in which the blood pools behind the placenta is possible. (See Workup.)
Hematoma formation further separates the placenta from the uterine wall, causing compression of these structures and compromise of blood supply to the fetus. Retroplacental blood may penetrate through the thickness of the uterine wall into the peritoneal cavity, a phenomenon known as Couvelaire uterus. The myometrium in this area becomes weakened and may rupture with increased intrauterine pressure during contractions. A myometrium rupture immediately leads to a life-threatening obstetric emergency. (See Treatment.)
Classification of placental abruption
Classification of placental abruption is based on extent of separation (ie, partial vs complete) and location of separation (ie, marginal vs central). (See Presentation.) Clinical classification is as follows:
Class 1 - Mild (represents approximately 48% of all cases)

Class 2 - Moderate (represents approximately 27% of all cases)

Class 3 - Severe (represents approximately 24% of all cases)
A diagnosis of class 0 is made retrospectively by finding an organized blood clot or a depressed area on a delivered placenta.
Class 1 characteristics include the following:
No vaginal bleeding to mild vaginal bleeding

Normal maternal BP and heart rate
Class 2 characteristics include the following:
No vaginal bleeding to moderate vaginal bleeding

Moderate to severe uterine tenderness with possible tetanic contractions

Maternal tachycardia with orthostatic changes in BP and heart rate

Hypofibrinogenemia (ie, 50-250 mg/dL)
Class 3 characteristics include the following:
No vaginal bleeding to heavy vaginal bleeding

Very painful tetanic uterus

Hypofibrinogenemia (ie, < 150 mg/dL)
Go to Emergent Management of Abruptio Placentae for more information.
Etiology
The primary cause of placental abruption is usually unknown, but multiple risk factors have been identified. [2, 3, 4] However, only a few events have been closely linked to this condition.
Risk factors in abruptio placentae include the following:
Maternal hypertension - Most common cause of abruption, occurring in approximately 44% of all cases

Maternal trauma (eg, motor vehicle collision [MVC], assaults, falls) - Causes 1.5-9.4% of all cases

Sudden decompression of the uterus (eg, premature rupture of membranes, delivery of first twin)

Retroplacental fibromyoma

Retroplacental bleeding from needle puncture (ie, postamniocentesis)

Idiopathic (probable abnormalities of uterine blood vessels and decidua) [5]

Previous placental abruption

Prolonged rupture of membranes (24 h or longer)

Maternal age 35 years or older

Maternal age younger than 20 years

Elevated second trimester maternal serum alpha-fetoprotein (associated with up to a 10-fold increased risk of abruption)

Subchorionic hematoma [7]
Cigarette smoking/tobacco abuse
Cigarette smoking increases a patient's overall risk of placental abruption. [8]
A prospective cohort study showed the risk of abruption to be increased by 40% for each year of smoking prior to pregnancy.
In addition to the increased risk of abruption caused by tobacco abuse, the perinatal mortality rate of infants born to women who smoke and have an abruption is increased. [9, 10]
Cocaine (powder or crack) abuse
The hypertension and increased levels of catecholamines caused by cocaine abuse are thought to be responsible for a vasospasm in the uterine blood vessels that causes placental separation and abruption. However, this hypothesis has not been definitively proven.
The rate of abruption in patients who abuse cocaine has been reported to be approximately 13-35% and may be dose-dependent. [11]
Trauma
Abdominal trauma is a major risk factor for placental abruption.
Motor vehicle accidents often cause abdominal trauma. The lower seat belt should extend across the pelvis, not across the midabdomen, where the fetus is located.
Trauma may also be due to domestic abuse or assault, both of which are underreported.
Thrombophilia
While it was previously thought that patients who experienced early or severe abruptions were at increased risk of having a specific thrombophilia, this is no longer thought to be the case and screening of patients with an abruption is no longer recommended.
Epidemiology
The frequency of abruptio placentae in the United States is approximately 1%, and a severe abruption leading to fetal death occurs in 0.12% of pregnancies (1:830). Nearly 50% of placental abruptions occur at term gestations (defined as ≥37 weeks of gestation). [1]
Abruptio placentae also occurs in about 1% of all pregnancies throughout the world.
Race predilection
Placental abruption is more common in African American women than in white or Latin American women. However, whether this is the result of socioeconomic, genetic, or combined factors remains unclear.
Age predilection
An increased risk of placental abruption has been demonstrated in patients younger than 20 years and those older than 35 years.
Prognosis
If the bleeding continues, fetal and maternal distress may develop. Fetal and maternal death may occur if appropriate interventions are not undertaken.
The severity of fetal distress correlates with the degree of placental separation. In near-complete or complete abruption, fetal death is inevitable unless an immediate cesarian delivery is performed. [12]
If an abruption occurs, the risk of perinatal mortality is reported as 119 per 1,000 people in the United States, but this can depend on the extent of the abruption and the gestational age of the fetus. [13, 14] This rate is higher in patients with a significant smoking history. The estimated risk of stillbirth associated with chronic placental abruption is 4-7%. [15]
Currently, placental abruption is responsible for approximately 6% of maternal deaths.
A study by Elkafrawi et al, which examined risk factors for neonatal and maternal morbidity and mortality specifically in African American women, found that lower gestational age at delivery was the key factor associated with poor neonatal outcomes and that HELLP (hemolysis, elevated liver enzymes, low platelets) syndrome, cocaine use, and previous cesarean section were linked to adverse maternal outcomes. [16]
Morbidity associated with abruptio placentae
Fetal morbidity is caused by the insult of the abruption itself and by issues related to prematurity when early delivery is required to alleviate maternal or fetal distress. About 16% of placental abruptions result in neonatal anemia. [17]
Maternal morbidity may include the following:
Transfusion-related morbidity

Classic cesarean delivery with need for repeat cesarean deliveries
Maternal and fetal complications include issues related to (1) cesarean delivery, (2) hemorrhage/coagulopathy, and (3) prematurity.
Cesarean delivery
Cesarean delivery is often necessary if the patient is far from her delivery date or if significant fetal compromise develops. If significant placental separation is present, the fetal heart rate tracing typically shows evidence of fetal decelerations and even persistent fetal bradycardia.
A cesarean delivery may be complicated by infection, additional hemorrhage, the need for transfusion of blood products, injury of the maternal bowel or bladder, and/or hysterectomy for uncontrollable hemorrhage. In rare cases, death occurs.
Hemorrhage/coagulopathy
Disseminated intravascular coagulation (DIC) may occur as a sequela of placental abruption. Patients with a placental abruption are at higher risk of developing a coagulopathic state than those with placenta previa. The coagulopathy must be corrected to ensure adequate hemostasis in the case of a cesarean delivery.
Prematurity
Delivery is required in cases of severe abruption or when significant fetal or maternal distress occurs, even in the setting of profound prematurity. In some cases, immediate delivery is the only option, even before the administration of corticosteroid therapy in these premature infants. All other problems and complications associated with a premature infant are also possible.
Recurrence
The risk of recurrence of abruptio placentae is reportedly 4-12%. If the patient has abruptio placentae in 2 consecutive pregnancies, the risk of recurrence rises to 25%.
If the abruption is severe and results in the death of the fetus, the risk of a recurrent abruption and fetal demise is 7%.
Maternal cardiovascular mortality
A study by Pariente et al indicated that women who have placental abruption are at increased long-term risk for cardiovascular mortality. The study examined the cardiovascular mortality rate after 653 deliveries in patients with placental abruption, with follow-up occurring over more than 10 years. Although the investigators did not find a significant connection between placental abruption and later, long-term hospitalization for cardiovascular disease, they found a 13% cardiovascular mortality rate in the women who had suffered placental abruption, compared with a 2.5% rate in women who had not. [19]
Patient Education
Educate patients about reversible risk factors, especially smoking, before further pregnancies.
Question the patient regarding possible trauma from abuse.
What would you like to print?