Workup
Approach Considerations
The Centers for Disease Control and Prevention (CDC) recommends testing on self- or clinician-collected endocervical and vaginal swab specimens, as well as on urine specimens. [12] Nucleic acid amplification testing (NAAT) is the most sensitive and specific for gonorrheal and chlamydial infections, [1, 12] and it also allows for testing on the widest variety of specimen types. [12]
There is an association between a finding of leukorrhea (>10 white blood cells [WBCs] under microscopic high-power field [HPF] examination of vaginal fluid) and cervical chlamydial and gonococcal infection. [1] If the woman doesn't have inflammatory vaginitis, leukorrhea may be a sensitive indicator of cervical inflammation with a high negative predictive value. [1]
Note that although some experts believe the presence of elevated polymorphonuclear leukocytes on endocervical Gram stain is useful in diagnosing cervicitis, no standard criterion exists and it is generally unavailable in clinical settings. Moreover, the positive predictive value is low for C trachomatis and N gonorrhoeae.
Gonococcal cervical infection can be diagnosed from the presence of gram-negative intracellular diplococci (GNID) in endocervical fluid. However, only 50% of affected women have this finding. [1]
If genital ulcer disease is observed, exclude the diagnosis of syphilis by serologic testing or consider performing a biopsy. Adolescents presenting with urinary symptoms should be tested for sexually transmitted and urinary tract infections. Adequate follow up should be established to ensure timely treatment. [21]
In cases of suspected or documented treatment failure, perform culture and antimicrobial susceptibility testing.
Screening in high-risk populations
Women at risk for sexually transmitted infections (eg, women with multiple partners, sexually active women aged 25 years or younger [including adolescents], women with a history of previous sexually transmitted infections [STIs], and pregnant women) should be annually screened for gonorrhea and chlamydia. Such screening in this population has been proven to be cost effective.
HSV screening
General screening for herpes simplex virus (HSV) is not recommended, because no evidence demonstrates that serologic tests for HSV antibody improve health outcomes or symptoms or reduce disease transmission. However, in individuals whose sexual partners are known to be infected with HSV-2, screening can be offered.
Identification of Infectious Agents
Because the causes of vulvovaginitis and cervicitis overlap, the initial diagnostic approaches to the 2 conditions are identical. Assess the appearance of vaginal secretions, measure the pH of the secretions, and perform microscopy with isotonic sodium chloride solution and 10% potassium hydroxide (KOH) along with a whiff test.
T vaginalis
Infection with T vaginalis usually produces a thin, purulent, frothy, and malodorous discharge and can cause vulvar erythema and edema. The cervix can be erythematous and may have punctate hemorrhages (ie, colpitis macularis or "strawberry cervix").
The diagnosis is suggested if microscopy of cervical secretions reveals 10-30 leukocytes per oil immersion field. The diagnosis is confirmed by observation of the motile, flagellated protozoan on the normal saline wet mount under the microscope. However, note that trichomonads are observed under microscopy in only about 50% of cases (ie, low sensitivity); therefore, additional testing is recommended in symptomatic women with negative microscopy findings. [1]
On cytology, Trichomonas is a pear-shaped extracellular organism with a pale nucleus and red granules in its cytoplasm (see the following image).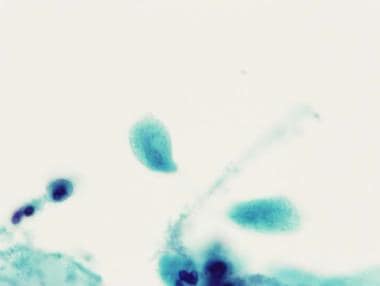 Pap stain, high power (under oil immersion), showing 2 pear-shaped structures representing Trichomonas. Small, pale nuclei and cytoplasmic granules are present.
Other tests for trichomoniasis in women include a nucleic acid probe test that evaluates for T vaginalis, Gardnerella vaginalis, and Candida albicans (available in about 45 min) in vaginal secretions [22] and a test that uses an immunochromatographic capillary flow dipstick technology (available in about 10 min). However, despite the tendency toward greater sensitivity in these tests compared with those requiring wet mount preparation, there is the potential for false positives, particularly in areas with a low prevalence of disease. [22]
Another sensitive and available technique for trichomoniasis is culture of vaginal secretions, generally used when the condition is suspected but not confirmed by microscopy. [22] Liquid-based testing has enhanced sensitivity but also has the potential for false-positive results requiring other confirmatory tests. Techniques modified from detection of gonorrhea and chlamydia to detect trichomoniasis include a modified polymerase chain reaction (PCR) assay and transcription-mediated amplification. [22]
C trachomatis and N gonorrhoeae
If cervicitis is suspected or mucopurulent cervicitis is observed, then cervical discharge is collected for culture and, optionally, for Gram stain. The microscopic finding of gram-negative intracellular diplococci has a sensitivity of 60% and a specificity of more than 90% for gonorrhea. The observation of more than 30 leukocytes per oil immersion field is highly suggestive of chlamydia and gonorrhea.
Although culture is still regarded as the criterion standard, many alternative techniques for the diagnosis of gonorrhea and chlamydia are available. They include enzyme immunoassay (EIA), direct fluorescent antibody [DFA] staining, DNA probe, and PCR assay.
Nucleic acid amplification tests (NAATs) are preferred over the other tests, because they are highly sensitive and specific for diagnosing gonococcal and chlamydial infections. [1] NAATs can be performed on vaginal, cervical, and urine samples; the presence of 10 or more WBCs in vaginal fluid in the absence of trichomoniasis suggests endocervical inflammation from gonococcal or chlamydial infection. [1]
The advantages of alternative techniques over conventional cultures include reduced turnaround time and lack of dependence on the complex and expensive systems needed to culture chlamydia and gonorrhea. Alternative techniques also possess the ability to detect both C trachomatis and N gonorrhoeae with the same sample. The main disadvantage of all the nonculture diagnostic techniques is the inability to assess microbial resistance. Nonetheless, many clinic- and hospital-based practices have already stopped using cultures and have switched to these alternative modalities.
Herpesvirus
If typical grouped vesicles mixed with small ulcers are observed, in addition to a typical history, the diagnosis of HSV infection can be made on clinical grounds alone. For atypical ulcers or first infection, attempt definitive diagnosis by culture.
However, although culture is considered the criterion standard for the diagnosis of herpes simplex, alternative techniques (eg, cytology, antigen detection, DNA probe) are also used. On cytology, HSV consists of cells with multinucleation, margination of chromatin, and nuclear molding. Nuclear inclusions may be appreciated (see the image below).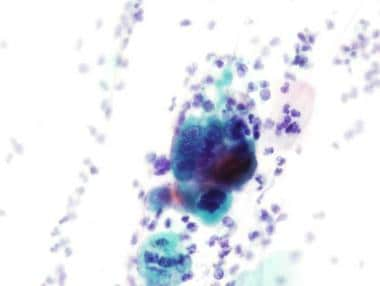 Papanicolaou (Pap) stain, high power, showing the Herpes simplex virus (HSV) infecting cells with multiple nuclei, intranuclear inclusions, and margination of the chromatin to the outer portion of the nuclei.
Serology currently has no role in the diagnosis of HSV infection, because of cross-reactivity between HSV types 1 and 2 in the assays. Newer, type-specific glycoprotein g1 and g2 serologic assays exist, but they are not yet for routine diagnostic use.
Human papillomavirus
If the patient has no gross lesions on the cervix and previously received adequate cervical cancer screening (negative cervical cytology within past 3 years or negative cytology and HPV testing within the past 5 years), no further testing for HPV is necessary. If the patient has not had screening for cervical cancer, she should be screened according to age-appropriate guidelines. The United States Preventive Services Task Force (USPSTF), American College of Obstetrics and Gynecology (ACOG), and American Cancer Society (ACS) recommend HPV testing combined with Pap testing every 5 years in women aged 30-65 years; however, the Pap test every 3 years alone for this age group is also acceptable. [18, 19, 20] For women aged 21-29 years, Pap test screening for cervical cancer is recommended every 3 years. However, screening is not recommended in women younger than 21 years. [18, 19, 23]
Women with abnormal cervical cancer screening results should be managed according to the American Society of Cytology and Cervical Pathology recommendations. [24, 25]
What would you like to print?