Workup
Approach Considerations
Complete evaluation starts with Papanicolaou (Pap) testing. Positive results should prompt colposcopy and biopsies with further workup of cervical intraepithelial neoplasia (CIN), including excisional procedures. If pathologic evaluation after loop electrosurgical excision or conization suggests invasive cancer with positive margins, the patient should be referred to a gynecologic oncologist. Patients with suspicious or grossly abnormal cervical lesions on physical examination should undergo biopsy regardless of the cytologic findings.
Once the diagnosis is established, a complete blood count (CBC) and serum chemistries for renal and hepatic function should be ordered to look for abnormalities from possible metastatic disease, and imaging studies should be performed for staging purposes. In the International Federation of Gynecology and Obstetrics (Federation Internationale de Gynecologie et d'Obstetrique [FIGO]) guidelines for staging, procedures are limited to the following [50] :
Cystoscopy and proctoscopy should be performed in patients with a bulky primary tumor to help rule out local invasion of the bladder and the colon. Barium enema studies can be used to evaluate extrinsic rectal compression from the cervical mass.
In the United States, more complex radiologic imaging studies are often done to guide the choice of therapeutic options. These may include computed tomography (CT), magnetic resonance imaging (MRI), and positron-emission tomography (PET), as well as surgical staging. (See also Cervical Cancer Imaging.)
Screening Recommendations
In 2014, the American College of Physicians (ACP) issued a new clinical guideline that does not recommend routine screening pelvic examinations in asymptomatic, nonpregnant adult women. [51, 52] The expert panel cited not only a lack of strong evidence to support such screening but also the potential psychological/physical harms of false-positive results. [51, 52, 53] Moreover, it noted that screening pelvic examinations have a low diagnostic accuracy for detecting ovarian cancer or bacterial vaginosis. [51] The ACP recommends that screening examinations for cervical cancer should be limited to visual inspection of the cervix and to the use of cervical swabs for human papillomavirus. [51]
Although the American College of Obstetricians and Gynecologists (ACOG) recommends routine annual pelvic examination in all women aged 21 years and older, [1, 2] it recognizes that there are no data to support such examinations in low-risk asymptomatic patients. [52, 53]
Previously, the American Cancer Society (ACS), the American Society for Colposcopy and Cervical Pathology (ASCCP), and the American Society for Clinical Pathology (ASCP) issued joint guidelines for cervical cancer screening. [3] In 2012, the US Preventive Services Task Force (USPSTF) issued updated guidelines whose recommendations are consistent with those of the ACS, ASCCP, and ASCP. [4]
Screening recommendations for specific patient age groups are as follows [1, 2, 3, 4] :
< 25 years – No screening recommended

21-29 years – Cytology (Pap smear) alone every 3 years

30-65 years – Human papillomavirus (HPV) and cytology cotesting every 5 years (preferred) or cytology alone every 3 years (acceptable)

>65 years – No screening recommended if adequate prior screening has been negative and high risk is not present
In January 2016, the ACOG issued screening guidelines following 2015 interim guidelines from the American Society for Colposcopy and Cervical Pathology and the Society of Gynecologic Oncology. [54, 2] The new guidelines are largely consistent with the above recommendations. [2]
The USPSTF updated their draft recommendations in 2017 to recommend high-risk HPV testing alone every 5 years as an alternative to cytology screening alone every 3 years in women 30 years of age and older; cotesting is no longer recommended. [55]
In March 2013, the American Society for Colposcopy and Cervical Pathology (ASCCP) issued updated guidelines for managing women with abnormal cervical cancer screening results and diagnosed cancer precursors. The Updated Consensus Guidelines for Managing Abnormal Cervical Cancer Screening Tests and Cancer Precursors include the following [56, 57] :
Guidance for the management of discordant co-tests: If results of either Pap smear or HPV testing are positive, but not both, co-testing is integrated into follow-up care. Colposcopy, HPV DNA typing, or both may be indicated.

Routine screening: A recommendation for a return to "routine" screening in women treated for cervical cancer is specified.

Adolescent screening: Screening is no longer recommended for adolescents. Women aged 21-24 years are at low risk for invasive cervical cancer; however, they are at high risk for HPV exposure and associated lesions. The recommended workup varies according to findings of atypical squamous cells of undetermined significance or low-grade or high-grade squamous intraepithelial lesion; this may include colposcopy.

Neoplasia guidance: The guidelines address whether cervical intraepithelial neoplasia grade 1 (CIN1) on endocervical canal curettage (ECC) should be treated as positive ECC or CIN1.

Guidance for the management of women with unsatisfactory cytologic findings and specimens that are missing endocervical or transformation zone components: Colposcopy may be required for women with positive HPV results or with repeated unsatisfactory cytologic findings.
Current US guidelines advise against using HPV testing to screen for cervical cancer in women younger than 30 years; the ACS advises that for screening in women 30-65 years of age, HPV testing alone is not currently recommended for most clinical settings in the US. Annual screening is not recommended at any age or with any method.
Women who have had a total hysterectomy may stop undergoing cervical cancer screening. Exceptions are as follows:
Women who had a hysterectomy without removal of the cervix

Women who have had a CIN grade 2 or 3 lesion treated in the past 20 years

Women who have had cervical carcinoma at any time
Women in whom co-testing shows a negative Pap smear but a positive HPV test should have 12-month follow-up cotesting. Women with atypical squamous cells of undetermined significance (ASCUS) on Pap smear but a negative HPV test can be rescreened with cotesting in 5 years or with cytology alone in 3 years. [3]
A study by Castle et al that included 990,013 women who had 1 or more HPV and cytology cotests in an 11-year period reported that five-year cervical intraepithelial neoplasia grade 3, adenocarcinoma in situ, and cervical cancer risks decreased after each successive negative co-test screening round (0.098%, 0.052%, and 0.035%). [58]
The ACOG also issued the following recommendations on cervical cancer screening in HIV-positive women [1, 2] :
HIV-positive women younger than 30 yr can undergo cytology testing once every 3 yr instead of annually if they have had 3 consecutive normal annual cytology tests; ACOG recommends against cotesting for women younger than 30 yr

Women with HIV who are aged 30 yr or older can undergo either testing with cytology alone or cotesting; those with three consecutive normal annual cytology tests can then be screened annually, and those with one normal cotest result can also be screened annually

ACOG recommends against starting screening before age 21 yr unless a woman is HIV-positive, regardless of the age of onset of sexual intercourse, as only 0.1% of cases of cervical cancer occur before age 20 yr, and evidence that screening is effective in this age group is lacking
Papanicolaou Testing
For many years, the Pap test has been the standard method for cervical cancer screening. Retrospective data have shown that screening with a Pap test reduces the incidence of cervical cancer by 60-90% and the death rate by 90%.
Because of false negatives, the best that a Pap test can do is to reduce the incidence of cervical cancer to 2-3 per 100,000 women. False-negative tests mostly result from sampling error, which can be reduced by ensuring that adequate material is taken from both the endocervical canal and the ectocervix. Smears without endocervical or metaplastic cells should be repeated. (See Pap Smear.)
The limitations of the conventional Pap test include limited sensitivity (51%) and a significant proportion of inadequate specimens. In addition, accurate interpretation of conventional Pap tests is often compromised by the presence of artifacts (eg, blood, mucus, obscuring inflammation, scant cellular material, or air-drying artifact).
Newer liquid-based Pap test technologies have become available. In a randomized, controlled trial from the Netherlands that compared liquid-based and conventional cervical cytology, liquid-based cytology reduced the proportion of unsatisfactory specimens from 1.1% to 0.3% and eliminated obscuring blood, poor fixation, cytolysis, and insufficient spreading of cells as causes of unsatisfactory results. [59]
With liquid-based cytology, however, older women (primarily those 55-60 years of age) were more likely to have a sample called unsatisfactory. Nevertheless, 18-month follow-up showed that women with unsatisfactory results by either method were not at higher risk for cervical abnormalities. [59]
ThinPrep Papanicolaou test
Test samples for the ThinPrep Pap test are collected the same way as those for the conventional Pap test. However, the specimen is placed in a preservative solution rather than on a slide. An automated processor prepares the sample and makes a uniform slide for review. Mucus and blood are removed in the process. The ThinPrep Papanicolaou test was approved in 1996 by the US Food and Drug Administration (FDA) as an alternative to the traditional conventional smear.
Human Papillomavirus Testing
The Hybrid Capture II assay for HPV was approved by the FDA in 2003 as a new approach for cervical cancer. This test is useful for interpreting equivocal results from a Pap test. If a woman has a Pap test result showing ASCUS but a subsequent HPV test is negative, she can be rescreened with Pap testing in 3 years; if the HPV test is positive, then additional workup with a colposcopy is indicated.
The ACS guidelines favor using HPV testing with cytology in women aged 30 years and older. If both tests are negative, then the next Pap test can be delayed for 5 years.
Imaging Studies for Metastasis
A routine chest radiograph is obtained to help rule out pulmonary metastasis. Chest radiography may be considered optional for disease that is stage IB1 or lower. [6]
A CT scan of the abdomen and pelvis is performed to look for metastasis in the liver, lymph nodes, or other organs (see the image below) and to help rule out hydronephrosis or hydroureter. MRI or positron-emission tomography (PET) scanning is an alternative to CT scanning; in fact, PET scanning is now recommended for patients with stage IB2 disease or higher. [6]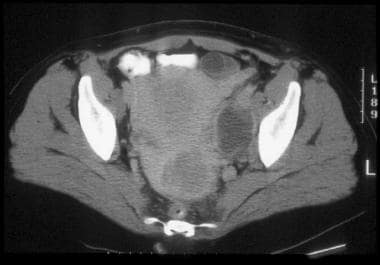 CT scan of cervical cell carcinoma demonstrates markedly enlarged lymph node at left pelvic sidewall. This is consistent with pelvic lymph node metastasis, which is indicative of stage IIIB disease. Cystic consistency is not unusual for metastatic cervical carcinoma. Primary tumor is well depicted as hypoattenuating circumscribed mass. Cyst is present in anteriorly located left ovary.
Magnetic resonance whole-body diffusion-weighted imaging scanning has been used to distinguish uterine cervical carcinoma from normal uterine cervix. This technique can also differentiate metastatic nodes from benign nodes. [60] (See also Cervical Cancer Imaging.)
Surgical Staging
Clinical staging protocols can fail to demonstrate pelvic and aortic lymph node involvement in 20-50% and 6-30% of patients, respectively. For that reason, surgical staging sometimes is recommended.
Pretreatment surgical staging is the most accurate method of determining the extent of disease. However, there is little evidence to suggest that routine surgical staging yields any significant improvement in overall survival. Therefore, the decision whether to perform pretreatment surgical staging should be made on an individual basis after a thorough nonsurgical workup, including fine-needle aspiration of lymph nodes, has failed to demonstrate metastatic disease.
Histologic Findings
Precancerous lesions of the cervix usually are detected via a Pap test. The Pap test classification system has evolved over the years. Standardized Pap test reporting emerged from a 1988 workshop sponsored by the National Cancer Institute. Currently, cervical cytology results are reported according to the 2001 Bethesda System. [61]
2001 Bethesda System for reporting cervical cytologic diagnoses
Specimen adequacy may be the single most important quality assurance component of the system. Specimen classifications are as follows:
Satisfactory for evaluation (note presence/absence of endocervical/transformation zone component)

Unsatisfactory for evaluation (specify reason)

Specimen rejected/not processed (specify reason)

Specimen processed and examined, but unsatisfactory for evaluation of epithelial abnormality because of (specify reason)
General categorization (optional) is as follows:
Negative for intraepithelial lesion or malignancy

Epithelial cell abnormality
Possible interpretations or results are as follows:
Negative for intraepithelial lesion or malignancy

Observed organisms (eg, Trichomonas, Candida, bacteria) and cellular changes consistent with herpes simplex virus are reported

Reporting other nonneoplastic findings (ie, inflammation and atrophy) is optional

Epithelial cell abnormalities

Atypical squamous cells (ASC)

ASC where a high-grade squamous intraepithelial lesion (HSIL) cannot be excluded (ASC-H)

Low-grade squamous intraepithelial lesion (LSIL)

Encompassing HPV, mild dysplasia, and CIN 1 (see the first image below)

Encompassing moderate and severe dysplasia, carcinoma in situ, CIN 2, and CIN 3 (see the second image below)

Squamous cell carcinoma (see the third image below)

Atypical glandular cells (AGC) (specify endocervical, endometrial, or not otherwise specified)

AGC favoring neoplastic (specify endocervical or not otherwise specified)

Endocervical adenocarcinoma in situ (AIS)

Other (list not comprehensive)
Automated review and ancillary testing are included as appropriate. Educational notes and suggestions are optional.
The histology of cervical malignancy is predominantly that of squamous cell carcinoma, which represents approximately 80% of cases, with adenocarcinomas representing almost 20%. Less common histologies include small cell carcinoma, melanoma, and lymphoma.
A study by Wang et al reported that atypical glandular cells found at cervical screening is associated with increased risk of cervical cancer for up to 15 years, particularly for cervical adenocarcinoma and women with atypical glandular cells at age 30-39. [62]
FIGO and TNM Staging
There are 2 major staging systems that are frequently used in cervical cancer (see Table 2, below and Cervical Cancer Staging):
The FIGO system, developed in collaboration with the World Health Organization (WHO) [50]

The TNM system, developed by the International Union Against Cancer (UICC) and the American Joint Committee on Cancer (AJCC) [63]
Table 2. Cervical Cancer Staging: Primary Tumor (T) (Open Table in a new window)
| | | |
| --- | --- | --- |
| TNM Stage | FIGO Stage | |
| TX | - | Primary tumor cannot be assessed |
| T0 | - | No evidence of primary tumor |
| Tis | 0 | Carcinoma in situ |
| T1 | I | Cervical carcinoma confined to uterus (extension to corpus should be disregarded) |
| T1a | IA | Invasive carcinoma diagnosed only by microscopy. All macroscopically visible lesions—even with superficial invasion—are T1b/1B. Stromal invasion with a maximal depth of 5.0 mm measured from the base of the epithelium and a horizontal spread of 7.0 mm or less. Vascular space involvement, venous or lymphatic, does not affect classification. |
| T1a1 | IA1 | Measured stromal invasion 3 mm or less in depth and 7 mm or less in lateral spread |
| T1a2 | IA2 | Measured stromal invasion more than 3 mm but not more than 5 mm with a horizontal spread 7 mm or less |
| T1b | IB | Clinically visible lesion confined to the cervix or microscopic lesion greater than IA2 |
| T1b1 | IB1 | Clinically visible lesion 4 cm or less in greatest dimension |
| | IB2 | Clinically visible lesion more than 4 cm |
| T2 | II | Cervical carcinoma extends beyond the cervix but not to the pelvic sidewall or to the lower third of vagina |
| T2a | IIA | Tumor without parametrial invasion |
| T2b | IIB | Tumor with parametrial invasion |
| T3 | III | Tumor extends to the pelvic wall and/or involves the lower third of the vagina and/or causes hydronephrosis or nonfunctioning kidney |
| T3a | IIIA | Tumor involves lower third of vagina; no extension to pelvic sidewall |
| T3b | IIIB | Tumor extends to pelvic sidewall and/or causes hydronephrosis or nonfunctioning kidney |
| - | IV | Cervical carcinoma has extended beyond the true pelvis or has involved (biopsy proven) the bladder mucosa or rectal mucosa. Bullous edema does not qualify as a criteria for stage IV disease. |
| T4 | IVA | Spread to mucosa of adjacent organs (bladder, rectum, or both) |
| M1 | IVB | Distant metastasis |
In the UICC/AJCC system, regional lymph node (N) involvement—including paracervical, parametrial, hypogastric (obturator), common, internal and external iliac, and presacral and sacral nodes—is graded as follows.
NX: Regional lymph nodes cannot be assessed

N0: No regional lymph node metastasis

N1: Regional lymph node metastasis
The T and N grades are combined with the grade for distant metastasis (M) to yield the staging for the cancer (see Table 3, below).
Table 3. UICC/AJCC Staging for Cervical Cancer (Open Table in a new window)
| | | | |
| --- | --- | --- | --- |
| Stage | Tumor | Node | Metastasis |
| 0 | Tis | N0 | M0 |
| IA1 | T1a1 | N0 | M0 |
| IA2 | T1a2 | N0 | M0 |
| IB1 | T1b1 | N0 | M0 |
| IIA | T2a | N0 | M0 |
| IIB | T2b | N0 | M0 |
| IIIA | T3a | N0 | M0 |
| IIIB | T1 | N1 | M0 |
| - | T2 | N1 | M0 |
| - | T3a | N1 | M0 |
| - | T3b | Any N | M0 |
| IVA | T4 | Any N | M0 |
| IVB | Any T | Any N | M1 |
What would you like to print?