Workup
Laboratory Studies
Although no laboratory tests aid in the diagnosis of uterine cancer, CA-125 has been used in surveillance of advanced or high grade endometrial cancer. In those patients who have increased CA-125 values pretreatment, this test might prove useful in post treatment surveillance. Elevated preoperative levels of CA-125 may also be useful in predicting who might need comprehensive surgical staging or cytoreduction.
Imaging Studies
Because performance of an endometrial biopsy in the office is relatively easy and cost-effective, most physicians choose to perform this test in lieu of ultrasonography. Ultrasonography, nonetheless, helps exclude other pelvic pathology that might contribute to postmenopausal (PMP) bleeding. Endometrial stripe thickness also helps in determining which women with negative findings on office endometrial biopsy samples should have a formal curettage.
If cancer is diagnosed, appropriate laboratory and radiologic studies can be obtained based on individual risk factors. Chest imaging should be obtained in all patients to rule out lung metastases prior to treatment. Chest radiography is adequate for grade 1, clinically early-stage cancers. A CT of the chest, abdomen, and pelvis may be helpful for high-grade cancers or when examination findings or symptoms suggest advanced-stage disease. CT scan and/or MRI are typically not necessary in the workup of apparent early-stage endometrial cancer because the first-line therapy for the vast majority of these patients includes exploratory surgery. [14] Local extension and metastatic disease, requiring comprehensive staging, can be predicted using clinical evidence, including obvious cervical disease and high tumor grade on the endometrial biopsy specimen. We recommend CT imaging of chest, abdomen, and pelvis for all sarcomas due to high risk of distant metastases.
Other Tests
Currently, no screening regimens are recommended for asymptomatic women, including those who take tamoxifen or have hereditary nonpolyposis colorectal cancer (HNPCC) syndrome. The early detection, presenting symptoms, and higher survival rate make it unlikely that screening (eg, endometrial biopsy or transvaginal ultrasonography/endometrial stripe) can have a successful impact on earlier detection and improved survival rates.
Diagnostic Procedures
A workup should be completed for any postmenopausal vaginal discharge or bleeding to rule out hyperplasia or cancer. Additionally, any woman older than 35 years and any woman younger than 35 years with risk factors for endometrial cancer, as outlined below, should have a workup for any irregular, heavy, or inter-menstrual bleeding.
Diagnosis of uterine cancer rests on tissue pathology. The easiest way is to obtain tissue by performing an endometrial biopsy in the office. The use of office biopsies has proven cost-effective by reducing the number of women who need a curettage under general anesthesia. If the patient's cervix is very stenotic, an alternative method of initial workup can be ultrasonographic assessment of the endometrial stripe. If the stripe is ≤4 mm, the risk of endometrial pathology is < 5.5%. [15] However if the stripe is >4 mm, or bleeding is persistent, tissue biopsy is still required. Up to 17% of type II endometrial cancers will have a thin stripe as these cancers develop in a background of atrophy so tissue sampling should be pursued. [16]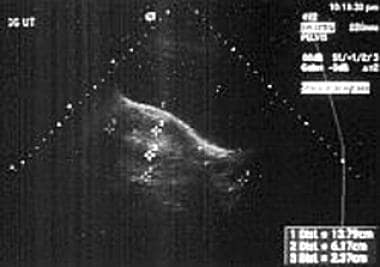 Transvaginal ultrasonography demonstrating an enlarged endometrial stripe (EMS = 2.4 cm).
The technique of dilatation and curettage (D&C) remains an important option for the diagnosis of endometrial cancer. If the office biopsy findings are negative, inadequate, or not possible; if the endometrial thickness by ultrasonography is greater than 4 mm; or if a high degree of suspicion exists, further thorough investigation with diagnostic hysteroscopy with D&C for site-directed biopsies is warranted. Concern exists regarding transtubal intraperitoneal expulsion of cancer cells, which can lead to controversies in treatment and prognosis.
Atypical glandular cells (AGC) reported on Papanicolaou test result is associated with cancer 3-17% of the time. The cancers can be of the cervix, endometrium, ovary, or fallopian tube. Therefore, along with cervical assessment, endometrial biopsy is crucial for women older than 35 years, as well as younger women at risk for endometrial pathology. Similarly, the presence of any endometrial cells in a postmenopausal woman's Papanicolaou test result, any atypical endometrial cells, or any endometrial cells out of sync with menses in women older than 40 years requires endometrial biopsy to rule out pathology. [17]
Uterine sarcomas are difficult to diagnose by endometrial sampling, imaging, or clinical history. The diagnosis is not made until pathologic examination of myomectomy or hysterectomy specimen. This has lead to the current controversies regarding morcellation of presumed benign uteri due to risk of upstaging and worsening outcome for unsuspected sarcomas. [12]
Staging
Knowledge of the surgicopathologic, as well as clinical staging of cancer of the uterine corpus [18] is crucial in developing an appropriate management plan for endometrial carcinoma and uterine sarcomas. Endometrial cancer staging involves hysterectomy, bilateral salpingo-oophorectomy, and bilateral pelvic lymphadenectomy. Para-aortic lymphadenectomy is recommended with deep invasion, clinically advanced stage, and high grade disease. Complete staging of uterine papillary serous carcinoma, clear cell carcinoma, and carcinosarcoma requires upper abdominal exploration, omental biopsy, and para-aortic lymphadenectomy.
The revised staging classification from 2009 is described below (see Pathophysiology for a discussion of grading classification):
Table 2. Revised 2009 FIGO Staging of Cancer of the Uterine Corpus (Open Table in a new window)
Stage

Characteristics

Stage I (grade 1, 2, or 3)

IA

Limited to the endometrium or Invasion of less than one half of the myometrium

IB

Invasion of one half or more than one half of the myometrium

Stage II (grade 1, 2, or 3)

II

Cervical stromal invasion

Stage III (grade 1, 2, or 3)

IIIA

Invades serosa and/or adnexa

IIIB

Vaginal or parametrial metastases

IIIC1

Metastases to pelvic lymph nodes

IIIC2
Metastases to para-aortic lymph nodes

Stage IV (grade 1, 2, or 3)

IVA

Invasion of bladder and/or bowel mucosa

IVB

Distant metastases, including intra-abdominal metastases and/or inguinal lymph nodes
What would you like to print?