Workup
Laboratory Studies
The decision to perform laboratory or imaging evaluations in patients with chronic pelvic pain (CPP) is based on the need for confirmation of the diagnosis and to help rule out other potentially life-threatening illnesses. Certain investigations sometimes are needed to provide appropriate and safe medical or surgical treatment.
CBC count and sedimentation rate
These tests provide nonspecific findings, but the results can be sensitive indicators of inflammation or infection and, occasionally, malignancy.
Serum drug screen
Perform this if any suggestion of prescription or street drug abuse is present.
Urine test
Urinalysis and urine culture are relatively inexpensive and noninvasive and should be performed when necessary.
If hematuria is present, carefully evaluate the condition with a history, physical examination, urine culture, urine cytology, cystourethroscopy, and intravenous pyelography or CT scan.
If malignancy is suggested, perform urine cytology in addition to urinalysis and culture, especially if the patient smokes.
Sexually transmitted disease testing
Testing for sexually transmitted diseases in women with chronic pelvic pain includes cervical cultures or smears, syphilis serology (rapid plasma reagent, microhemagglutination-Treponema pallidum), hepatitis B screening, chlamydial polymerase chain reaction, and HIV testing.
Other tests used to help rule out specific infections may include vaginal cultures, vaginal wet preparations, vaginal pH, and urine analysis and culture.
Hormone assays
Follicle-stimulating hormone level, estradiol level, and gonadotropin-releasing hormone agonist stimulation testing can be helpful in cases of ovarian remnant syndrome.
Thyroid-stimulating hormone testing
This is used for evaluation of hypothyroidism, especially in a patient with depression.
Perform stool guaiac testing in patients with gastrointestinal symptoms and in patients older than 50 years. Testing stool specimens for ova and parasites also may be helpful in selected cases.
Imaging Studies
MRI
MRI is a noninvasive tool that can provide excellent structural information without any radiation harm. Intravenous contrast can be used when inflammation, infection, or malignancy is suggested.
CT scanning
This is useful in patients with pelvic masses and sometimes is helpful in differentiating an ovarian mass from a uterine mass, but it is more expensive than sonography.
Ultrasonography
This is a noninvasive diagnostic tool and could be helpful in many patients with chronic pelvic pain. It is commonly used to help identify pelvic masses or cysts and their origin, pelvic varicosities, and hernias (spigelian hernias).
Transabdominal longitudinal and transverse views of the female pelvis using ultrasonography are shown in the images below.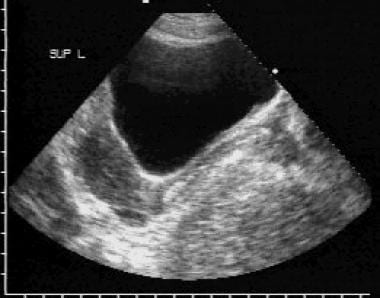 Transabdominal longitudinal view of the female pelvis.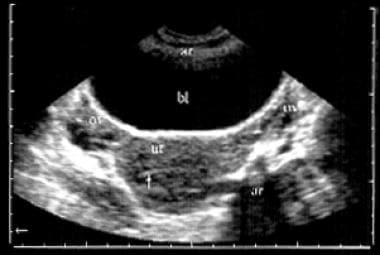 Transabdominal transverse view of the female pelvis: The bladder is rectangular. The ovaries are seen bilaterally in the adnexa.
Plain film radiography
Obtaining chest and spine radiographs may be useful in fractures, infections, tumors, and other structural abnormalities.
Flat and upright abdominal radiographs may be obtained to help rule out intestinal obstruction and pelvic infection (eg, tuberculosis).
Hysterosalpingography
Hysterosalpingography (HSG) is not a first-choice diagnostic tool for endometriosis; however, it may be useful in patients with infiltrative endometriosis of the uterosacral ligaments. Adolescents with endometriosis also can be evaluated for obstructive anomalies.
HSG may be useful in cases suggestive of endometrial polyps, Asherman syndrome, and adenomyosis.
Barium enema radiography, colonoscopy, sigmoidoscopy, upper gastrointestinal series, and anorectal manometry
These can be used to evaluate a GI etiology of chronic pain. Anorectal balloon manometry can be used to assess colonic transit time.
Vaginal sonography
This is useful in patients with possible pelvic congestion syndrome. Transuterine venography commonly is recommended.
Voiding cystourethrography
When interstitial cystitis is suggested, consider cystoscopy with hydrodistention.
Double-balloon cystourethrography
This is a more sensitive diagnostic test than voiding cystourethrography for diagnosing urethral diverticula in women. [13]
Herniography (perineal hernia herniography) and bone scanning are other imaging modalities that can be used to investigate causes of chronic pelvic pain.
Other Tests
Endoscopic procedures used commonly in the evaluation and treatment of patients with chronic pelvic pain include laparoscopy, cystourethroscopy, hysteroscopy, sigmoidoscopy, and colonoscopy.
Laparoscopy can be used as a diagnostic tool in patients with chronic pelvic pain, as follows:
More than 40% of laparoscopies are performed for the diagnosis of chronic pelvic pain.

More then 60% of women with chronic pelvic pain have at least one condition detectable by laparoscopy.

Most commonly, diagnoses made via laparoscopy include endometriosis, pelvic adhesions, and chronic pelvic inflammatory disease. Other diagnoses include ovarian cysts, hernias, pelvic congestion syndrome, ovarian remnant syndrome, ovarian retention syndrome, postoperative peritoneal cysts, and endosalpingiosis.
Urodynamic testing can be performed if chronic urethral syndrome or interstitial cystitis is suggested in a patient with chronic pelvic pain.
Nerve-conducting velocities and needle-electromyographic studies are used to help evaluate compression or entrapment neuropathy and pelvic floor function.
Cancer antigen 125 (CA-125), used as a diagnostic test, has low sensitivity and specificity. It may be elevated with diseases associated with pelvic pain, such as endometriosis or leiomyomata. CA-125 levels also are elevated with malignancy (eg, ovarian, endometrial, colon, or breast cancer), pelvic inflammatory disease, pregnancy, and menses. [14]
However, although elevated, levels of serum CA-125 do not appear to be a significant predictor of malignant transformation of endometriosis. Significant predictive factors for the presence of malignant transformation of endometriosis appear to include age older than 49 years and cysts that are multilocular and have solid components. [15]
Perform electroencephalography if the rare disorder of abdominal epilepsy is suggested.
What would you like to print?