Treatment
Surgical Therapy
General techniques for laparoscopy are described as follows:
Primary trocar placement
Numerous techniques exist for creating a pneumoperitoneum and placing a laparoscopic port into the abdomen. Each is purported to offer a unique advantage. Five common approaches are 1) Veress needle insertion followed by a primary trocar insertion, 2) direct trocar insertion, 3) open laparoscopy, 4) expanding-access cannulas, and 5) left upper quadrant insertion. Physician experience significantly contributes to the safety of the individual technique. Both reusable and disposable instruments are available. The choice of instrumentation should take into account the condition of the available reusable equipment and the cost of the disposable equipment.
Veress needle and primary trocar insertion
When the Veress needle is placed through the umbilicus and into the peritoneal cavity, avoidance of both the retroperitoneal vessels and the intestinal tract is of paramount importance. The patient must be in the complete horizontal position (not Trendelenburg), and the patient's body habitus should be carefully assessed, as shown below.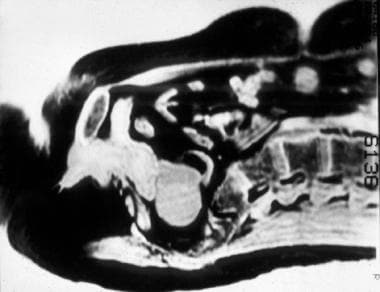 Gynecologic laparoscopy. Anterior abdominal wall anatomy of a patient who is obese, as seen on magnetic resonance imaging. Image courtesy W.W. Hurd, MD.
The abdominal wall is elevated by manually grasping the skin and subcutaneous tissue to maximize the distance between the umbilicus and the retroperitoneal vessels. An alternative method for elevation is to place penetrating towel clips at the base of the umbilicus.
In persons of average weight, the lower anterior abdominal wall is grasped and elevated and the Veress needle is inserted toward the hollow of the sacrum at a 45° angle. [26] See the image below.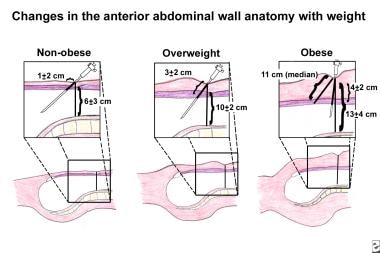 Gynecologic laparoscopy. Changes in the anterior abdominal wall anatomy with weight for patients in 3 groups, based on body mass index (BMI) measurements: nonobese (BMI 2), overweight (BMI 25-30 kg/m2), and obese (BMI >30 kg/m2). An 11.5-cm Veress needle is superimposed on each view for comparison.
In a very thin patient, the vital structures are much closer to the abdominal wall and the margin for error is reduced, with sometimes as little as 4 cm between the skin and large retroperitoneal vessels. In patients who are obese (BMI of 30 kg/m2 or more), a more vertical approach, approximately 70-80°, is required because of the increased thickness of the abdominal wall. Without the vertical insertion, the trocar would not be long enough to penetrate the layers and enter the peritoneal cavity.
Correct placement of the Veress needle may be confirmed by a number of methods, such as the hanging drop test, injection and aspiration of fluid through the Veress needle, or measurement of intra-abdominal pressure with carbon dioxide insufflation. After a pneumoperitoneum has been achieved with a Veress needle, the primary trocar with sleeve (most commonly 5 mm or 10 mm in diameter) is placed at a similar angle to the Veress needle.
Direct trocar insertion
Direct trocar insertion refers to inserting the primary trocar without having previously inserted the Veress needle and insufflating the abdomen with carbon dioxide. The primary trocar is inserted in a manner similar to the Veress needle. The sleeve from the trocar is then used to insufflate the abdomen with carbon dioxide. The advantage of this is that it avoids extraperitoneal insufflation. Although several studies suggest that the safety of this technique is equal to the Veress needle technique, large population-based reports would be needed to identify even a small difference in complications because of the low incidence of complications; for example, the rate of complications for bowel injury is between 0.06 and 0.09%. [24]
Open laparoscopy
Open laparoscopy involves incising the anterior rectus fascia and bluntly entering the peritoneal cavity with a Kelly or Crile clamp. A blunt-tipped trocar with sleeve is then placed into the peritoneal cavity. For the Hasson technique, sutures used on the fascia hold the sleeve in place and anchor the sleeve to help maintain a pneumoperitoneum. Because this method almost completely avoids the risk of retroperitoneal vessel injury and may decrease the risk of bowel injury, some laparoscopists use this approach exclusively. Many laparoscopists use this method for patients with risk of abdominal adhesions. [32]
Expanding-access cannulas
A relatively new technique for laparoscopic trocar placement is the use of expanding-access cannulas. This technique involves the placement of a Veress needle for insufflation. After the peritoneal cavity is insufflated, the Veress needle is removed and reinserted after it is placed into an expandable sleeve. Once the needle and sleeve are placed into the peritoneal cavity, the needle is removed and the sleeve is dilated to 5-10 mm in diameter to accommodate a laparoscopic lens. Although this technique has been reported in several hundred cases, the relative risk compared to older techniques remains to be established.
Left upper quadrant insertion
Left upper quadrant insertion of the primary cannula is especially useful for patients with large pelvic masses, patients with suspected abdominal wall adhesions, or in patients in the second trimester of pregnancy. Relative contraindications include ascites, hepatomegaly, and splenomegaly. After induction of general anesthesia with the patient in a horizontal supine position, a gastric drainage tube is placed to empty the stomach.
The skin incision is made 3 cm below the costal margin (4 cm for thin patients with BMI < 20 kg/m2) in the left midclavicular line. The abdominal skin is tented anteriorly and a 5-mm cannula is advanced at a 45° angle from the horizontal directly into the peritoneal cavity in the sagittal plane. After proper placement is confirmed with the laparoscope, pneumoperitoneum is obtained.
Placement of secondary trocars
Secondary trocars are used for most gynecologic laparoscopy procedures, with the exception of some diagnostic laparoscopies. After identifying the epigastric vessels by transillumination and intraperitoneal observation, 1-3 secondary trocars are placed, depending on the procedure and the number of trocars required for the operation.
The trocars are placed either in the midline, 3 cm above the pubic symphysis, or laterally, approximately 8 cm from the midline and 8 cm above the pubic symphysis to avoid the inferior epigastric vessels. [27] Lateral trocars should not be placed 5 cm from the midline and approximately 3 cm above the symphysis as some have suggested because this correlates very closely to the average location of the inferior epigastric artery, which is 5.5 cm from the midline at this level. See the image below.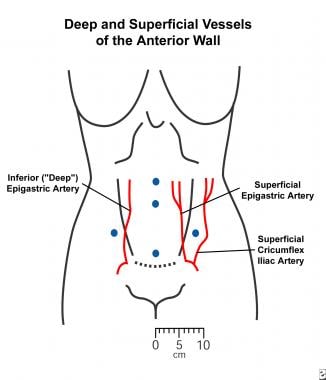 Gynecologic laparoscopy. Location of deep and superficial vessels of the anterior abdominal wall. Blue circles indicate recommended locations for trocar placement.
Insertion of the trocar and removal of the sleeves are performed under direct laparoscopic visualization while observing for signs of hemorrhage. If the trocar is larger than 8 mm, the fascia is closed with suture after removal of the sleeve to reduce risk of hernia.
Expanding-access cannulas for secondary trocar placement
The relatively new expanding-access cannula technique described above was initially developed for placement of secondary laparoscopic trocars. This technique involves the placement of a Veress needle in an expandable sleeve through the abdominal wall at the desired site under direct visualization. Once the needle and sleeve are placed, the needle is removed and the sleeve is dilated to 10-12 mm in diameter to accommodate laparoscopic instruments. Because the risk of abdominal wall vessel injury appears to be related to the size of the trocar used, this technique appears to be effective in reducing such injuries.
Power instruments
Monopolar electrosurgery was the first methodology used for laparoscopic coagulation. In the past 20 years, other methodologies have been developed to minimize the risk of inadvertent injury to adjacent tissue, particularly the bowel. Bipolar electrosurgery offers a greater margin of safety because damage is limited by thermal spread rather than by electrical current; however, cutting ability is reduced. The laser offers a precise, rapid, and accurate method of thermally destroying the tissue, although hemostatic effects are less and the cost is more. Scissors, hook, and ball accessories are available. Similar to laser, decreased hemostasis and increased cost must be considered.
Newer energy sources are available that decrease lateral thermal spread of energy while providing hemostasis and the ability to cut tissue. Among these newer instruments are the Harmonic Scalpel (Ethicon Endo-Surgery, Inc, Cincinnati, Ohio), and impedance-controlled bipolar devices. [11] The Harmonic Scalpel uses vibration at the rate of 55,000 cycles per second as an energy source to break hydrogen bonds in tissue, resulting in cutting or coaptation of vessels. It is available as a 5-mm rounded scalpel with a blunt or hooked edge or as a 5- to 10-mm shear or Harmonic ACE, which can also be used to grasp tissue. The impedance-controlled devices include Enseal (Surgrx), Plasma Kinetic dissection forceps (Gyrus Medical), and LigaSure (Valleylab). They use pressure and pulsed current to seal vessels with minimal lateral thermal spread.
Techniques for large vessel occlusion
As laparoscopy has become more prominent in gynecology, techniques have been designed to offer efficient means of tying and cutting large vessels, such as ovarian and uterine vessels. Traditional suturing with intracorporal or extracorporal knot-tying has been used effectively; however, for most surgeons, these techniques are relatively difficult and slow. The first technique developed to assist in occluding large vessels was the pretied suture loop (Endoloop, Ethicon Endo-Surgery, Inc, Cincinnati, Ohio). Although simple and quick, these types of loops can loosen in the immediate postoperative period.
More recently, new instruments have become available to aid in the suturing process. In addition, linear stapling devices have been used for occluding vessels during removal of adnexal structures or LH (Endo GIA II stapler, United States Surgical Corporation, Auto Suture Company Division, Norwalk, Conn). As with all disposable equipment, potential saved time must be balanced against increased cost. Finally, one of the best and least expensive approaches for occluding large vessels is bipolar electrocautery, although care must be taken to avoid damage to adjacent structures secondary to lateral heat spread. The newer impedance-controlled bipolar devices are able to seal and divide vessels up to 7 mm in diameter.
Robotic surgery
The only robotic system commercially available today is the da Vinci Surgical System (Intuitive Surgical, Inc, Sunnyvale, Calif). [1] Robotic tools attach to traditional laparoscopic ports and the robotic system is placed between the patient's legs for hysterectomy. The surgeon controls the instruments from a console located in the same room.
Compared to traditional laparoscopy, the robotic system has the advantage of being easier for surgeons to acquire the new skills necessary to operate safely and effectively with this system. Another advantage is direct correlation between hand movements and instrument movements. This is in contrast to traditional laparoscopy, where hand movements are translated into grasping or cutting movements in different flat planes, and gross movements of laparoscopic instrument handles result in mirror image movements of the instrument tips. As a result, surgeons can become proficient in robotic surgery in a matter of months. It appears that robotic technology is allowing the more widespread application of laparoscopy for complicated gynecologic procedures.
Natural orifice transluminal surgery
Natural orifice transluminal surgery (NOTES) refers to using an endoscope to access the abdominal cavity through existing body openings, most notably the mouth, rectum, and vagina. This technique combines endoscopic and laparoscopic techniques to diagnose and treat intra-abdominal pathology.
From a historical perspective, gynecologists have reported using NOTES in the form of transvaginal laparoscopy for diagnostic purposes and to perform tubal ligations. [33] Modern NOTES uses a flexible endoscope to access the peritoneal cavity by creating an incision in the stomach or colon.
However, the ability to perform complex operative procedures has so far been limited, and the complication rate compared to traditional laparoscopy remains uncertain. For NOTES, a single operating channel coming from the same direction as the lens limits visibility and depth perception. The use of a single access port also limits maneuverability, reach, and the ability to create countertraction. So far, the role of NOTES in gynecologic practice has been relatively limited as a result of the relative advantages and low complication of traditional laparoscopy.
Single incision laparoscopic surgery
Single incision laparoscopic surgery (SILS) refers to performing laparoscopy through a single incision. This approach is also referred to as single access surgery (SAS), single port surgery (SPS), single port access (SPA), single port laparoscopy (SPL) and one port umbilical surgery (OPUS). Gynecologists have performed SILS for decades, using single channel 10 mm operating laparoscopes to perform diagnostic laparoscopy and tubal ligations. [34]
The potential benefit of SILS is similar to NOTES in that it minimizes the number of incisions. This in turn results in decreased pain, improved cosmetics, and reduces the risks associated with a secondary port placement. [35]
The disadvantages of SILS are also similar to NOTES: visibility, depth perception, maneuverability, reach, and the ability to create counter-traction are all limited. Articulating instruments are being developed to improve maneuverability; however, these tools have yet to be in common use.
Few gynecologists use the SILS approach because these disadvantages clearly outweigh the potential advantages. Future directions of SILS research include development of multichannel scopes, improved optics, maneuverability, and articulating instruments.
Single-incision total laparoscopic hysterectomy performed in a 40-year-old woman with dysmenorrhea and cervical carcinoma in situ. Part 1. Video courtesy of Tarek Bardawil, MD.
Single-incision total laparoscopic hysterectomy performed in a 40-year-old woman with dysmenorrhea and cervical carcinoma in situ. Part 2. Video courtesy of Tarek Bardawil, MD.
Preoperative Details
Preoperative medications
Preoperative medications include the following:
Gonadotropin-releasing hormone agonists: Some premenopausal women may benefit from temporarily decreasing levels of circulating estrogen by the use of a gonadotropin-releasing hormone (GnRH) agonist. The most common situation in which this is helpful is in the presence of a large leiomyoma when size alone makes surgery difficult. This is most common when hysteroscopic resection of a large submucosal leiomyoma is to be attempted or when LAVH is planned for a markedly enlarged uterus. In general, uterine volume can be decreased by up to 50% with 2-3 months of administration of a long-acting GnRH agonist. This may also be helpful in some cases of laparoscopic myomectomy.

Prophylactic antibiotics

Prophylactic antibiotics are a well-established method of decreasing risk of postoperative infections after either vaginal or abdominal hysterectomy. Although their use has not been studied in a large number of cases of laparoscopically assisted hysterectomy, intuitive sense dictates that prophylactic antibiotics would also be beneficial in these patients.

Another group of patients who may benefit from prophylactic antibiotics are women undergoing tubal reconstructive surgery for pelvic adhesive disease resulting from previous pelvic infections. Because these patients appear to be at increased risk for postoperative infections after genital surgery, use of an intraoperative broad-spectrum antibiotic given intravenously seems reasonable.

Oral contraceptives

The risk of postoperative thromboembolism appears to be increased by the preoperative use of high-dose oral contraceptives (50 mcg ethinyl estradiol) in women undergoing major gynecologic surgery. Whether contemporary low-dose preparations (35 mcg) share this risk has not been established. Also, no proven risk exists for women using oral contraceptives prior to minor surgery in which significant periods of immobilization are unlikely.

Although some authors believe that oral contraceptives should be discontinued 1 month prior to any elective surgery, no study has established that continuing low-dose oral contraceptives up until the time of most laparoscopic procedures is unsafe. However, women undergoing laparoscopically assisted hysterectomy should probably discontinue oral contraceptives 1 month prior to surgery unless the patient decides that the risk of inadvertent pregnancy is greater than the small, but uncertain, increased risk of thromboembolism associated with preoperative oral contraceptives.
Preoperative gastrointestinal preparation
Preoperative gastrointestinal preparation includes the following:
Bowel preparation

If significant enterolysis is planned and either endometriosis or pelvic adhesions are known or suggested to be present, preoperative bowel preparation is commonly used in an effort to decrease the risk of serious postoperative sequelae. A recent Cochrane database has questioned the entire concept of a bowel preparation. Communication with the general surgeon or colorectal surgeon of the institution avoids intraoperative surprises if bowel injury should occur.

Although a multitude of bowel preparations have been described, the most common oral agents are either magnesium citrate or a polyethylene glycol solution. Unfortunately, a thorough bowel preparation is often uncomfortable for the patient. However, in high-risk patients, preoperative bowel preparation may allow primary closure of an unplanned enterotomy; in the presence of an unprepared colon, a temporary diverting colostomy may be required.

Oral intake: NPO after midnight (ie, nothing by mouth after 12:00 am) remains a sound approach in most patients undergoing early morning surgery to avoid the risk of aspiration. In patients whose cases are scheduled later, clear liquids up until 6 hours prior to surgery may make the patient more comfortable and also decrease the degree of preoperative dehydration. For emergency procedures, general anesthesia may be required despite a period of fasting of less than 6 hours.
Other preoperative considerations
Other considerations are as follows:
Intravenous access: Because of the rare but serious risk of sudden and potentially massive blood loss during laparoscopy, establishment of intravenous access is required prior to starting the case. Usually, this is in the form of a functioning intravenous catheter of at least 18 gauge. A balanced salt solution is administered at a moderate rate to assure that the line is functioning and to hydrate the patient prior to administering regional or general anesthesia.

Bladder catheterization: Traditionally, complete emptying of the urinary bladder with a catheter immediately prior to Veress cannula or trocar placement is performed to minimize the risk of bladder injury. Some laparoscopists advocate having the patient void immediately prior to entering the operating room. This approach, on occasion, may be associated with the discovery of a significant amount of bladder distention because of incomplete emptying or excellent urine output. In-and-out catheterization appears to more consistently result in compete bladder emptying and, when performed aseptically, appears to be associated with minimal risk of iatrogenic urinary tract infection. For procedures of longer duration, consider the use of an indwelling catheter to avoid bladder refilling, although this probably increases the risk of infection.

Deep vein thrombosis prophylaxis

As many as 14% of patients who undergo gynecologic surgery for benign conditions will develop thromboembolism. The decision to provide thromboprophylaxis should be made based upon patient risk factors and the type of surgery performed. The American Academy of Chest Physicians (ACCP) routinely updates recommendations on thromboprophylaxis. They have stratified risk into low, medium, high, and highest risk scenarios.

The ACCP guidelines suggest that low-risk patients forgo prophylaxis. Patients at moderate risk undergo thromboprophylaxis with sequential compression devices (SCD) (lower extremity) or unfractionated heparin 5,000 units bid or low molecular weight heparin such as enoxaparin 40 mg daily. High-risk patients should be given a more frequent heparin dose of 5,000 units tid, and highest risk patients should be given both heparin therapy and SCDs.

Low-risk patients include those younger than 40 years with no additional risk factors whose surgery duration is less than 30 minutes. Patients at moderate risk include those aged 40-60 years with no additional risk factors undergoing surgery of any duration. High-risk patients include those aged 60 years or aged 40 years with one additional risk factor, such as prior DVT, varicose veins, infection, malignancy, obesity, estrogen therapy, or surgery lasting longer than 5 hours. Highest-risk patients are the same as the high-risk group but with more than one risk factor.

Patient positioning

Gynecologic laparoscopy procedures are usually performed with the patient in the dorsal lithotomy position to allow vaginal access for uterine manipulation. In the early days of laparoscopy, this was attained by suspending the ankles in lithotomy stirrups, also known as candy cane stirrups. Unfortunately, these stirrups offer little leg support, thus putting increased stress on both the knee and hip joints. In addition, they require that patient be in high lithotomy position, in which the thighs severely limit the range of movement of the operator.

Most laparoscopists now use boot stirrups specially designed for laparoscopy. These resemble obstetric stirrups in that they have a footplate and also support the popliteal fossa. However, laparoscopic stirrups are more adjustable than those previously designed for obstetrics. This avoids pressure on the lateral or posterior aspect of the calf and permits easy positional changes from low lithotomy for laparoscopy to high lithotomy for vaginal procedures, such as hysteroscopy or vaginal hysterectomy.

For low lithotomy, the legs should be positioned so that the thigh is slightly flexed, no more than 90° from the plane of the abdomen. [36] The thighs should not be hyperextended to avoided nerve injury. For high lithotomy, the legs should be positioned so that the angle between the flexed thigh and the abdomen is no less than 45°. The buttocks should be slightly over the edge of the table, but the sacrum should be completely supported by the table to avoid back strain. Patients at greatest risk for nerve injury are those who are long-legged, obese, or short in stature. In patients who are long-legged or obese, there is a tendency for the hip to rotate externally, and in short patients, there is a tendency to have less knee flexion. In such individuals, stirrups that support the ankle and calf may be more appropriate.

Once the primary trocar is placed, the patient is usually placed in no more than 25° Trendelenburg position to help keep the bowel out of the pelvis. Unfortunately, the degree of tilt possible may be limited by any resulting compromise in ventilation that may occur, especially in patients who are obese. In patients who are conscious during regional or local anesthesia, discomfort and dyspnea may be limiting factors. As a warning, the use of steep Trendelenburg position for prolonged periods has been associated with Erbs palsy, especially with the use of shoulder braces.

Skin preparation

Clipping the pubic hair above the symphysis may be required if hair extends to the intended site of ancillary trocar placement, usually 3-4 cm above the symphysis pubis. Standard antiseptic preparation of the abdominal skin and the vagina are followed by placement of specially designed fenestrated laparoscopy drapes. Vaginal instruments are placed for uterine manipulation and then draped to keep the abdominal field separate from the lower vaginal field.

After changing gloves, avoid contamination of both the abdominal field and instruments placed into the abdominal cavity. Prior to video laparoscopy, the operator's eye was placed against the laparoscope, making it impossible to keep the operating field sterile. Nevertheless, the risk of infection involving the wound or the peritoneal cavity after laparoscopy was extremely low, most likely because of the small incisions and decreased opportunity for intra-abdominal contamination. With the advent of video laparoscopy, no reason exists that standard sterile precautions cannot be applied to all laparoscopic procedures.
Intraoperative Details
Type of anesthesia
Over the years, many methods of anesthesia have been employed for laparoscopy, including general anesthesia, regional blocks, and local infiltration. Because of 2 unique aspects of gynecologic laparoscopy, (1) abdominal insufflation and (2) routine use of the Trendelenburg position, general anesthesia is the most common technique used today.
Abdominal insufflation, usually with carbon dioxide at a pressure of 15-20 mm Hg, has significant physiologic effects. Transperitoneal absorption of carbon dioxide results in a relative acidosis that plateaus after approximately 15 minutes of insufflation. Acidosis can be corrected by increasing ventilation 10-25% and usually has minimal effect on healthy patients. However, in susceptible patients, these changes in acid-base status may increase the risk of cardiac arrhythmia. Probably a more significant effect of abdominal insufflation is increased pressure on abdominal structures. While associated with significant discomfort in conscious patients, increased pressure can also result in passive regurgitation of gastric contents, even in patients without a history of gastric reflux. While pressure is increased at the gastroesophageal junction, this does not prevent regurgitation.
Increased intra-abdominal pressure is also transmitted to the thorax. Pressure on the diaphragm increases breathing effort in conscious patients. In patients under general anesthesia, decreased excursion of the diaphragm can lead to atelectasis and functional pulmonary shunt, which, in turn, can result in hypercarbia and a respiratory acidosis, augmenting the acidosis associated with carbon dioxide absorption.
Abdominal insufflation can also have direct cardiac effects. Pressure on the intra-abdominal venous system can decrease the venous return to the heart. Pressure transmitted to the right atrium decreases preload further. This may be of minimal consequence in healthy patients, but it may lead to cardiac compromise in those with borderline cardiac function.
Another aspect of laparoscopy that can increase upper abdominal pressure is the use of Trendelenburg position to keep the bowel out of the pelvis. The effects of gravity on intra-abdominal contents increase pressure on the stomach and diaphragm, accentuating the problems discussed above.
Because of the discomfort and risks associated with abdominal insufflation, general anesthesia is the most common technique used for laparoscopy. To minimize the risk of aspiration, endotracheal intubation is also recommended.
Local or regional anesthesia should be used only in carefully selected patients. The chance of significant discomfort and the risk of aspiration should be discussed thoroughly with the patient, and only those able to handle some discomfort are appropriate candidates.
During laparoscopy, both the discomfort and the risk of aspiration may be decreased by using the least intra-abdominal pressure possible for insufflation (usually < 14 mm Hg) and using the least amount of Trendelenburg position necessary to visualize the pelvis. Unfortunately, this limits the ability to perform extensive procedures in many patients. This is especially problematic in patients who are obese, who often require relatively high intra-abdominal pressures and steep Trendelenburg position to obtain adequate visualization of the pelvis. For this reason, use of local or regional anesthesia should be limited to patients who are not obese who have a reasonable amount of pain tolerance and who do not require a significant degree of intra-abdominal surgery.
Postoperative Details
After any gynecologic laparoscopic procedure, progressive resolution of symptoms is to be expected 3-7 days postoperatively. With major procedures, return to completely normal bowel function may take several days. For any procedure, pain may be perceived as slightly worse on the day following the procedure but should improve after this point. Likewise, the incision should appear healthy and become almost painless within the first week.
Patients should be counseled on the natural postoperative course of events, and patients should be instructed to contact their physician if any deviation from this course occurs. A natural tendency may be to reassure a patient who calls that their postoperative discomfort is within the normal range. However, this reassurance should be offered with caution because delaying appropriate care can often compound the effects of complications and may be fatal.
Probably the most concerning postoperative symptom is worsening abdominal pain, especially in the presence of distension. Signs of an occult injury of bowel or bladder may take hours or days to develop. If a patient who calls the physician cannot be assured with absolute certainty that she is not experiencing a surgical complication, she should be advised to come in for an evaluation by someone experienced in recognizing postoperative complications.
An unusual cause of abdominal pain is an entrapped incisional hernia that can occur after laparoscopy. Herniation is rare at the site where the laparoscope is placed through the umbilicus. However, bowel herniation has been reported to occur when larger trocars (>5 mm) are used in locations lateral to the midline. Apparently, this is not related to herniation through a fascial defect, but rather entrapment of bowel that has herniated through the peritoneum into the preperitoneal space. This appears to be a different process than an incisional hernia that occurs after laparotomy, in which a palpable bulge is the most common presenting symptom and entrapment is uncommon. After laparoscopy, herniation may manifest as severe abdominal pain accompanied by signs of bowel obstruction. Although incisional hernias should always be considered as a cause of abdominal pain after laparoscopic surgery, they are relatively infrequent. Thus, other intra-abdominal processes should also be considered.
Follow-up
In the absence of complications, the patient should be able to return to full activity within 72 hours after most gynecologic laparoscopic procedures other than hysterectomy. Because complete healing of fascial defects takes several weeks, the patient should avoid lifting anything heavier than 15 pounds for the first month.
Recovery from laparoscopic hysterectomy can be expected within 2-3 weeks. Again, because healing continues to take place for the first month, heavy lifting should be delayed for 4 weeks. Follow-up office visits in patients without complications are usually scheduled 2-4 weeks after surgery.
Complications
In addition to the traditional risks of surgery such as infection and generalized bleeding, laparoscopy is a technique that presents its own unique complications.
Gas embolism
Because carbon dioxide is used to create the pneumoperitoneum in laparoscopic procedures, gas embolization is an uncommon but very serious complication. Embolization is usually caused by inadvertent placement of the Veress needle into a major vessel during attempts to insufflate the abdominal cavity with carbon dioxide. Placement of the Veress needle into the aorta or one of its major branches results in bleeding, but does not result in carbon dioxide injection into the vessel because the insufflation pressure is lower than the arterial pressure. On the other hand, placement of the Veress needle into the venous system can result in embolization of carbon dioxide, which may be fatal due to complete occlusion of the pulmonary artery by a large carbon dioxide embolism.
To avoid this complication, the operator must verify intraperitoneal placement of the Veress needle prior to insufflation. If results from one of the following tests indicate malposition, the needle must be repositioned.
Open the Veress valve and observe for the flow of blood from the abdomen through the needle.

Aspirate with a syringe through the Veress needle.

Administer the hanging drop test by placing a drop of saline at the open end of the Veress, then observe if the drop disappears into the shaft as the abdominal wall is elevated.

Elevate the abdomen with the Veress valve closed, then assess for a hissing sound as the Veress valve is opened. Alternatively, the Veress needle may be attached to the insufflator with the valve in the off position and the gas off. The abdomen is then elevated with the valve open and a negative pressure reading will be observed on the insufflation instrument.
Recognition and treatment of a large venous embolization must be immediate. Clinical signs include decreased end-tidal carbon dioxide, decreased oxygen saturation, a loud mill-wheel murmur, severe hypotension, and possible cardiac arrest. Treatment includes immediately stopping insufflation, removing the needle, placing the patient in the left lateral decubitus position, administering 100% oxygen, and giving cardiac support. The gas embolism may be broken up with external cardiac massage, but definitive treatment is placement of a central line for aspiration of the gas from the right side of the heart and from the pulmonary vasculature.
Retroperitoneal major vessel injury
Laceration of major abdominal blood vessels is one of the least common but most life-threatening complications in laparoscopy. Injuries, which occur in approximately 3 cases per 10,000 laparoscopies, may occur during insertion of the Veress or the primary trocar.
In theory, because the umbilicus usually lies over the bifurcation of the aorta at L4, the aorta and inferior vena cava are avoided if one inserts the Veress or trocar through the umbilicus toward the hollow of the pelvis. However, 25% of the time the bifurcation is above or below L4. Also, the left common iliac vein frequently crosses directly below the umbilicus. Patients who are thin are at an additional risk because the distance from the umbilicus to the retroperitoneal vessels may be as short as 2-3 cm. In patients who are obese, the umbilicus may not lie over L4; therefore, palpation of the iliac crest, which is lateral to L4, is a better assessment of the position of the bifurcation.
When placing the Veress needle, the patient must be in the horizontal position (not Trendelenburg), and the angle of entry varies depending on patient weight. Open laparoscopy remains an alternative for avoiding retroperitoneal injury. Immediate recognition of the injury is paramount to patient survival. If blood flows from the open Veress needle or if the patient's vital signs rapidly decompensate after Veress or trocar insertion, prompt action must be taken. With a retroperitoneal hemorrhage, the peritoneal cavity may not show signs of bleeding. If major vessel injury is a possibility, notify the anesthesiologist in order to place a central line and order blood products, make a midline incision for good exposure, and immediately call a vascular surgeon. In contrast to bowel injuries, keeping the Veress needle in place to mark the position of a vessel injury is not needed.
Abdominal wall vessel injury
As laparoscopy has become more sophisticated, the placement of numerous and larger accessory trocars lateral to the rectus muscles has increased the risk of abdominal wall vessel injury. The primary vessels injured are the epigastric vessels (inferior and superficial) and the superficial circumflex iliac vessel (see Media file 3).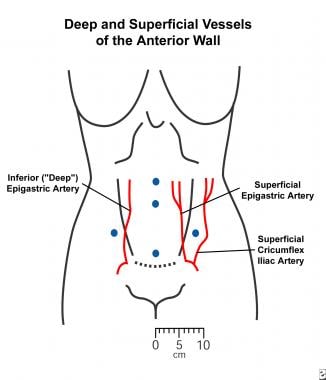 Gynecologic laparoscopy. Location of deep and superficial vessels of the anterior abdominal wall. Blue circles indicate recommended locations for trocar placement.
The inferior epigastric vessel originates from the external iliac vessel, and the superficial vessel originates from the femoral vessel. Damage can lead to abrupt and significant blood loss, producing a hematoma or postoperative hemorrhage. [37]
The first step to avoiding injury is to know the positions of these vessels. Often, the superficial vessels can be seen by transilluminating the abdominal wall with the laparoscope. The inferior epigastric artery cannot be transilluminated but may be seen intraperitoneally beneath the peritoneum between the insertion of the round ligament at the inguinal canal and the obliterated umbilical artery. Prior to insertion of the lateral trocars, the operator should make an effort to identify and avoid these vessels.
If unable to visualize the vessels, the operator can improve the chance of successfully avoiding the vessels by placing the trocars lateral to their usual location, which is 5.5 cm from the midline. Therefore, placing the trocars 8 cm lateral to the midline and 8 cm above the pubic symphysis should help to avoid injury to the epigastric vessels. Because of anatomic variations, vessel location can vary. Therefore, additional precautions can include using the smallest trocar possible and choosing a conical-tipped over a pyramidal-tipped trocar. [38]
When an injury occurs, the operator must be prepared to control the bleeding promptly. First, an attempt can be made to coagulate the vessel with electrocautery. If another port is not available to use electrocautery, a Foley catheter can be placed through the trocar and the balloon inflated with saline. Upward traction on the catheter, maintained with a clamp on the abdominal side, slows the bleeding until more definitive measures can be performed. Once a second port is place, electrocautery can be used. If this approach does not result in hemostasis, transabdominal sutures have been advocated. However, this inexact approach has a risk of loosening in the immediate postoperative period. A more secure technique is to enlarge the incision and selectively ligate the epigastric vessels, which lie just below the rectus abdominis muscle adjacent to the peritoneum.
Intestinal injury
Both the small and large intestine can be injured during laparoscopy, posing a life-threatening situation for the patient if unrecognized. If the patient has had previous abdominal surgeries or a history of abdominal infections, such as PID or a ruptured appendix, the risk of injury to bowel adhered to the abdominal wall increases. Frequently, surgeons choose the open laparoscopy approach for these cases. [32]
Recently, with the introduction of disposable trocars, the relative safety of these instruments has been in contention. The disposable trocars have a safety shield, which is designed to extend over the blade and decrease bowel injury with entry of the trocar into the peritoneal cavity. These trocars are extremely sharp and easily penetrate the fascia, which may cause additional injury as the momentum of penetration continues into internal structures.
On the other hand, reusable trocars may not be maintained regularly, and a dull trocar pushed through the fascia with significant force may also abruptly pass through the fascia and cause internal injury. No study has examined the relative safety of disposable and reusable trocars, although one series showed the risk of bowel injury with disposable trocars to be approximately 3 times more than that reported for reusable trocars.
Thermal injury to the bowel is also a risk when using electrocautery, particularly monopolar electrosurgery, which can cause an arc of electricity to the bowel. This injury can cause peritonitis if unrecognized, and it is a life-threatening situation if not promptly treated. When using monopolar electrosurgery, having instruments checked regularly for insulation failure is important. Stray current injury can also be significantly reduced with the use of bipolar electrosurgical instruments.
If injury is recognized at the time of surgery, immediate action must be taken to repair the damage. However, frequently, minor injuries are not seen and manifest 24-48 hours after surgery. Counseling the patient before surgery is of utmost importance. Patients should be aware of symptoms that they must report, such as fever, chills, nausea and vomiting, and abdominal pain. In addition, patient counseling should include the risk of requiring a laparotomy and colostomy to repair injuries.
Urologic injuries
Injury to the bladder or ureters can occur during trocar placement or during the use of power instruments, stapling devices, or suturing devices. The greatest challenge is recognizing that the injury has occurred so that treatment can be performed in a timely manner. [25]
Draining the bladder with a catheter prior to trocar placement is the first step to preventing bladder injuries. If urine is not seen in the pelvis but an injury is likely, intravenous indigo carmine can be given and the surgeon should watch for leakage into the peritoneal cavity. If this test result is negative but injury is still suggested, a gravity cystogram may be performed. Small retroperitoneal injuries may be treated with Foley catheter placement for 7-10 days, but larger or intraperitoneal injures must be repaired through a laparotomy. Suprapubic, retroperitoneal, and transurethral drains may be used depending on the operator and the injury. If bladder injury is unrecognized at time of surgery, the patient may present with diminished urine output, hematuria, or suprapubic pain.
Ureteral injuries can occur with any procedure involving instrumentation near the ureters. Thermal injuries from laser or cautery may not be apparent for days after surgery. When a surgeon uses one of the power instruments, the operator must be aware of the position of the ureter and avoid cautery in close proximity to the ureter. If the ureter is ligated, the patient may present with flank pain secondary to hydronephrosis. If the ureter is transected, the patient may develop a urinoma or ascites and present 1-5 days postoperatively with abdominal pain, fever, or leukocytosis.
Incisional hernia
Before trocar and sleeves larger than 5 mm were used, incisional hernias were rare. However, larger ports have increased the number of incisional hernias, allowing a small amount of bowel to become trapped in the fascia. Therefore, fascial closure is recommended for incisions larger than 5 mm. Umbilical closure is not required unless a very large incision is made, such as with open laparoscopy. The patient is counseled to not perform any heavy lifting or straining for 30 days in order to minimize the risk of umbilical hernia.
Nerve injuries
Patient positioning during laparoscopic surgery is associated with a low risk of potentially serious nerve injury to either the upper or lower extremities. To minimize the risk of positional nerve injuries, laparoscopic surgeons should have a working knowledge of both the nerves at risk of injury during laparoscopy and should verify that each patient is positioned appropriately during surgery. [36]
Laparoscopic surgery is an uncommon cause of injuries to nerves of the upper extremities. Brachial plexus nerve injuries are discovered after approximately 0.16% of advanced laparoscopic procedures. To minimize the risk of brachial plexus injuries during laparoscopy, the arms should be tucked at the side of the patient whenever possible. Arms extended on arm boards should be abducted less than 90°. In addition, steep Trendelenburg position with the arms extended and shoulder braces should be avoided.
Lithotomy position for prolonged periods of time can result in injuries to nerves of the lower extremity, including the femoral, lateral femoral cutaneous, obturator, sciatic, and common peroneal nerves. Sensory deficits from such injuries are reported after 1.5% of cases performed in lithotomy position, and persistent motor deficits are found after 0.03% of cases. Careful positioning and boot stirrups both appear to decrease the risk of nerve injury, especially for laparoscopic procedures lasting more than 2 hours. Four important elements of correct lithotomy positioning include 1) hip flexion of 60-170°, 2) knee flexion of 90-120°, 3) hip abduction no more than 90°, and 4) minimal external hip rotation. Extrinsic pressure on the legs should be avoided.
Future and Controversies
Laparoscopy continues to evolve as more sophisticated instrumentation allows a greater variety of procedures to be performed. In the past, many of these procedures would have been limited to laparotomy and would have required a prolonged recovery period. The risks and benefits of the procedures in many cases have not been fully evaluated. Some procedures, such as tubal ligation, ectopic pregnancy removal, and simple adhesion lysis, appear to be safely and efficiently performed laparoscopically. However, more complicated procedures still need to be evaluated to determine the safest, most cost-effective, and most efficient procedure.
Gynecologic oncology
The laparoscopic approach for potential gynecologic malignancies remains controversial. [22] In cases of ovarian masses with low risk of malignancy, laparoscopy has become the approach of choice. In questionable cases, preliminary steps should be taken to stage the patient, including obtaining pelvic washings, inspecting the entire peritoneal cavity and pelvic structures, and biopsying suspicious lesions. Frozen section pathological evaluation can be obtained intraoperatively to diagnose or exclude malignancy.
In the case where a malignancy is unexpectedly diagnosed during laparoscopy, concern remains that spilling the contents of an ovarian malignancy into the abdominal cavity during removal might worsen the long-term prognosis. However, the patient's prognosis does not appear to be worsened as long as definitive treatment is not delayed and is carried out either immediately or within a matter of days.
Laparoscopy is used by some gynecologic oncologists for patients with known gynecologic malignancies to biopsy retroperitoneal lymph nodes and for second-look procedures to evaluate for residual tumors after chemotherapy. The unusual finding of tumor implantations at the trocar insertion sites has caused some investigators to consider whether or not some aspect of laparoscopy might promote tumor growth. Until the risk, benefits, and effects on long-term prognosis have been shown to be equal to laparotomy, the laparoscopic approach for known gynecologic malignancies will remain under close scrutiny.
Robotic laparoscopic surgery
The usefulness of robotics in laparoscopic surgery continues to be determined. [1] The first FDA-approved robotic surgical device called AESOP (Automatic Endoscopic System for Optimal Positioning, Computer Motion, Inc, Santa Barbara, Calif) was introduced in 1994. This system allowed the surgeon to control the orientation of the laparoscope through voice commands.
The da Vinci Robotic Surgical System (Intuitive Surgical, Sunnyvale, Calif) and Zeus Robotic Surgical System (Computer Motion, Inc, Santa Barbara, Calif) were later introduced, allowing the surgeon to operate from a remote station with hand controls, providing increased dexterity and the ability to minimize fatigue, tremors, or incidental hand movement. In 2003, these companies merged.
The da Vinci System is widely used for cardiovascular, urologic, and gynecologic applications. Prospective studies have yet to be performed to determine the advantage of the robotic approach compared with less expensive traditional laparoscopic techniques for gynecologic surgery.
What would you like to print?