Workup
Laboratory Studies
Cytology
In the United States and in many other countries, cytologic findings are reported according to the Bethesda System. Epithelial cell anomalies are reported as follows:
Atypical squamous cells of undetermined significance (ASCUS): The ASCUS category was modified in 2001. The category has been renamed atypical squamous cells (ASC) and is subdivided into the following groups: (1) atypical squamous cells of undetermined significance (ASC-US) and (2) atypical squamous cells cannot exclude HSIL (ASC-H).

Atypical glandular cells of undetermined significance (AGUS): In 2001, this category was renamed atypical glandular cells. This category is further specified by cell type (endocervical, endometrial, or otherwise not specified). The subcategory favor neoplastic is maintained.

LSIL or LGSIL - Encompasses HPV (ie, koilocytosis), mild dysplasia, and CIN grade 1 (CIN-1)

HSIL or HGSIL - Encompasses moderate and severe dysplasia, carcinoma in situ, CIN grade 2 (CIN-2), and CIN grade 3 (CIN-3)

Endocervical adenocarcinoma

Endometrial adenocarcinoma

Extrauterine adenocarcinoma

Adenocarcinoma, not otherwise specified

Other malignant neoplasia
HSIL or LSIL cytology is the usual trigger to initiate colposcopy, diagnostic conization, or both. The presence of ASCUS or AGUS cytology, particularly when associated with high-risk HPV and no colposcopic anomaly, may also require the same approach (see Human Papillomavirus).
Cytologic categories must be carefully distinguished from histologic diagnoses. In general, cytology studies have a high sensitivity for CIN but a low specificity for determining its grade. Regrettably, cytologic and histologic diagnostic terms are often used interchangeably. Cytology results tend to lead to an underestimation of the severity of CIN. For example, high-grade (grades 2 and 3) CIN was preceded by HSIL in only 31% of cases in data compiled from 6 publications (see image below).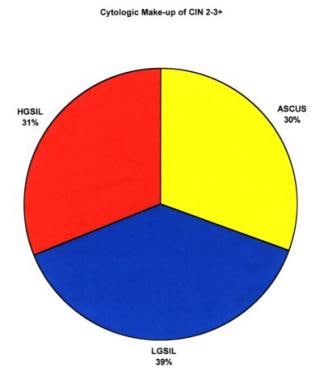 In cases of histologically diagnosed cervical intraepithelial neoplasia grades 2 and 3, prebiopsy cytology results were reported as high-grade squamous intraepithelial lesions, low-grade squamous intraepithelial lesions, and atypical squamous cells of undetermined significance in nearly equal proportions (data from 6 independent studies).
Testing for HPV
The presence of high-risk HPV (types 16,18, 31, 33, 35, 39, 45, 51, 52, 56, 58, and 59), usually detected by performing the hybrid capture II test, reinforces the need for histologic diagnosis, even if cytology findings are reportedly normal or of undetermined significance.
Pathology
The most common pathologic terms used in histological diagnosis of cervical epithelial lesions are as follows:
Cervical intraepithelial neoplasia, grade 1 - Mild dysplasia

Cervical intraepithelial neoplasia, grade 2 - Moderate dysplasia

Cervical intraepithelial neoplasia, grade 3 - Severe dysplasia, carcinoma in situ

High-grade cervical intraepithelial neoplasia - CIN-2 or CIN-3 (carcinoma in situ = CIN-3)

Microinvasive squamous cell carcinoma

Adenocarcinoma, endocervical

Adenocarcinoma, endometrial

Extrauterine adenocarcinoma

Adenocarcinoma, not otherwise specified

Other malignant neoplasia
Correlating preoperative and postoperative histologic diagnoses is indispensable to help determine the adequacy of the treatment and the type of follow-up care required.
A literature review estimates that errors of postconization pathologic diagnoses occur in 0.5-9% of the cases. Burghardt reported that errors increase significantly according to the number of sections made of the cone specimen and recommends the separate reading of 80-90 sections. [3]
In the United States, the intact cone specimen, ideally marked with a suture at the 12-o'clock position, is opened at this position, laid flat, and cut in 12 blocks in a radial manner. Each block is correlated to the hour of the clock and is separately embedded in paraffin. This routine permits the identification of the site of a positive margin. Determination of the original site of fragmented specimens is more difficult; therefore, removal of the specimen in one piece is recommended.
If pathology findings from the operative specimen do not correspond to those of the directed biopsies, more sections should be requested from the laboratory.
Imaging Studies
The only useful imaging study is colposcopic examination of the cervix. The meaning of changes visualized by colposcopy must be clarified by punch biopsy or conization.
Diagnostic Procedures
Prior to selecting the method and extent of conization, consider the possibility of finding invasive cancer in the operative specimen. If the risk of invasion is high, such as in women with CIN-3, and colposcopy results have been less than satisfactory, consideration must be given to widening the margins both on the exocervix and in the cervical canal.
The desire for future childbearing must be discussed with each patient. In those who may desire future pregnancy, one must decide whether a shallow cone is adequate to accomplish the goal of conization because excision of the internal os could bring about cervical incompetence, resulting in late abortion or premature delivery.
The type of conization to be performed depends on the operator's training, on the available equipment, and on various circumstances discussed in Intraoperative details.
A randomized prospective trial by Mitchell et al found no statistically significant difference in outcomes among patients treated with cryotherapy, laser conization, or LEEP. [7] However, excisional methods yielded more tissue for histologic studies, while destructive procedures did not.
A thorough preoperative colposcopic evaluation with endocervical curettage, or at least endocervical cytology using an endocervical brush, should be performed prior to conization. Performing a Schiller test (painting the cervix with Lugol solution, which causes a deep brown stain of the healthy, glycogen-producing, squamous epithelium but leaves the dysplastic areas unstained) should allow correlation of the colposcopically visible exocervical margins with the iodine-negative areas. The presence of endocervical CIN indicates the need to excise more, perhaps even the entire cervical canal.
What would you like to print?