Workup
Approach Considerations
Chorionicity is best identified by ultrasound before 14 weeks' gestation. Monochorionic twin gestations should be screened for twin-twin transfusion syndrome (TTTS) every 2 weeks starting at 16 weeks and continuing until delivery. Screening consists of determination of the single deepest pocket of amniotic fluid in each sac and visualization of the fetal bladders.
Growth scans should concomitantly be performed every 3-4 weeks to detect growth failure.
Middle cerebral artery–peak systolic velocity (MCA-PSV) screening for twin anemia polycythemia syndrome (TAPS) is not recommended except after fetoscopic laser photocoagulation (FLP).
Laboratory Studies
There are no laboratory studies to diagnose or to rule out TTTS. Routine prenatal laboratory studies are recommended.
Imaging Studies
Ultrasonography
Amniotic fluid measurement
In twin pregnancies, the maximum vertical amniotic fluid pocket in each sac is measured rather than the 4-quadrant amniotic fluid index (AFI).
The diagnosis of TTTS is based on the finding of oligohydramnios, usually defined as a deepest vertical pocket of < 2 cm, and polyhydramnios, which is usually defined as a deepest vertical pocket of >8 cm. Some experts use gestational age-based criteria for defining polyhydramnios (≥6 cm at 15-17 weeks, ≥8 cm at 18-20 weeks, and >10 cm at ≥20 weeks)
Bladder visualization
The bladders of both twins should be visualized at each ultrasound visit. Absence of visualization of the bladder of the donor twin is characteristic of stage 2 TTTS.
Hydrops
Hydrops fetalis is a condition that consists of ascites, pleural or pericardial effusions, and skin edema. Because of volume overload and heart failure, the recipient twin is most likely to develop hydrops. (See the image below.) The donor twin may develop hydrops in cases of severe anemia.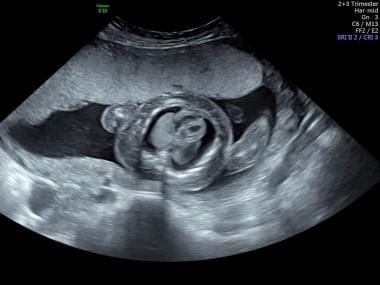 A recipient twin with hydrops at 22 weeks' gestation. Fluid surrounds the heart and lungs, and the skin is thickened.
Growth restriction
Growth restriction occurs in about 50% of donor twins. Fetal growth restriction or intrauterine growth restriction (IUGR) is defined as an estimated fetal weight of < 10% of normal or an abdominal circumference (AC) of < 5% of normal in the setting of otherwise normal fetal growth.
Fetal echocardiography
TTTS commonly leads to right heart anomalies. Fetal circulation depends primarily on the right heart. Pulmonary stenosis is a common right ventricular anomaly and has been identified most frequently in the recipient twin. In one study, prior to FLP, the recipient twin demonstrated typical signs of volume overload in utero, which led to cardiac dysfunction in 55% of cases. [1]
Peak systolic velocity of the middle cerebral artery
Middle cerebral artery–peak systolic flow velocity (MCA-PSV) may be obtained to rule out twin anemia polycythemia sequence (TAPS). An inter-twin difference (delta) in MCA-PSV greater than 0.5 multiples of median is diagnostic of TAPS. Screening for TAPS is currently not recommended by the Society for Maternal-Fetal Medicine except after FLP. [21]
Other Tests
The risk of aneuploidy in monochorionic twin gestations is not higher than the risk associated with a singleton gestation at the same maternal age.
Staging
The most useful staging system for TTTS was developed by Quintero [2, 3] :
Table 2. Twin-Twin Transfusion Syndrome (TTTS) Staging System (Open Table in a new window)
Stage

Oligohydramnios/

Polyhydramnios

Absent Urine in Donor Bladder

Abnormal Doppler Blood Flows

Hydrops Fetalis

Fetal Demise

I

+

-

-

-

-

II

+

+

-

-

-

III

+

+

+

-

-

IV

+

+

+

+

-

V

+

+

+

+

+
Histologic Findings
Gross evaluation of the placenta after delivery will confirm monochorionic placentation. Dye injection studies of the placenta may help to show the extent of anastomoses.
What would you like to print?