Overview
History of the Procedure
The key mechanisms of action of the laser were first discovered by Albert Einstein in the early 1900s. Initial results from the use of a carbon dioxide laser for the management of cervical dysplasia were initially less successful than anticipated because of the inability to determine appropriate depth of penetration for prevention of recurrent disease. Not until 1978 did Anderson and Hartley emphasize the actual mechanics for the depth of cervical involvement. [1] Laser technique was further refined and shown to be both practical and efficacious by Jordan in 1985 [2] and by Dorsey in 1979, [3] when the Greater Baltimore Medical Center published the first clinical experience with cervical conizations by carbon dioxide laser. See the image below.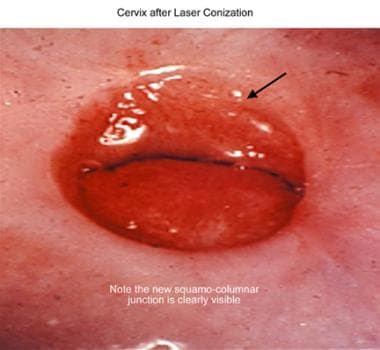 Cervix after laser conization.
Lasers have provided the laparoscopic surgeon with an efficient method of achieving rapid excision, coagulation, or vaporization of pelvic abnormalities. Most familiar is therapy for pelvic endometriosis or adhesions. When laser is used in combination with other laparoscopic instruments, the variety of procedures performed with the laparoscope may be enhanced.
The carbon dioxide laser has been considered an effective modality for multiple tasks related to the treatment of intraepithelial neoplasia of the lower genital tract, most commonly for large lesions and for multifocal manifestations of human papilloma virus (HPV). The use of this technology is limited in some areas because of healthcare provider training and experience and because of a lack of availability of equipment. Many hospitals require that specific credentials be obtained before using this modality, including documentation of didactic instruction and clinical supervision of initial procedures.
Problem
Intraepithelial neoplasia is a descriptive histologic term for squamous abnormalities of the vulva (VIN) and perianal area, vagina (VAIN) and cervix (CIN) (see the images below).
In 2012, the College of American Pathology (CAP) and the American Society for Colposcopy and Cervical Pathology (ASCCP) developed and published the Lower Anogenital Squamous Terminology (LAST) project. This presented the current terminology used to describe Human Papilloma virus associated squamous lesions of the anogenital tract. [4] In the LAST system, histologic cervical findings are described using the same terminology as cytologic findings.
LSIL: low grade squamous intraepithelial lesions - now replaces the designation of CIN I, or mild dysplasia. This category also includes abnormalities previously designated as CIN 2 (moderated dysplasia) which are negative for p16 immunostaining.
HSIL:high grade squamous intraepithelial lesions-represents abnormalities previously designated CIN 3 (severe dysplasia) and also in cludes prior CIN 2 lesions which are p16 positive, as well as encompassing those cellular abnormalities designated carcinoma in situ. [4]
The ASCCP published in 2012 updated concensus guidelines for the management of abnormal cervical screening tests, but continues to use the terminology CIN (cervical intraepithelial neoplasia), as delegates to the LAST project determined that the classification of LSIL and HSIL does not yet have enough evidence to allow clear risk-based management guidelines. [5]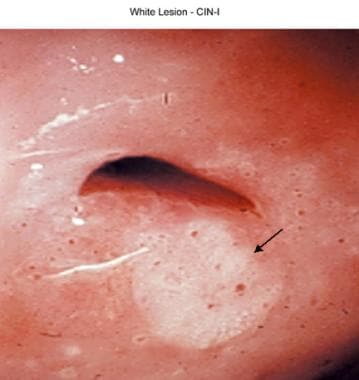 White lesion is cervical intraepithelial neoplasm, grade I (CIN I).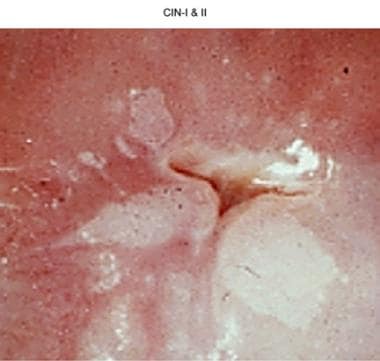 Cervical intraepithelial neoplasia, grades I and II (CIN I and II).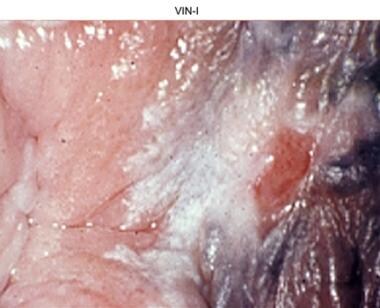 Vulvar intraepithelial neoplasia, grade I (VIN I).
Pelvic pain related to adhesions or endometrial implants also represents a significant disease burden in the United States. Adhesions may be filmy or dense and may involve any pelvic structures. Endometrial implants may be clear or cystic, red or brown/black. Customarily, the older lesions are more darkly colored and accompanied by an increased depth of involvement with contracture of surrounding peritoneum or tissue surfaces. As the severity of endometriosis increases, the presence and severity of adhesions may also increase and become more dense. Visual evaluation of endometriosis may not completely correlate with depth of invasion of implants or with the patient's clinical symptoms.
The precision of the carbon dioxide laser delivered laparoscopically lends itself to intra-abdominal and intrapelvic adhesiolysis or ablation of endometrial implants.
Epidemiology
Frequency
Acording to the US Centers for Disease Control and Prevention, HPV is so common that almost everyone will be infected at some time in their lives. [6]
In 2005, the US Centers for Disease Control and Prevention estimated that 20 million Americans are DNA positive for anogenital types of human papillomavirus at any time. [7] Almost one half of sexually active adolescents or young adults aged 15-24 years may be infected by the human papillomavirus. In the United States, 6.2 million individuals are estimated to become newly infected with human papillomavirus annually.
Etiology
The most likely etiology of lower genital tract squamous abnormalities is infection with HPV, a double-stranded DNA virus of the Papovaviridae family. The HPV has more than 100 subtypes and is the major causative factor of malignant and premalignant squamous abnormalities of the anogenital tract.. Serotypes associated with squamous lesions may be designated as having a high or low risk for progression to malignancy. Ultimate cure of the viral infection can only be achieved by the immune system of the human host.
Papillomaviruses are ubiquitous in higher vertebrates. Approximately 40 types of HPV infect the genital tract. Intercellular cytokine-mediated control plays an important role in supression of malignant transformation. A genetic change in pathways controlling intracellular or intercellular signaling may allow propgression to a malignant phenotype. [8]
Treatment modalities, such as the carbon dioxide laser, destroy or excise infected cells, thus reducing the amount of infected tissue and, presumably, the host viral load. The subsequent healing process of the host stimulates viral combat at the surgical site. Patients with abnormal cytology findings or visible lesions must first be evaluated with visual inspection using a colposcope to help determine the location, extent, and severity of the clinical abnormalities. Colposcopically directed biopsies are indicated when dysplasia is present or malignancy is considered, in the clinical opinion of the healthcare provider. Findings from one or more biopsy samples from the involved areas help document the location and histologic severity of the disease.
The carbon dioxide laser has been used for ablating high-grade lesions or excising abnormal areas, including the transformation zone of the cervix. Ablation may frequently be used for treating VIN and is also considered to be a treatment modality for VAIN requiring therapy.
In the pelvis, endometriosis has been hypothesized to be a result of endometrial cells producing disease in areas outside of the uterus, most likely by retrograde menstrual flow via patent fallopian tubes, but also potentially via vascular or lymphatic channels. Altered immune function within the peritoneal cavity, plus other potential factors, then permit development of endometrial implants, most frequently on the ovaries or in the cul-de-sac. Other sites in the abdomen or pelvis or remote sites may become involved.
Within the pelvis, the CO2 laser can be used to ablate affected sites or excise the peritoneum, thus improving anatomic relationships by lysing adhesions and excising endometrial implants.
When used in the pelvis for therapy of adhesions of other etiologies (eg, postoperative or postinfectious), the CO2 laser allows precise incision of the adhesions, restoring local anatomy with a primary goal of reduced, repeat adhesion formation and decreased risk of damage to adjacent structures.
Indications
The carbon dioxide laser is customarily chosen over other ablative or excisional techniques when great precision is needed, particularly in situations involving large surface areas or when precise control over the depth of penetration is desired. Examples of procedures for which the carbon dioxide laser is indicated include (1) ablation or excision of dysplasia in situations in which minimization of tissue destruction or removal is desired; (2) cervical treatment combined with treatment of dysplasia or condylomata of the vulva, vaginal, perineal, or perirectal areas; (3) multifocal disease of the cervix, vagina, or vulva/perianal areas; (4) ablation or excision of endometrial implants or affected peritoneum; and (5) lysis of intra-abdominal or intrapelvic adhesions.
The carbon dioxide laser is used in conjunction with a laparoscope or colposcope. This allows precise application, which is one advantage of this treatment modality. Another advantage of the laser is hemostasis and minimal thermal necrosis (< 100 µm) when properly set. In addition, the procedure time is brief, and the laser may be used in an office or outpatient setting with the patient under local anesthesia when treating the vulva, vagina, or cervix. The office setting may also be more economical than procedures performed in a surgical suite. Surgical advantages of the intra-abdominal CO2 laser include (1) rapid incision and vaporization, (2) safety and predictability, and (3) lack of contact with the organ.
Patients with abnormal cervical cytology findings must first be evaluated using a colposcope to help determine the location, extent, and severity of the clinical abnormalities. Colposcopically directed biopsies are indicated when the health care provider has determined dysplasia is present. Findings from 1 or more biopsy samples from the involved areas and findings from an endocervical curettage help document the location and histologic severity of the disease present.
The carbon dioxide laser has been used for ablating CIN or excising abnormal areas, including the cervical transformation zone.
Patients with visible lesions of the vagina, grossly compatible with HPV-related disorders, may be inspected with the colposcope and biopsy performed if the provider suspects dysplasia or to exclude malignancy.
Visible lesions of the vulva or perineum and perianal areas may indicate a need for biopsy to evaluate dysplasia, exclude malignancy, or further elucidate dermatologic disorders. The colposcope with or without acetic acid to the vulva may be invaluable in determining the presence or extent of disease while providing focused light in the area of interest.
The CO2 laser may be used whenever a diagnostic laparoscopic procedure can combine a diagnosis of disease and the extent of disease with immediate therapy. It may also be used to augment pain management associated with endometriotic implants via partial excision of the peritoneum or through laser destruction of the medial aspect of the uterosacral ligaments, interrupting nerve endings associated with central pelvic pain.
Contraindications
Contraindications to using the carbon dioxide laser for the treatment of lower genital tract disease include (1) an inability to visualize the area to be treated because of anatomic considerations (eg, prolapsing lateral vaginal sidewall), (2) preoperative histology findings indicative of malignancy, and (3) inadequate physician training or experience. Laser ablation is contraindicated if the entire lesion is not visible, although excisional procedures may be performed.
Contraindications to laparoscopic use of the CO2 laser include (1) inability to visualize the site to be treated without risk of damage to adjacent structures, (2) anatomic findings not consistent with the diagnosis of endometriosis or adhesions (eg, neoplasm), (3) inadequate physician training or experience.
What would you like to print?