Workup
Approach Considerations
A full evaluation is advised in all patients with a distinct adrenal nodule or tumor larger than 1 cm in order to determine whether the tumor is functional. The general agreement is that all functional masses should be removed.
Laboratory results may also help in distinguishing between a neoplasm of the adrenal cortex and a neuroblastoma. Adrenocortical tumors should not be confused with adrenal medullary tumors, also known as pheochromocytomas, which, similar to neuroblastomas, secrete catecholamines.
In a comparison of imaging findings in pediatric patients with adrenocortical carcinoma (AC), carcinoma was highly suspected when adrenal lesions had a thin tumoral capsule, a stellate zone of central necrosis, and evidence of the production of adrenocortical hormone.
The following are the major imaging features that serve as red flags for a possible AC on adrenal imaging:
Large size (larger than 4 cm in diameter)

Intralesional calcification

Tumor heterogeneity on both plain and contrast enhancement, which may indicate intralesional hemorrhage, necrosis, or both (Inhomogeneous density estimates by CT in various parts of the tumor on both plain and contrast-enhanced images may also indicate intralesional hemorrhage.)

High CT attenuation values (especially with >20 HU)

Evidence of tumor invasion of local structures or extension into major vessels
While some reports suggest an increased predilection for the left adrenal in AC, most studies indicate no side preference.
Laboratory Studies
Laboratory studies for AC include determinations of the following:
Urine vanillylmandelic acid (VMA)

Urine homovanillic acid (HVA) levels
Include screening tests that can exclude excess hormone production when evaluating all primary adrenal masses.
Cushing syndrome
The best screening tests for Cushing syndrome are the standard 1-mg dexamethasone suppression test and the 24-hour urinary cortisol excretion test. The recognition of the relatively high prevalence of subclinical Cushing syndrome in adrenal incidentalomas (some reports suggest a prevalence as high as 5-8%) that may otherwise appear hormonally silent informs the policy of some experts to perform more in-depth testing of the hypothalamic-pituitary-adrenal axis in patients with identified adrenal masses. Such testing would include the screening tests mentioned, as well as diurnal rhythm evaluation with 8 am and midnight serum or salivary cortisol estimations, corticotropin-releasing hormone (CRH) stimulation test, serum adrenocorticotropic hormone (ACTH) estimations (generally found to be low), and serum dehydroepiandrosterone (DHEAS) levels (also generally found to be suppressed). Alternatively, 24-hour urinary cortisol and its metabolites can be measured.
Pheochromocytoma
The evaluation of adrenal masses must also include screening for possible pheochromocytoma, including, at a minimum, a 24-hour urinary estimation of catecholamines (epinephrine, norepinephrine, dopamine) and metabolites (particularly metanephrines and normetanephrines). In addition, plasma metanephrines and catecholamines can be assayed.
Other screens
Evaluation of adrenal masses also includes screens for the following:
Hyperaldosteronism: Screen for hyperaldosteronism by using simultaneous aldosterone and renin levels to compute aldosterone-to-renin ratios

Virilization syndromes: Screen for virilization syndromes using serum adrenal androgens (androstenedione, dehydroepiandrosterone, dehydroepiandrosterone sulfate), serum testosterone, and 24-hour urinary 17-ketosteroids.

Feminization syndromes: Plasma estradiol and/or estrone tests can help to screen for feminization syndromes
Imaging Studies
CT scanning and MRI
Adrenal CT scanning and MRI are the imaging studies of choice in AC. The typical case is characterized by a large unilateral adrenal mass with irregular edges. The presence of contiguous adenopathy serves as corroborating evidence. (See the image below.)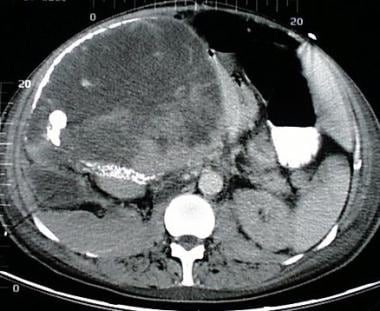 A 68-year-old woman with a large right upper quadrant primary adrenocortical carcinoma with curvilinear calcification. Low-attenuation regions anteriorly are consistent with necrosis.
The National Italian Study Group review of adrenal incidentalomas demonstrated that 90% of AC cases had diameters of 4 cm or larger on radiologic imaging. This study, based on a cohort of 887 patients, showed that using the 4 cm cutoff resulted in 90% sensitivity but poor specificity. [8]
Targeted CT scans of the adrenal using 3- to 5-mm sections offer the best resolution and are particularly useful in detecting tumors that are 1 cm or smaller.
Intravenous contrast generally is not necessary for localization of adrenal masses but is useful for demonstrating vascularity and clarifying sites of metastases. Some reports have also shown that in comparison with ACs, adrenal adenomas have a much earlier washout of contrast enhancement and that this may be of diagnostic utility. The contrast washout at 5 minutes postinjection is approximately 50% in adenomas, versus 8% in nonadenomas; at 15 minutes, the contrast washout is approximately 70% versus 20%, respectively.
Accumulating evidence suggests that low attenuation values on unenhanced CT scans can distinguish benign adrenal adenomas from AC or metastatic adrenal deposits that have attenuation values generally greater than 20 Hounsfield units (HU). Authorities suggest that adenomas have HU values of 10 or less. (However, many caveats significantly limit the clinical utility of this.)
Authorities also suggest using norms for HU values in intravenous contrast studies to assist in distinguishing adrenal adenomas from AC. A study by Hamrahian et al found that the sensitivity and specificity for the 10- and 20-HU cutoffs in distinguishing adenomas from nonadenomas, including AC and pheochromocytoma, were 40.5% and 100% for adenomas and 58.2% and 96.9% for nonadenomas. [9] These numbers suggest that, while limited as a screening instrument, the HU score has considerable utility in making definitive diagnoses when the scores are either less than 10 HU or greater than 20 HU.
MRI, in particular, shows significant utility in distinguishing AC from nonfunctional adenomas and pheochromocytomas. The malignant lesions tend to be of intermediate to high density on T2 imaging, while the nonfunctional adenomas are low intensity, and pheochromocytomas have a very high signal intensity. On gadolinium–diethylenetriamine penta-acetic acid (DTPA) contrast-enhanced MRI scans, adenomas generally demonstrate mild enhancement with rapid contrast washout, while ACs show rapid and intense enhancement with sluggish washout. The relatively higher fat content of adrenal adenomas compared with ACs has been used in the new chemical shift imaging (CSI) MRI protocols to further enhance the distinguishing capacity of these studies.
Chest CT scanning should be performed when metastatic disease is present. Affected lung parenchyma strongly suggests an AC over a neuroblastoma.
Ultrasonography
Ultrasonography has less sensitivity in detecting adrenal tumors and is highly user-dependent with regard to the interpretation and quality of results. It has particular utility, however, in the follow-up of previously detected incidentalomas. Abdominal and retroperitoneal ultrasonography is usually followed with abdominal CT scanning and MRI.
Bone scanning
Bone scanning should be performed to detect metastatic disease. However, the presence of bone disease does not allow for the differential diagnosis of malignancies.
Other
Iodocholesterol scans rarely are indicated in suspected cases of AC; the findings generally are negative in this setting, unlike in steroid-secreting adrenal adenomas.
Arteriography and venography currently have very little, if any, place in the diagnostic evaluation of adrenal masses suspected to be AC.
Biopsy
Because the histologic analysis of these masses may be unreliable, and owing to the potential for tumor seeding into the retroperitoneum, fine-needle aspiration and core tissue biopsies (percutaneous route) generally are not recommended. [10] Presently, the only setting where these biopsies are justified is in the evaluation of patients with a known malignancy, in order to exclude adrenal metastases. [11] The biopsies may be CT- or ultrasonographically guided.
Fine-needle aspirations should not be performed on any adrenal mass until pheochromocytoma has been definitively excluded; otherwise, the procedure may precipitate a potentially fatal crisis.
Histologic Findings
A specific histologic diagnosis of AC may be difficult in a case that is lacking clinical evidence of metastasis. Some of the macroscopic features of an AC that suggest malignancy include a weight of more than 500 g, the presence of areas of calcification or necrosis, and a grossly lobulated appearance. Histologic findings also include numerous mitoses, scant cytoplasm, and none of the rosettes observed in neuroblastoma.
In the Weiss system, which is considered the standard for determining malignancy in adrenocortical tumors, tumors are scored from zero to nine, with a higher score indicating increased malignancy. [12] As an adjunct to the Weiss score, Soon et al studied the use of microarray gene expression profiling to discriminate between adrenocortical adenomas and carcinomas; they found that the combination of insulinlike growth factor–2 (IGF-2) and Ki-67 overexpression identified ACs with 96% sensitivity and 100% specificity. [13]
Adrenocortical tumors
These typically have a yellowish brown appearance on the cut surface. Pathologic features suggestive of malignancy are the large size of the primary tumor (tumor weights >100 g suggest malignancy), high mitotic rate, atypical mitoses, high nuclear grade, large areas of necrosis, low percentage of clear cells, diffuse cellular architecture, and evidence of capsular, lymphatic, or vascular invasion. [14]
Tumors may have broad fibrous bands separating them into nodules, and they often have a variegated appearance, a zona glomerulosa–like appearance, or a fascicular and reticulated appearance. Still, other areas may show near-total dedifferentiation.
Most of the cells are lipid-poor compared with typical adrenocortical cells, and they have an eosinophilic cytoplasm. Bizarre-looking, pleomorphic cells and multinucleate giant cells also may be evident. Predicting the hormonal products of a particular tumor based on histologic appearance is impossible.
Distinction between adrenocortical and adrenomedullary tumors
These two types of tumors have distinctive histologic appearances and immunohistochemical staining patterns. While adrenomedullary tumors stain positive for neuroendocrine markers (eg, synaptophysin, neuron-specific enolase, chromogranin A), adrenocortical cells stain positive for D11, with very little overlap.
Staging
The various AC staging criteria, as delineated by the Union for International Cancer Control (UICC), [15] are outlined below.
Tumor criteria
These are as follows:
T1: Tumor diameter of 5 cm or less with no local invasion

T2: Tumor diameter greater than 5 cm with no local invasion

T3: Tumor of any size with local extension but not involving adjacent organs

T4: Tumor of any size with local invasion of adjacent organs
Lymph node criteria
These are as follows:
N0: No regional lymph node involvement

N1: Positive regional nodes
Metastasis criteria
These are as follows:
M0: No distant metastasis
Stages
Staging for AC, below, follows the stage I-IV pattern for most solid tumors:
Stage 3: T1 or T2, N1, M; or T3, N0, M0

Stage 4: T3, N1, M0; or T4, any N, M0; or any T, any N, M1
Fassnacht et al have argued that the UICC's staging criteria have limited prognostic value. After reviewing 492 patients in the German AC registry who were diagnosed between 1986 and 2007, these researchers proposed that the prognostic value would be improved if stage 3 disease were defined by the presence of positive lymph nodes, infiltration of surrounding tissue, or venous tumor thrombus, and if stage 4 were restricted to patients with distant metastasis. [16]
What would you like to print?